These five tips on how to help someone cope with death are inspired by the Parable of the Cracked Pot.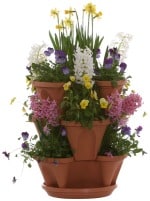 You may feel inadequate, uncomfortable, and even scared when you think about supporting someone who is coping with death – but you are more helpful than you think.
The Stacking Planters with a flow through watering system is a thoughtful, beautiful bereavement gift – and it'll be even more meaningful if you include the following Parable of the Cracked Pot in the sympathy card. We are all cracked, flawed, and scared – but we need to remember that from our flaws comes strength and beauty.
The following tips for coping with death are mostly practical. If you're looking for sympathy gift ideas, read 17 Bereavement Gifts for the Loss of a Mother.
The Parable of the Cracked Pot
A water bearer in China carried a long pole across her neck; a water pot hung from each end of the pole. One of the pots had a crack in it, while the other pot was perfect and always delivered a full portion of water.
At the end of the long walk from the stream to the house, the cracked pot arrived only half full. Every day for two years, the water bearer only delivered one and a half pots full of water to her house. She had no money to buy another pot.
The perfect pot boated of its accomplishments, for it knew it was doing what it was supposed to. The cracked pot was ashamed of its imperfection, and sad that it was able to accomplish only half of what it was created to do.
After two years had passed, the cracked pot spoke to the water bearer. "I am ashamed of myself because my flaw causes me to leak water all the way back to your house."
"Oh, my dear pot," said the water bearer. "Have you not noticed the flowers on your side of the path, but not the other side? I plant flower seeds along your side of the path and every day while we walk home, you water them. For two years you have helped me grow these beautiful flowers to decorate the table and give to friends. Without you being just the way you are, we would not have this beauty to grace our home."
5 Tips for Helping Someone Cope With Death
The most important tip for coping with death is knowing that YOU ARE ENOUGH. You, with all your flaws and weaknesses and fears, will help others cope with the loss of someone they love. Your presence is the most important thing you can offer someone who is coping with death. No matter how cracked and inept you feel, you are enough.
Take a deep breath, and trust that God and healing will work through you. You need only show up and reach out to your friend. That's how you help someone cope with death. Be there. Have faith that even though you have no answers, your presence is enough.
Find practical ways to help your grieving friend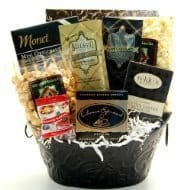 Practical gestures are good ways to help with the "coping with death" process. Bring meals that freeze well and can be heated up in a few days or weeks. Offer to do laundry, grocery shopping, or errand running. If your friend has kids, volunteer to take them to sports practices or ballet lessons. Your friend may not have the energy or strength to deal with the trivialities of everyday life, and your help will go a long way.
If you haven't given a gift or card, consider  the With Sincere Sympathy Condolence Gift Basket — it's both practical and thoughtful.
Listen
This is where I find the Parable of the Cracked Pot to be most inspirational. When we're coping with death, we tend to want to DO things. Fix meals, offer rides, help with funeral planning, give sympathy gifts and baskets and bouquets. But, simply listening to memories about the lost loved one is a powerful tip on how to help someone cope with death. Invite your friend for coffee, and ask her to share her memories of the person who died. Just listen.
You may feel awkward and helpless when your friend is grieving a loss, but don't let your own feelings of discomfort stop you from reaching out. When my friend was dealing with breast cancer and chemotherapy, some of her friends stopped calling because they didn't know want to say. They felt like they were cracked pots, but they didn't allow themselves to simply show up and see what God could do through them.
Find helpful resources about coping with death
When someone is grieving a loss, she may not think she needs grief support groups or grief counseling. Maybe her grief is too raw right now. But in the future, she may be grateful for information about grief support and how to cope with death. You might want to mention the bereavement counseling services nearby, or suggest grief support networks on the internet.
If your grieving friend has lost his or her spouse, read The Grieving Process After Your Husband Dies. It'll help you understand what your friend is going through.
Take your friend out for a coffee or tea
One of the best ways to cope with death – or anything – is to talk about it. Invite your friend out for a coffee, and ask her to tell you about the person she lost loss. Coping with death is more difficult when there's nobody to talk to; a good friend just listens.
When my friend's grandfather died, a mutual friend took her out for coffee and asked her to share everything she remembered about her grandpa. Listening and being a shoulder to cry on is a loving way to help someone cope with death. It may not seem like much, but sometimes friends just need to talk, talk, and talk some more about their loss.
Watch for unhealthy reactions to the death
Keep an eye on your friend for physical signs of depression, extreme weight loss or weight gain, or social isolation. If your friend really seems to be struggling with the death, talk to a grief expert or contact a grief support group. Depression as a reaction to death is more likely to happen after the first rush of shock, funeral preparations, and other practical concerns are dealt with.
After a few months have passed, touch base with your friend about how she's coping with death. Don't be afraid to bring it up for fear it might upset her – she is probably thinking about her loss often, and would appreciate your gentle concern.
If you know someone who is in the process of death, read 12 Gift Ideas for Someone Who is Dying.
I welcome your thoughts on these ways to help someone cope with death, but I can't offer advice or counseling. My prayer is that you remember that you are a cracked pot, and God is working through you. You don't need to be perfect – you need only be present.
This article was originally posted on Quips and Tips for Achieving Your Goals, called 5 Ways to Help a Grieving Friend – From Practical to Emotional. I rewrote it so it could be on my Putting Parables Into Practice team.