Digging through a Christmas stocking stuffed with holiday surprises is the best part of Christmas morning! Here are two lists of creative Christmas stocking stuffer ideas: one for him, and one for her.
The Christmas stocking is almost as important as the "real" Christmas gifts under the tree. The little tidings of comfort and joy in the Christmas stocking brings back childhood memories and surprises.
Plus, it's just fun to sort through your stocking. Christmas oranges and walnuts taste better when they come from a Christmas stocking, don't they? We always threw in a few of those, but the real stocking stuffers are wrapped and sealed with a kiss.
A few thoughtful, romantic Christmas stocking stuffers for couples can give your relationship a wonderful boost of love and fun over the holidays!
Christmas Stocking Stuffer Ideas for Men
His idea of romantic Christmas stocking stuffers may be a little different than yours. He probably likes sex (a lot), and feels closest to you when your love life is active. So, when you're buying romantic Christmas stocking stuffers for him, think about his passions – and accept that they may be different than yours.
Christmas stocking stuffer ideas for men:
Foot Rubz Foot Massage Ball to massage his hands, feet, and back
Sexy lingerie for you, with a promise that you'll model it for him later.
A personal coupon for his favorite sexual activity, to be performed on demand.
A book for lovers, focusing on how to spice up your love life. It doesn't have to be explicit or full of photos that make you uncomfortable; many tasteful, romantic gifts for lovers exist.
Bacon Lovers Personal Grooming Gift Pack – bacon soap, bacon toothpaste, bacon floss, bacon adhesive bandaids & bacon lip balm. For guys who want bacon for Christmas, like my husband does.
Tickets to his favorite sports game or team. While this isn't exactly a romantic Christmas stocking stuffer for him, he'll really appreciate the thought.
Something that involves his stomach. Food.
Another personal coupon for his favorite sexual activity to be performed on demand.
A gift card to his favorite store, hobby shop, car parts store, Home Depot, etc – whatever his interests are, support them with a romantic Christmas stocking stuffer.
A Wireless In-Car FM transmitter with charging, music control and hands-free calling for his smartphone
If your partner has a spiritual streak, read 10 Creative Christian Gifts – Plus a Few Traditional Ideas.
Christmas Stocking Stuffer Ideas for Men
Remember that romantic Christmas stocking stuffers are things that make her feel loved, appreciated, and cherished. For instance, black or red lingerie might be the most romantic Christmas gift for you, but it may not do anything for her. Focus on what she really enjoys.
Christmas stocking stuffers for women:
Essential Burt's Bees Kit – those mini lotions, sprays, and lip balms are necessities!
A personal coupon for a one hour massage.
A professional gift card to a masseuse.
A gift certificate for her favorite restaurant.
A menu for the next meal you're cooking for her, complete with wine and dessert. This is a perfect romantic Christmas stocking stuffer!
Bath products: bubble bath, shower gel, lush soap.
Christmas Soap Sampler – a boxed set of 16 Christmas soaps
Bath toys for couples to play with together. Christmas stocking stuffers should be enjoyed by both partners!
A gift card to a day spa, including manicures and pedicures.
Tickets to the theatre.
A diamond bracelet, necklace, or ring.
A homemade coupon, to be exchanged for a free day without the kids or housework, to do as she pleases.
Unique accessories, such as recycled earrings or deconstructed purses.
Gourmet chocolates.
A solid milk chocolate disc that says "I'll Never Stop Loving You" – an incredibly romantic holiday stocking stuffer.
Her favorite perfume or body spray.
Beeswax or soy candles, for candle-lit romance at Christmas.
For more Christmas stocking stuffer ideas, read Gift Ideas for Your Sister.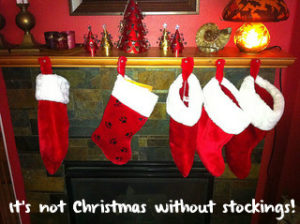 If you haven't bought your wife a Christmas present yet, read What to Buy Your Wife for Christmas.