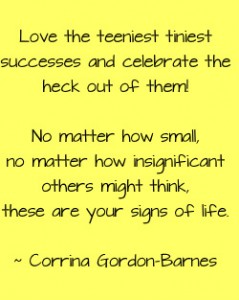 Learn how to become a small business marketing consultant from Corrina Gordon-Barnes; she's a coach who makes marketing simple for entrepreneurs. Here, she shares how she became a small business marketing consultant and offers advice for entrepreneurs who want to start their own consulting businesses.
I asked Corrina if I could interview her for New Beginnings because I love the enthusiasm and authenticity she exudes on her website and in her business, You Inspire Me! She is a successful entrepreneur who started her own business – and it's thriving.
Let's kick it off with one of her small business tips:
"My rule now is: does this content make me nervous?" says Corrina. "If I'm not a little bit apprehensive about the reaction, then it's probably not content that's worth putting out. I'm bored when I stay vanilla – when I put out a very formulaic blog post or record a very blah blah video, and there's no life or spark. "
Brilliant! See why I wanted to interview her?
In this article, Corrina:
Briefly describes how she became a small business marketing consultant
Shares what it was like to quit her part-time job and focus on full-time business coaching
Reveals the three Big Shifts that took her business from one-to-one consulting to a growing business with employees
At the end of this article, I list resources on how to become a small business consultant.
How She Became a Small Business Marketing Consultant
Corrina Gordon-Barnes' career trek ~ in her own words ~
I trained as a coach in 2005. I was coaching people around relationships, jobs, health – anything! I got clients quite easily because I was so enthusiastic, but I realised pretty quickly that if I wanted coaching to be anything other than an expensive hobby, I needed to learn how to do small business marketing. I started on a learning spree and I've never stopped; I devoured blog after blog about the most effective ways to write your website, build an email list and network, and then after a while, people started coming to me, saying, "Corrina, you know how to build a successful coaching business. Teach me!"
I'm motivated by a desire to make things simple. I've been called the Queen of Clarity. So, when a client comes to me and says, "I want more clients, but there's so much I could do, where do I even start?", I give them a step-by-step system – Turn Your Passion to Profit – which says "Do this, then that" and then marketing starts to make sense to people.
I'm adamant that if your work helps or heals others, you must not be the world's best kept secret. In fact, I believe you should be making LOTS of money, so you're free to pursue your passion full-time, rather than feeling held back by other work commitments or financial worries. (Note from Laurie: if you want to learn how to become a small business consultant, you need to learn how much to charge for your services).
It took me three years to transition into a full-time business marketing consultant. I remember cycling to my part-time job and my brain was thinking about the job, and I thought: "Hang on, these hours when I'm not being paid by my job, I'm still thinking about my job and that's taking my best thinking time away from my business." I had this powerful feeling that my marketing business was my baby and I needed to stop babysitting other people's babies and give full attention to my own.
I remember the day I handed my notice in to my part-time job. Afterwards, I went and sat outside in the car park and freaked out! It felt terrifying – more so than going self-employed initially. Because I'd just removed my safety net. Up until that point, I knew the part-time job would cover the mortgage payments if my marketing consulting business failed miserably, but now I was trusting that the business could carry me. I phoned my wife, my parents and my three best friends – to celebrate, but also to get their reassurance that all would be okay and it wasn't the most foolish decision I'd ever made!
I created a job for myself. Yes, I was my own boss but I was selling myself on an hour-by-hour basis. It was a very simple model: just one-to-one small business coaching.
The three Big Shifts that took my business from one-to-one consulting: The first Big Shift was when I started offering group courses, because then I was leveraging my time more effectively (instead of just one-to-one small business marketing consulting). The next Big Shift was taking on my first team member – Daniel – who took charge of my website and other tech issues, so that freed me up to focus on what I was best at. The third Big Shift was hiring two more amazing team members – Jo and Madeleine – to handle creative direction and community support, so the company is growing and becoming so much bigger than me.
Basically, I make marketing simple for people who are self-employed, so they get a steady stream of clients and get paid more often. Through my business, YouInspireMe.co.uk, I help men and women make money doing what they love!
If this is your first small business venture, read 5 Emotions You'll Feel After Starting a Business.
In our follow up interview – 7 Tips for Small Business Owners Taking a Leap of Faith – Corrina describes the mistakes and frustrations she experienced as a business marketing coach. She offers advice on transitioning from part time to full time work as a small business owner.
Corrina Gordon-Barnes wants to live in a world where marketing is fun, clients turn up easily, and money flows to those who help and heal. As a small business marketing consultant, she's been featured on MindBodyGreen, LifeByMe and MarketingForHippies and published in The Ecologist, OM Yoga, Diva, The Ecologist and The London Paper. Discover more and sign up for free inspiration at You Inspire Me.
The following resources on starting a small business are from Laurie. They all received excellent reviews on Amazon, and will help you get your biz booming!
Resources on How to Become a Small Business Marketing Consultant
If you have any questions or thoughts on how to become a small business marketing consultant, please comment below.