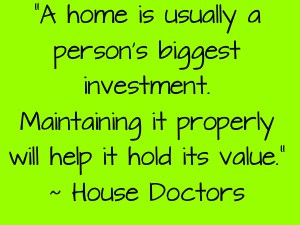 Here's an interview with a franchise owner who runs House Doctors. He describes the best and worst parts of owning a home improvement service franchise.
The home improvement services business just got more interesting! These handyman jobs for entrepreneurs combine small business effort with home improvement skills. In this home handyman job description, you'll learn how a home improvement franchise works — House Doctors provides security and opportunity to small business owners.
"You have to like what you do," says John Driesse, the franchise owner of House Doctors of North Jersey. "Running a business – not to mention starting one – consumes a lot of your time. There's always something to do. You're behind most of the time, and you have to be good at prioritizing things. Everything is important, but some things must be done before others."
Driesse' business is part of a large US-based handyman franchise company called House Doctors. Here, this professional handyman describes his job and offers career tips for aspiring small business owners…
Home Improvement Services – Handyman Jobs for Entrepreneurs
A professional handyman's job includes both residential repairs (eg, cleaning gutters, doing carpentry, installing pet doors, remodeling, etc) to commercial repairs (eg, fixing doors and windows, installing new carpets or floors, performing maintenance services, etc).
"Most people are surprised that we respond to their calls quickly, arrive when we say we are going to, and complete the work in a professional manner," says Driesse. "The 'professional handyman' name carries somewhat of a negative connotation, and we're working hard to change that."
Owning and operating a home improvement franchise is different than working as a professional handyman.
How a Home Improvement Franchise Works
Owners of House Doctors franchises don't do the handyman work themselves. Instead, they employ service technicians who perform home improvement jobs in homes and businesses. The handyman franchise owners are business managers; their role includes recruiting, training, and motivating their staff. These small business owners also do all the marketing and planning responsibilities within their handyman franchise.
If you want to start your own business, read 7 Tips for Small Business Owners Taking a Leap of Faith.
How Much Do Home Handymen Make?
"The average salary for this franchise, as with many small businesses, is basically what you want it to be," says Driesse. "In the beginning you have to invest the financial startup costs in the business. You should be able to live without earning money from your business for about 9 to 12 months."
Small businesses and franchises do make money, but that money needs to be re-invested into the business to build it up. "Small business or franchise owners need to develop a business plan, set goals, create budgets, and have a plan to achieve their goals."
The Best Parts of Working as a Home Improvement Franchise Owner
"I like helping clients repair and upgrade their homes," says Driesse. "A home is usually a person's biggest investment, and maintaining it properly will help the house hold its value."
Driesse also likes owning and operating a franchise business, keeping all parts running smoothly. "It's exciting when things are all mesh well together," he says.
The Downside of Working as an Entrepreneur
"One thing I dislike about my job is the bookkeeping/accounting part of the business," he says. "It's very important to watch the numbers, parts and labor, etc, but I'd much rather be helping clients, marketing, and networking. I also dislike having to reschedule home services jobs because of the weather – although we can't control that! Our clients understand, most of the time, but are usually anxious to have the work completed."
Another example of a franchise small business opportunity is working as a  Manicurist Life Coach.
Career Tips
Driesse says owning a home handyman service business or franchise is a gratifying and rewarding experience. "You'll like some aspects of running a small business better than others, but everything has to be done and the buck starts and stops with you!" he says. "Surround yourself with knowledgeable professionals, such as accountants, attorneys, business professionals, etc. Since you can't do everything, you must focus on your strengths, and get help in the other areas of the business."
If you're willing to give your small business 100%, it will pay off! You will have ups and downs, but don't give up.
This professional handyman encourages entrepreneurs to join networking organizations such as the local Chamber of Commerce or small business groups specific to your industry.
If you'd rather start a small business that allows you to work from home, read 30 Home Based Business Ideas.
Do you have any thoughts on House Doctors as a home improvement franchise? Please comment below.
For more information about this professional handyman, visit House Doctors Home Improvement Franchise.