Here are a million (more or less) tips on how to survive turning 40, inspired by my soon-to-be 40 year old boss and the parable of the Acre of Diamonds. Whether you're surviving your fortieth birthday with literal diamonds or metaphorical ones, you need to dig deep.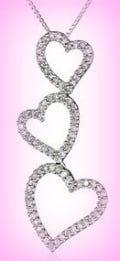 If you're anxious, scared, or not thrilled about turning 40, pamper yourself with something beautiful. Since diamonds is the theme of these tips on how to survive your fortieth birthday, the best way to approach this decade might be with a White Gold Diamond Triple Open-Heart Drop-Pendant Necklace.
But remember: "Your diamonds are not in far distant mountains or in yonder seas; they are in your own backyard, if you but dig for them." – Russell H. Conwell. A diamond necklace might remind you of the diamonds you have in your life, but the necklace itself isn't the real gift. The parable below will show you what I mean.
Are you looking for a birthday present for someone turning forty? Read 40th Birthday Gift Ideas for Women – From Easy to Extravagant.
In this parable about diamonds, you may find an idea on how to approach your fortieth birthday – but you may have to dig for it. If not, then hopefully my tips on how to survive turning 40 will help.
The Parable About the Acre of Diamonds
There was once a wealthy man named Ali Hafed who lived not far from the River Indus. "He was contented because he was wealthy, and wealthy because he was contented."
One day a traveler visited Ali Hafed and told him about diamonds. The traveler bewitched Ali Hafed with stories about how much diamonds are worth, how sparkly and glittery diamonds are, and how diamonds are the only way to secure one's future.
Ali Hafed went to his bed that night a poor man. He had not lost anything, but he was poor because he was discontented, and discontented because he feared he was poor. He sold his farm, left his family, and traveled the world in search of diamonds. He did not find them. His health and his wealth failed him. Dejected, he cast himself into the sea.
One day, the man who had purchased Ali Hafed's farm found a curious sparkling stone in a stream that cut through his land. It was a diamond. Digging produced more diamonds — acres of diamonds, in fact.
6 Tips on How to Survive Turning 40
Do you have diamonds in your backyard? I believe you do. Maybe you're literally wearing diamonds, and you're planning to give yourself a diamond necklace or tennis bracelet on your fortieth birthday (if you want diamonds, don't wait for others to give them to you! Give yourself what you want). Or maybe your diamonds are people, animals, hobbies, spirituality, or other precious things in your life.
The most important tip on how to survive turning 40 is to see the acres of diamonds in your backyard.
"I guess I was too blind to see the shiny diamonds in my hands. Dropped them while running in my own world, seeking gold." – Mohammed Zeyara.
Recognize your diamonds
What do you love and cherish about your life? I always thought I was unlucky because I grew up with a schizophrenic mother who was in and out of the hospital – which means I was in and out of foster homes for much of my childhood. But now I think I was lucky, because I am unbelievably grateful for the smallest gifts in life. I count Slurpees, my relationship with God, a car that runs, healthy pets, a devoted husband, and the ability to buy whatever I want at the grocery store some of the "small" gifts in my life. Those are my diamonds…and the rest is icing.
Get out of your house for at least 5 nights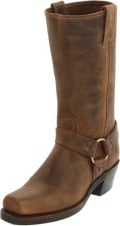 A pair of hiking boots – or Soft, Sturdy Leather Boots for Women – will help you get out of the house and make your way in the world. I bought myself a pair of cowboy boots when I finished my Master of Social Work last year. I was 44 years old, and finally ready to splurge on a good pair of boots.
Or get yourself a travel bag, and plan a trip away. Go to the next town, or the next continent! Book yourself an all-inclusive vacation or week-long cruise – and don't worry if you don't have anyone to go with. Some of my best vacations have been solo excursions (but I love being alone, and that makes a huge difference). I've found that other tourists are very welcoming to women traveling alone, and "youth" hostels are no longer for people in their late teens and 20s.
Pamper yourself on your 40th birthday
I'm a full-time writer, and I work on-call at a safe house for women feeling domestic violence. One of my supervisors is turning 40 years old soon, and she isn't amused by the idea of being forty. The closer her birthday gets, the less enchanted she is with turning 40. So, she's taking the week off work for her birthday. She's going for a massage, getting her hair done, and pampering herself in other ways.
How about you – what will you do for yourself? How to survive turning 40 depends on your personality, lifestyle, likes, dislikes, etc. If you need a makeover, start by researching a few hairstyles for women turning 40.
Get out of your head for at least 3 hours
I play the flute in the North Vancouver Community Band. This is one of my best tips on how to survive turning 40: buy yourself an instrument you've always loved and wanted to play, and take music lessons. Join a community band or choir. Get lost in learning something new! It doesn't have to be music; maybe you could take painting classes for your fortieth birthday, or go on a writer's retreat. Do something creative. Be 40 years old, and let your soul come alive.
Toast your 40th birthday (but don't get toasted)
Want to get whimsical? Give yourself a Mud Pie "Fabulous at 40″ Wine Glass
, and toast your way into your fortieth decade! These wine glasses aren't just for the celebration of turning 40. They're for any night of the week. I enjoy wine – maybe that's why I love being in my 40s, because I can enjoy wine without needing to get drunk or waking up hungover the next day. I'll be turning 45 in a couple of months and I've learned alot about myself

Embrace your fortieth year, my friend. Forty can bring wisdom, strength,  and confidence – if you rely not on wine, but on Something Greater.
Survive turning 40 by connecting with the Roar of Something Greater
Ah, this world. It can be harsh, confusing, depressing, scary. But it can also be so beautiful, fun, exciting, mysterious! How you view this world – and your age – depends on your relationship with God. I am often saddened and discouraged by the problems I see, especially when I work at the transition house for women fleeing violence. What keeps me inspired, creative, optimistic, peaceful, focused, and joyful is God. I connect to the Holy Spirit, and I feel good. Pursuing an authentic, meaningful relationship with God will make turning 40 a walk in the park. But, like diamonds, a relationship with God must be dug for, mined, cherished, recognized, and appreciated.
That's how to survive turning forty: connect with something bigger and greater than yourself, than this physical world. For our bodies are aging and our world is meaningless without God.
For more tips on how to survive turning 40, read 7 Meaningful Ideas for Your 40th Birthday.
And here's a tip about diamonds from Zsa Zsa Gabor: Having been engaged rather a lot of times, Zsa Zsa Gabor was asked whether a lady should give back the engagement ring. "Of course darling," she said. "But first, you take out all the diamonds."
I welcome your thoughts on how to survive turning 40 below!