These Christian gift ideas will help you find something perfect, because they go beyond Bible covers (which are good Christian gifts!).
A Christian art poster kicks off my list of creative Christian gifts. It's often difficult to give art as a gift, unless you know your Christian fairly well! But the "I Can Do Everything Through Faith" Wall Print (pictured) is an exception, because it's small and discreet. That is, it doesn't have to fit into the decor of room – it can be hung anywhere. The artist also has Peace, Love, and Grace signs that make wonderful, creative Christian gifts.
Traditional Christian Gifts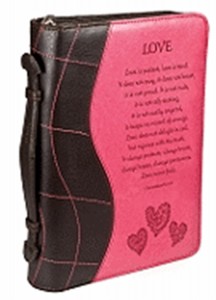 Since I mentioned Bible covers as Christian gifts, I have to share a gorgeous Bible or Book Cover With Scripture that displays 1 Corinthians 13:4-8 (the most famous passage about love in the Bible). I know this isn't the most creative Christian gift idea in the world (it's one of my traditional gifts), but it's so pretty. If you're shopping for a Christian gift for her, you can't go wrong with pretty and pink.
Another traditional Christian gift idea is a book about spirituality, prayer, and God. Currently, I'm a huge fan of any book by Pastor Timothy Keller. Encounters with Jesus
is his most recent book, and it's helps readers answer questions such as: "What is my purpose in life? What is a good life? Why is there so much wrong with our world? What can I do to help make it right?"
Of course, you can't go wrong with The Screwtape Letters by C.S. Lewis – or anything related to The Lion, the Witch, and the Wardrobe. There are lots of famous, spiritual Christian authors and books, and they can make good gifts for Christians.
Okay, now that I've got the more traditional Christian gift ideas out of the way, I can get to the more creative Christian gifts for him or her…
10 Creative Christian Gifts
The intention of these gift ideas is to help us remember that God is with us all the time. He loves us, cares for us, and only wants the best for us. He is walking alongside us…and often He is carrying us. The best Christian gifts are those that help us remember the majesty of God – and how connected we are to Him.
Cross necklace.
Forgive me if it seems I'm slipping back into traditional Christian gift ideas! Before I moved to Africa, one of my closest friends gave me a gorgeous gold cross. That was 12 years ago and I still treasure it. A creative spin on the traditional gift idea of a cross is the Silver and Yellow Gold Cross Pendant Necklace. It's not "just" a simple gold Christian cross.
Prayer journal. One of the best ways to draw close to Jesus is to write him letters, which I often do in my personal diary. I've never used a prayer journal to track my prayer requests and God's response, but I've heard Christians say it's a wonderful way to keep your relationship with Jesus alive! If your Christian likes to write and spend time in prayer, a Serenity Prayer Journal may be a perfect gift for her. I hesitated to add a prayer journal to this list of Christian gifts because I've received several journals over the years. They were nice gifts, but truthfully I prefer to buy my own journals to write in. A prayer journal is a good gift for a Christian you know well, who will be encouraged to use it.
A trip to Israel. How about a trip to the Wailing Wall in Jerusalem, or a tour of the Garden of Gethsemane? Or, a float in the Dead Sea or on Lake Galilee. I've been to those amazing places in Israel, and they are unforgettable. An incredibly creative Christian gift at Christmas would be a trip to Bethlehem, to see where Jesus Christ was "born"! When I was there, someone pointed out the exact spot that Mary gave birth to Jesus. I was skeptical, I have to admit.
Christian iPhone cover.
This definitely is not a traditional Christian gift idea! A Holy Land iPhone Case isn't the same as actually going to Israel, but it could be a constant reminder of Jesus' love for us. The case pictured actually has Holy Land soil included, but that wouldn't interest me. There are lots of beautiful iPhone or cell phone cases that remind Christians of the gift of God's love, peace, and grace.
A Christian experience. Since my Christian gift idea of traveling to Israel is a bit unrealistic for most of us, how about a Christian concert or event? I've never seen a Christian band perform in person – that'd be a cool gift. Many cities have Christian events – such as the Singing Christmas Tree at Broadway Church in Vancouver – that make wonderful, creative Christian gifts.
A spiritual retreat or weekend away. I would LOVE this gift! Womens' retreats are so refreshing and invigorating, and they often take place in beautiful settings. Sometimes they even happen in exotic locations such as Hawaii, India, or Africa. This gift idea for Christians may be out of reach financially for most of us, but it's something to think about. A church retreat can be just as spiritually refreshing, and a welcome way to get away for the weekend.
Wall art. 
I have several Christian wall art signs hanging in my office – I love seeing messages of faith, belief, and hope. The Abide in Him Wall Decoration has the look and feel of a traditional Christian gift, but it's modern and creative. Wall art is one of the best Christian gifts I could get at Christmas or anytime of the year (right after a spiritual retreat!).
If your Christian loves to knit, read 8 Creative Gifts for Knitters.
Christian clothes.
I was looking for slippers or a fleece blanket that had some sort of spiritual or Christian message on them, but I came up empty-handed. So, how about a t-shirt? Here's a picture of an adult t-shirt that says "Work For God – The Retirements Benefits Are Great!" It's cute, but also a declaration of where one stands with regard to Christianity.
I also found some really nice Christian Baseball Caps that say "God Is Good All the Time." These Christian gifts might be more appropriate for pastors or pastors' wives, depending on how vocal and outspoken your Christian is about his or her faith.
Christian music.
Of course the Wow Hits 2014 has to be on my list of creative gifts for Christians! I'm still listening to more traditional Christian bands, such as Petra and Craig and Dean Phillips – and even though I love my old music, I'd be blessed by a gift of a new Christian CD.
If you didn't find what you're looking for in this list of traditional and creative Christian gifts, check out the Christmas Gift Ideas for Christians article I wrote three years ago.
How are you exchanging gifts this year? One of the most creative holiday parties is a white elephant. Read White Elephant Gift Exchange – Rules, Tips, and Gift Ideas.
And, please share your gift ideas for Christians – I'd love to add to this blog post!