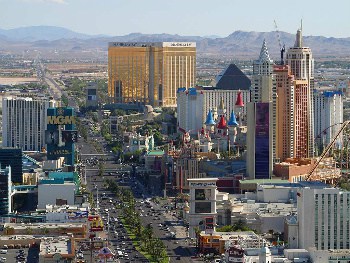 This article should actually be called "How NOT to book a hotel in Vegas", because it lists all the mistakes I made when I booked our room in Las Vegas.
It doesn't take much time to find Vegas hotel deals, and it's worth the effort. These tips on how to book a hotel in Las Vegas, Nevada include ways to say money on your trip.
We're staying at the LVH (Las Vegas Hotel), which we booked through Priceline – it's a website that allows you to bid money on hotels. You don't know which hotel you'll be staying at until the hotel accepts your bid and you pay your money. You're locked in after you bid and pay, even if the hotel is terrible – which was our experience booking a hotel in Las Vegas. I'd never use Priceline to book a hotel room ever again, and I would never stay at this hotel in Vegas again. We're staying at the Las Vegas Hotel (LVH). It's a 3½ star hotel and we got it for $75 per night – which is a rip off.
Using Priceline isn't how to book a hotel in Las Vegas! That was our first mistake.
How to Book a Hotel in Las Vegas, Nevada
The problem with trying new ways to book a hotel in Las Vegas is that you learn by doing. Unless you're smart enough to search for tips on finding ways to save money on hotels in Las Vegas – which I unfortunately didn't take the time to do. I was too concerned with finding a dog sitter to worry about saving money in Vegas. That was my second mistake.
No matter what type of vacation you're planning, do a little research first! Search the internet for tips for saving money on hotels in Vegas or wherever your destination is. Start early – don't leave it to the last minute, like I did. Another tip on how to book a hotel in Las Vegas is that what works for booking hotels elsewhere doesn't necessarily work for Vegas.
Use Priceline only when you want to book a 4½ or 5 star hotel in Las Vegas. It was mistake to bid $75 per night on a room through Priceline, because it was too low a bid for the 4 ½ or 5 star hotels in Vegas. Our Las Vegas hotel was 3½ stars, and we thought we got a pretty good deal…until we got to the hotel and were charged an extra $80 ($18 per night for four nights). It's a "resort fee" that we didn't know about until we checked in.
Expect extra hotel charges if you use Priceline to book a hotel in Vegas. When I tweeted my complaint that we thought we'd paid our hotel in advance by booking our Las Vegas hotel through Priceline, someone said we should've checked the hotel's official website before booking the hotel. But you can't do that if you book a hotel in Las Vegas through Priceline, because you don't know where you're staying until you've already paid for the nights! It's a nasty circle.
Check the hotel's website for "resort fees" and extra charges. One of the most important tips on how to book a hotel in Las Vegas is to do your research – especially if you're staying in Vegas for more than a couple of nights. In hindsight, I'd much rather have booked a hotel through Groupon, Expedia, Travelzoo, Hotwire, etc. Priceline might be a good way to book a hotel in Las Vegas if you're staying for one or two nights and are prepared for extra resort fees, but if you're staying for more than four nights, that $18 per night gets expensive.
Ask if wireless internet is included.  If you want to know how to save money on more than hotels when you're in Las Vegas, you need wireless internet access during your trip. Groupon offers daily deals on all sorts of meals, buffets, day trips, spas, shows, and other vacation-related things in Las Vegas. The wireless internet fee at Las Vegas Hotel is $14 per day for each device (ie, $14 for the laptop wireless, $14 for the cell phone, etc). I was told it's included in the $18 extra charge per night, but I am worried we'll be charged extra for the wireless internet.
Sign up for Groupon Las Vegas Deals of the Day emails. This isn't a tip on how to book a hotel in Las Vegas – it's a way to save money while you're there! The Groupon daily emails are a fantastic way to see what Vegas has to offer, and save money doing things you wouldn't have thought of.
Go to the Grand Canyon while you're in Las Vegas. Gambling is boring to me – I'd much rather be exploring the city of Vegas and seeing the surrounding states. We stayed in Vegas for four nights, which is more than enough time to see the hotels. Get out of town, and visit the amazing Grand Canyon! It is stunning. We went to the South Rim on a 12 hour bus tour, and it cost $100. We didn't book that trip through Groupon – it was a deal we found on the Strip. The money you save when you learn how to book a hotel in Las Vegas can be spent on more than gambling!
Back to my tips on how to book a hotel room in Vegas – don't expect Priceline or your Las Vegas hotel to respond to your emails, Facebook messages, or tweets. I know from Twitter that other people have had negative experiences with booking a hotel in Las Vegas, and their complaints were ignored. For instance, one guest received a package at the Las Vegas hotel, and was charged extra money before they would release it to her. She paid to receive a package. She tweeted her complaint, and was ignored – just like I was.
Here's the email I sent the hotel we stayed at, complaining about how I booked this Las Vegas hotel and what I hoped they would do about it. It was an ineffective complaint letter – I welcome your thoughts on how to improve it! I won't send it to the Las Vegas hotel again, of course. They don't care.
Hello Las Vegas hotel,
We bid $75 for a Vegas hotel thru Priceline & that's how we booked the Las Vegas Hotel (LVH). Now we have to pay $18 extra / night for 4 nites. I feel ripped off — and even more so because the room wasn't cleaned properly. There were hairs on the toilet seat, coffee whitener on the counter near the coffee machine, and white junk all over the shampoo, conditioner, and hand lotion bottles. Plus, the bathtub leaks a constant stream of water. I would never recommend this hotel for $60 a night, much less $100.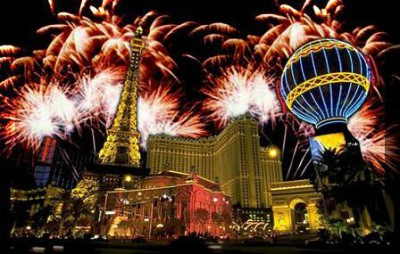 I tweeted and Facebook'd my complaints – I'm @QuipsAndTips on Twitter. If you reimburse us the extra $80 resort fee that we had to pay when we checked in today, I'd be happy to thank and commend you publicly. If not, I'm happy to continue sharing my experience at this Las Vegas hotel online in various ways.
Sincerely,
Laurie Kienlen
If you have any tips on how to book a Las Vegas hotel, please comment below!
I should also mention that I LOVED my stay in Vegas, despite the crummy hotel. Going to the Grand Canyon was definitely the highlight of the trip.