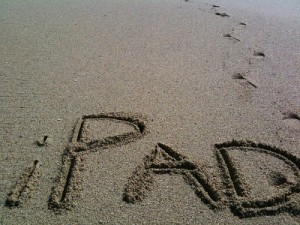 Going back to school is easier if you know the best university apps for Apple iPads or Galaxy Samsung Tablets. For instance, iBookstore's online textbooks includes free updates! That's the coolest thing for a student like me – I got my first university degree in 1994, when print textbooks were the only option.
I have a Samsung Galaxy Tab 3, which I used every day last year –my first year of my Master's of Social Work at the University of British Columbia (UBC) in Vancouver. But now that I have an iPhone, I'm seriously considering getting an iPad because of all the university apps.
My iPhone is faster, easier to use, and more fun than my Samsung Galaxy Tablet. I cheaped out when I bought the Galaxy tablet because I didn't think an iPad was worth the extra money. I hate to admit it, but I'm hooked on Apple products now. I wish I would've spent the extra money and bought an Apple iPad with Retina Display.
Since I'm going back to university in September and I have an iPhone and a tablet, I need university apps that will streamline my studies. I got an email from Apple today, and here's what they suggest…
University Apps for iPads
Apple's iPad – in comparison with the Samsung Galaxy Tablet – offers a huge range of educational apps for university students. There are over 30,000 iPad apps, including reference apps, study apps, note taking and sharing apps, learning games, and even classroom and class work management tools. "There's an app for that!"
I'm focusing on online textbooks for this post, because there are too many apps for university students to write about in one place! This is a short, sweet summary of the online textbook apps for students.
Online textbook apps 
Print textbooks are incredibly expensive, heavy, and bulky – but many universities still exclusively use them. Last year, the UBC library sold online textbooks, but they expire in three or four months!  I couldn't believe it. So, even if you want to use a university app for your iPad or Galaxy Tablet, you may have to buy a print version of the book anyway. The online textbooks at UBC were only slightly cheaper than the print textbooks, and you're essentially only renting them.
The beauty of getting an iPad or Samsung Galaxy tablet is that you can read online journal articles and textbooks on the way to and from university. Even when I have to stand on the 99B line all the way to UBC, I can usually read a couple of assigned articles. Online textbooks and articles aren't heavy, and won't break your back.
But, as good as the university apps for iPads and tables are…I still prefer print article and textbooks. I like to highlight, fold down the corners of pages, and use sticky notes to mark relevant passages. I haven't learned how to use online textbooks and articles the same way.
iBooks online textbooks
Nobody says it better than Apple:
"iBooks textbooks on iPad offer a gorgeous, full-screen experience full of interactive diagrams, photos and videos. No longer limited to static pictures to illustrate the text, now students can dive into an image with interactive captions, rotate a 3D object or have the answer spring to life in a chapter review. They can flip through a book by simply sliding a finger along the bottom of the screen. Highlighting text, taking notes, searching for content and finding definitions in the glossary are just as easy. And with all their books on a single iPad, students will have no problem carrying them wherever they go."
Online textbooks offer 3D images, interactive images, interactive galleries, highlighting, note-taking, study cards, and even iBooks Author. This is an app that allows you to create an interactive book on your Mac.
iBookstore – the best university app for iPads
I LOVE the idea of iBookstore  Books because textbooks get updated so often. I remember buying one university textbook for a Psychology course one year, and not being able to sell it as a used textbook the very next year because it was already out of date.
The iBooks app offers free updates of the online textbooks – so if you buy a book that later is republished with new or additional content, this university app will lets you know. You can download the updated version free, and it automatically replaces the older copy on your bookshelf. Sweet.
Do university apps make you a better student?
There's no point in downloading educational apps – or even buying a Samsung Galaxy Tablet or an Apple iPad – if it doesn't make you a better, more productive, more efficient student. The hazard of online textbooks and apps for tablets and iPads is that they don't guarantee you'll get better grades!
In fact, university apps could backfire by tempting you to check Facebook, surf the internet, or text your friends. With a print textbook, you're stuck with the words and the print pages.
What do you think? If you have any tips on university apps for iPads or online textbooks, please comment below. Also – if you have any questions on transitioning to university, please ask! I'd be happy to write an article for you.