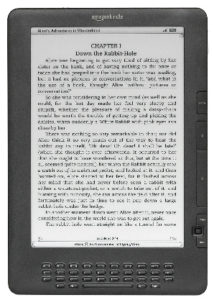 Which ereader makes the best gift? This summary of the best ereaders – Barnes & Noble Nook, Apple iPad, Amazon Kindle, and the Sony Reader – will help you match the right ereader to the right person.
"I know every book of mine by its smell, and I have but to put my nose between the pages to be reminded of all sorts of things." ~ George Robert Gissing.
While ereaders don't have the smell or texture of "real" books, they do have other advantages that people who love to read will love!
Some ereaders cost less than $200, while others are over $500. Price doesn't necessarily mean one electronic reader is better than the other — it just depends on what the reader is used for. The most popular ereader is Amazon's Kindle – but that doesn't mean the Kindle is the best way to read electronic books!
An Apple iPad Tablet considered by some as the best gift to give someone who loves to read and wants to try an ereader. But I'll leave that for you to decide…
The ereader is a good gift for people who:
Love reading.
Are forced to read many different books for school or work.
Like to skim books – the ereader allows us "skimmers" to jump from one book to another without feeling guilty for not reading the whole thing.
Travel or commute a lot (ereaders are particularly good for travel).
Have always wondered about reading electronic books, but can't bring themselves to buy an ereader.
eReaders aren't the best gifts for people who:
Aren't comfortable with technology.
Have health issues that prevent them from seeing screens properly. My father-in-law, for instance, is a die-hard print book fan. An ereader would be wasted on him.
Don't like you to spend lots of money on them. My mother-in-law always feels like we spent too much money, even when a gift costs $20! So an ereader would not be the best gift for her.
eReaders are good gifts for people who belong to book clubs, or who want to know How to Start a Book Club.
If you've decided that your gift recipient would love an ereader, your next step is to figure out which ereader makes the best gift…
Which eReaders Make the Best Gifts to Give?
This list of the best ereaders aren't in order of "best to worst" – the order is random. But, they are the most popular ereaders on the market today…
Barnes & Noble Nook
This ereader was created by Barnes & Noble after Amazon's success with the Kindle. The Nook has two wireless offerings, and offers free WiFi in store. It can be stocked with books by simply touching the Shop button, but it doesn't have as big a book selection as Amazon's Kindle. But the Nook does offer over 2 million books, and has a special interactive feature for kids' books. A cool feature of this ereader is the ability to lend books to your friends who also have Nooks.
Apple iPad
Okay, the iPad isn't technically "just" an ereader! It's practically a fully functional computer (without a regular keyboard). But if you're thinking about giving the gift of ereading technology, you might splurge on the iPad. It contains a gazillion apps that allow you to do a gazillion things.
There is a thorough review of the Apple iPad Tablet on Amazon, which also includes the downsides (no dedicated USB support, no flash support).
Amazon Kindle (perhaps the best digital reader gift)
Weighing in at less than 9 ounces, Amazon's Kindle is one of the lightest ereaders. A full battery can last up to a month (depending on how often your gift recipient uses her ereader, of course!). The Kindle has tons of extra features, including storage of up to 3,500 books, anti-glare screen, new high contrast e-ink, dictionary lookup capability, and browsing the web with wifi. Some say that the Kindle is the best ereader – which may make it the best gift to give!
For more info: Kindle 3G Wireless Reading Device, Free 3G + Wi-Fi on Amazon.
Sony Reader
If you're buying an ereader for someone who loves the feel and look of books, then this might be the best ereader to give as a gift. It's not the heaviest ereader (Apple's iPad is, at 1.5 pounds), but it has a screen-only design that makes it seem like a "real" book. Like the Kindle, it has an e-ink screen that looks like paper. It has slightly more glassy glare than the Kindle or Nook. Only the Sony Daily Edition ereader (a specific type of Sony Reader) delivers periodicals wirelessly, like the Nook and Kindle do. This reader made the list of the "best ebook readers" because it allows you to check books out from the library over the internet. This isn't the cheapest ereader, but it's worth checking out.
For more gift ideas, read 40th Birthday Gifts for Women – 20 Ideas She'll Love.
You might also like 8 Creative Gifts for Knitters, in case your gift recipient loves to knit.
Have you ever received or given an ereader as a gift? Comments and tips welcome below.