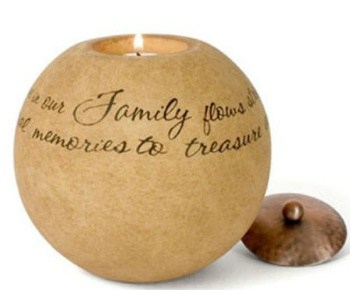 One of the most thoughtful sympathy gifts when Grandpa dies is a comfort candle. The one pictured has a beautiful saying about family and memories to treasure.
It doesn't matter how long he lived: it's hard to say good-bye when Grandpa dies. Most of these sympathy gifts cost nothing but time. Here's another beautiful sympathy gift, which I found on a website about cremation urns:
"Last Father's Day, as always, my mother and I went to Grandpa's grave and put flowers on his headstone," writes a fellow in Remembering Grandpa. "When we got up to the gravesite, my mom surprised me with a gift. She had a beautiful cremation urn made for me from bamboo that had a photo in the center of it of Grandpa and me. It was the best gift I ever received. Inside, there were Grandpa's war metals, photos of his restaurant with him in the kitchen, a Pavarotti CD and Grandpa's medical ID bracelet. Now, I don't have to worry about forgetting Grandpa or not saying goodbye because I will always have him with me."
Here are a few more sympathy gift ideas for grandpa's death…
When Grandpa Dies – 4 Thoughtful Sympathy Gifts
At the end of these sympathy gifts, I offer lists of ways to help when Grandpa dies. Comfort candles and bamboo urns are wonderful, but practical gifts of time are also welcome!
1. Send an invitation for an "in memory of Grandpa" coffee date. When my friend's dad died, a mutual friend invited her out for coffee. The sole purpose was to talk about her dad, to share all the best and worst memories. People need to talk about the grandparents they lost – it makes them feel better, not worse. "[Grandpa's] name is like music to the ears of those left behind," says ArtLady. "They need to talk about them to be able to move on. Just think of the hurting families and not yourself or your discomfort in dealing with death. It can make all the difference in the world to someone who is grieving their grandfather's death."
2. 
Send birthday cards – yes, even for Grandpas who died. "When someone you know loses a loved one, the grief process goes on for quite some time," says ArtLady on Sympathy Gift Ideas. "Remember their loved one's birthday by sending them a card. Send small gifts on special occasions, like Father's Day, Christmas, Easter, etc. Just simply giving them a candle in a container to burn for Grandpa at Christmas means a great deal."
Different comfort candles have different sayings, such as "In Memory of a Life Well Lived." That's a great sentiment for when Grandpa dies, isn't it?
ArtLady says many people have a lot of support from loved ones immediately after Grandpa's death, but they suffer alone in the following months. This is another sympathy gift that costs nothing but your time.
3. Create a keepsake to remember Grandpa after he dies. "Find the obituary in the local newspaper and have it laminated. You can cut it into a bookmark for a book her dad like to read, or perhaps the family Bible. You might also gather a few of her dad's things from family members, such as small items for a 'shadow box.' I did this for my brother when our grandparents died. I had quilt pieces that my grandma made, my grandfather's pipe and a can of Prince Albert along with his matches that he loved so dearly. We both cried but it made a great reminder that the little things mean so much!"~ Connie A on Sympathy Gift Ideas.
Another sympathy gift for when Grandpa dies is a Remembrance Garden Chime – especially if he was a gardener.
4. Offer a sympathy gift basket. I'm a big fan of sympathy gift baskets, such as the With Sincere Sympathy Condolence Gift Basket, because they won't go bad, don't require freezer space, and can even be regifted. Gift baskets are versatile and thoughtful – and you can easily make one yourself. A homemade sympathy gift basket allows you to include more personal items that you know the family member enjoys.
When Grandpa Dies – Practical Ways to Help
First, here's a wonderful list of things to do when someone dies from wendysioux on Sympathy Gift Ideas. You may not be involved in the funeral planning, but each of these things on the list need to be done…and when Grandpa dies someone has to do them.
The best sympathy gift you could give someone who lost Grandpa is to take on some of these chores yourself. They don't cost much money, and they can make all the difference in the world.
"A friend of mine compiled a list of things to do when a friend or loved one has a death in the family. She had just lost her mom and wrote this up a week after the funeral. She was in her 40s and had children of all ages at home. I printed it out and keep it on hand now so I have more of an idea of what I can do.
The First Day of Grandpa's Death
Make phone calls
Stay and visit
Run kitchen at meal times
See if the supply on paper products is low – kleenex, TP, paper plates, etc.
Take clothes to cleaners
The Second Day
Stay and visit
Run kitchen at meal times
Pick up clothes from cleaners
Breakfast food
Offer to help pick out flowers
Change bedding for out of town overnight guests
Wash cars
Bring pictures and anecdotes to share
Food for noon and supper meals
Take children out on errands such as shopping for funeral clothing or haircuts
Day of Viewing
Stay and visit
Meals
Stay overnight
Take food to funeral home lounge
Day of Grandpa's Funeral
Organize dinner
Donate dinner items (food or table decorations) and volunteer to serve if needed
Stay overnight
First Two Days After Funeral
Buy stamps for thank you notes
Phone or visit
Make a lunch or supper date
Take them out to coffee
A thoughtful, meaningful sympathy gift for after Grandpa dies could involve addressing thank you cards and buying stamps.
Food is another huge chore during the funeral preparation and planning; preparing meals is a practical way to show support and love after someone passes on.
Don't forget that Grandma has lost the man she's loved and been married to for years. You may find gift ideas for her in Thoughtful Gifts for Someone Going Through a Breakup.
I welcome your thoughts on these sympathy gifts for when Grandpa dies – especially if you've experienced the comfort candles.