Inspired by the fable of Cupid, this list of unique Valentine's Day gifts will help you find the exact right gift for a woman who has everything. Go beyond boxes of chocolates and bouquets of roses on February 14 (not that there's anything wrong with chocolates and roses on Valentine's Day! They're just not unique gifts for women who have everything).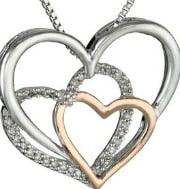 The Sterling Silver, Gold, and Diamond Triple Heart Pendant Necklace is a gorgeous Valentine's Day gift for a woman who is sentimental and romantic. The three hearts might represent a family, or a couple and their dog, or even three stages of love. The beauty of finding a unique Valentine's Day gift for a woman who has everything is that it frees you to be creative and authentic.
If your sweetheart loves chocolate – and you need ideas for unique chocolate gifts – read 10 Chocolate Gift Ideas for Valentine's Day. The gifts range from organic soy chocolate candles to cocoa shea body butter. And of course, there are different types of white, milk, and dark chocolate gifts to choose from!
Below are five types of gifts for women who have everything, to help you find the most unique Valentine's Day gift. But first, here's the story of Cupid. Why? Because the fable of Cupid and Psyche might help inspire you to make this Valentine's Day creative and maybe even romantic.
The Fable of Cupid on Valentine's Day
Once upon a time there was a king with three daughters. They were all beautiful, but by far the most beautiful was the youngest, Psyche. She was so beautiful that people stopped worshipping Venus, the goddess of love and beauty. Venus was very jealous, and asked her son Cupid (the boy with the arrows) to make Psyche fall in love with a horrible monster.
When Cupid saw how beautiful Psyche was, he dropped the arrow meant for her and pricked himself. This caused Cupid to fall in love with Psyche – making this fable a popular Valentine's Day story.
Nobody wanted to marry Psyche, despite her great beauty. Her parents consulted an oracle, and were told that she was destined to marry a monster. The oracle told Psyche's parents to release her to fulfill her destiny. That night, the west wind carried her away to a palace where she was served by invisible servants. Psyche's new husband visited her, and told her that he would always visit her by night and she must never try to see him.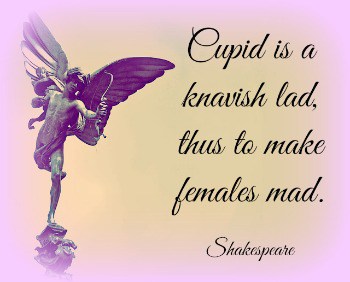 Although her invisible husband was kind and gentle, and the invisible servants attended to her every need, Psyche grew homesick. She persuaded her husband to allow her sisters to visit her. When they saw how Psyche lived, they became very jealous. They talked Psyche into peeking at her husband, saying that he was a monster who was fattening her up to be eaten and that her only chance of safety was to kill him.
That night, Psyche was ready for her husband's visit – she had a lamp, a bow, and an arrow. When she saw how beautiful her husband – Cupid – was, she was so surprised that she accidentally shot the arrow into his shoulder. Cupid immediately left Psyche, and the magnificent palace disappeared in a puff of smoke.
Psyche roamed around looking for Cupid, eventually in desperation approaching his mother, Venus. Still angry, the goddess made Psyche work like a servant. When Cupid found out, and he persuaded Jupiter to order Venus to stop her persecution of Psyche. Cupid and Psyche got married and lived happily ever after.
Unique Valentine's Day Gifts for Women Who Have Everything
Telling your sweetheart the story of Cupid is a unique Valentine's Day gift for women who have everything. The ideas below are related to the fable of Cupid and Psyche. Being creative on Valentine's Day is one of the best gifts you can give! To that end, you might prefer these healthy Valentine's Day gifts for couples.
 Chocolate dipped pears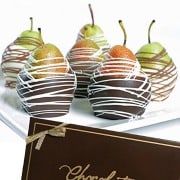 An assortment of Gourmet Belgian Chocolate Dipped Pears
is a decadent Valentine's Day gift idea. How many women have tasted chocolate dipped pears, hand dipped in rich dark chocolate and drizzled with white and milk chocolate? This is a lovely gift for February 14, because it has hints of summer and fresh fruitiness.
Fresh flowers
A bouquet of flowers isn't exactly a unique Valentine's Day gift for women – but flowers are popular because they're beautiful. No matter how many bouquets of roses women get on Valentine's Day, they're always special. No woman has enough flowers – not even the women who have everything. To make your flowers unique, include a message from your heart.
Valentine's Day art from the heart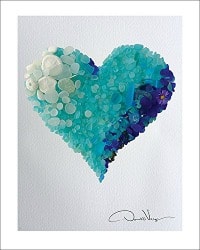 This is my favorite Valentine's Day gift on this list: a "LOVE" – Rare Cobalt Blues & Aqua Ombré Sea Glass Heart. It's a lithograph poster print of a turquoise heart made of beach stone and seaglass – it's a beautiful motivational and inspirational poster for women who have everything. Cupid's arrow doesn't run through this heart, but you sense the romance and timelessness of this artwork.
If you're looking for something less elaborate on Valentine's Day, read 15 Small Gift Ideas for All Occasions. Unique Valentine's Day gifts for women who have everything don't have to be big and splashy.
Crystal music box for women on Valentine's Day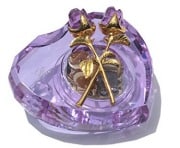 Made of crystal, this Purple Crystal Music Box that plays "Can't Help Falling in Love". It shines brightly, like a gemstone, and is made with the best quality solid K9 purple crystal. It was shaped by hand into a heart; two crystal roses rest on top of the music box. The word " Love" is engraved on left corner of the crystal heart, and the music box plays a short script of "You are so beautiful to me" when it's opened. This Valentine's Day gift comes in a blue gift box, with a silver inscription on top of the box that says, "Such joy and happiness you bring/ Like a dream/ A guiding light/ That shines in the night/ Heaven's gift to me/ You are so beautiful to me." Now, that is a unique Valentine's Day gift for women who have everything!
Heart-shaped photo frame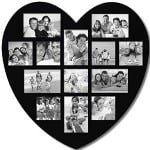 The 13-Opening Decorative Wood Heart-Shaped Wall Hanging Picture Frame
is a more personalized – and thus unique – Valentine's Day gift for women who have everything. If you decide on this gift, I encourage you to fill it with photos that are flattering and uplifting! I've seen collages like this on the walls of some of my family members, and I cringe at some of the photos of me. It might take some time to find the right photos that represent all the types of love you want to share on Valentine's Day, but it'll be worth the effort.
Cupid Valentine's Day heart pendant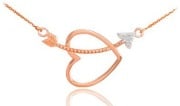 If you like the Cupid theme, consider the 14k White Gold Diamond Curved Arrow Sideways Open Heart Pendant. You could include the story of Cupid on Valentine's Day in the card, and tell your sweetheart that Cupid's arrow has pierced your heart. This is a unique gift for women who have everything on Valentine's Day, especially if they haven't heard the story of Cupid and Psyche.
If your sweetheart likes more natural, organic, eco-friendly gifts, read  10 Romantic and Eco-Friendly Valentine's Day Gift Ideas.
I welcome your thoughts on these unique gifts on Valentine's Day – especially if you have something creative to share! I'd be happy to add new ideas to this list of gifts. When you're buying a Valentine's Day gift for a woman you love – whether she's your wife or grandma – the most important thing to remember is her personality, likes, and dislikes. Don't buy her a unique gift that doesn't suit who she is. If you don't know who she is, take her out for a chocolate milkshake and ask her what the best gift she ever received was.
One final idea for a unique Valentine's Day gift for women who have everything is a goddess party. Read 6 Tips for Planning a Goddess Party on Valentine's Day for inspiration.
"Oh, did you expect me to play fair?" Cupid laughed. "I am the god of love. I am never fair." – Rick Riordan.