These tips on divorce transitions – how to transition from marriage to divorce – are from a woman who knows how painful a new beginning can be – especially when you didn't choose it.
Peggy Nolan is a leading authority on self-care and personal development for women in the stepmom role. She created The Stepmom's Toolbox. Also, as a nine year breast cancer survivor, 49 year old Peggy knows a thing or two about the critical importance of self-care and personal growth! She is a certified yoga teacher and she holds a second degree black belt in Muay Thai Kickboxing.
How to Transition From Marriage to Divorce
Here, Peggy answers my questions on how she transitioned from marriage to divorce. Transitioning to divorce wasn't easy for Peggy. She started out in a dark, depressed place…and eventually embraced the wonder and beauty of starting fresh.
Peggy, what helped you accept the divorce?
Two really big things helped me figure how my life would be once I was no longer married: yoga and my diagnosis with breast cancer five months after my divorce was final.
Fortunately for me, yoga found me a few months prior to the beginning of divorce proceedings. My stepmom is the one who introduced me to this sacred practice and I'll be forever grateful to her. As upside down as I was during my divorce, yoga helped keep me grounded in the here and now. Yoga also jump started my own spiritual journey, which I believe helped me become more aware of my own negative thoughts. I also became more aware of how my own actions created my suffering, and it helped me become aware of the mind-body-spirit connection. This is really helpful in stressful times, such as during a divorce transition.
And believe it or not, breast cancer helped me transition from marriage to divorce. It literally scared me alive. I was diagnosed with a life-threatening illness at the age of 40. Breast cancer claims 40,000 lives every year in America. Crap! I could die! But wait, didn't my divorce already "kill" me? Huge LIGHT BULB moment for me! A subtle but profound shift in thought happened to me.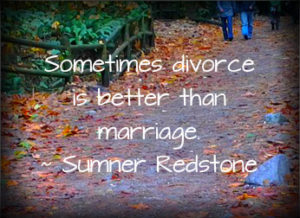 Almost overnight I quit "People Pleasing" cold turkey. I quit living by everyone else's expectations of me and how I was *supposed* to live my life. I broke up with my own self-limiting rules and beliefs. I broke up with perfectionism. And, part of my divorce transition was that I quit taking everything *so* personally.
Also, two books were particularly helpful: The Tao of Pooh by Benjamin Hoff and The Four Agreements: A Practical Guide to Personal Freedom by Don Miguel Ruiz.
Starting Over at 50 When You Feel Lost and Scared will help ease the transition from marriage to divorce.
What held you back from transitioning to divorce?
Initially what held me back was my own non-acceptance of the wholesome "what is." I wanted my marriage to work no matter what. I didn't want my children to become children of divorce. As a child of divorce I know how difficult it is. But when push came to shove, my very own self-respect was on the line.
And I remember so clearly that it was more important to teach my daughters self-respect than to stay in a marriage that clearly no longer works. In the end, my own self-respect won. Thank goodness!
What is your advice for troubled marriages?
By all means, do what you can to work on the marriage. Divorce is the option of last resort. When you've exhausted all other options and you know your marriage can't be saved, it's OK to walk away. I realize there are some who will disagree with me, but I believe is morally and spiritually wrong to give up who you are and your own self-respect for the sake of a marriage,.
If you find yourself transitioning through a divorce, I strongly encourage you to press "pause." There's no rush to re-partner. In fact, take all the time you need to get right with you. Experts say you need six months for every year you've been married to expel the emotional baggage from your relationship. I know that sounds like a long time, but at the very least take 12-18 months to process the death of your marriage.
Work on you. Become comfortable with who you are, what you like, what you don't like, etc. And if you have kids, go SLOW when you begin dating. Youth process divorce differently than adults.
If you're uncertain about divorce, read How to Know When to Leave a Relationship.
Resources on How to Transition From Marriage to Divorce
About Peggy Nolan: Peggy has been part of a stepfamily for over 40 years. She knows what it's like to be a step-daughter, a step-sister, and a stepmom. She is Peggy is the mom of two adult children, the bonus mom of four adult children, and the grandmother of two. Peggy's articles have been featured in The Huffington Post, Divine Caroline, The Diva Toolbox, Applaud Women, Aspire, and StepMom Magazine. 
If you have any questions for Peggy or thoughts about divorce transitions – or if you'd like to share your experience – please comment below.