A new mom gets plenty of baby gifts – but what she really needs are things to help her heal after a c-section. These gifts for after c-section recovery are based on advice for healing from doctors and women who have experienced cesarean surgeries.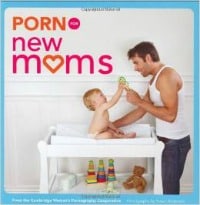 Except for my first idea – "Porn" for New Moms: From the Cambridge Women's Cooperative! Don't let the title of this book fool you – it's book of photos of hunky dads doing all the baby work. Give your new mom a glimpse of a world where men insist on changing diapers, where guys get up for 3 a.m. feedings, and where they just can't help but admire mom's post c-section scars and sexy all-sweatpants wardrobe.
A c-section is major surgery, and healing can be a long and uncomfortable process. This book will bring a smile to her face

and is a wonderful companion gift to give along with a more practical, serious gift for healing after a c-section.
If you want to give your new mom a gift unrelated to healing after a cesarean section – and totally get her mind off the surgery – read 15 Small Gift Ideas for All Occasions.
Gifts for Healing After a C-Section
How long it takes to heal after a cesarean section depends on the person and her unique genetic makeup. Some women feel great after a few weeks. Others take two or three months to really recover and feel "normal" again.
The best tip for healing for all new moms after c-sections is to balance lots of rest with slow bouts of gentle activity (eg, walking down the hallway of the hospital). Some c-section surgeons recommend getting out of bed and moving within 24 hours of the birth, even if it's just to the bathroom. Thus, the best gifts for recovering after a c-section are those that support both rest and activity. These gift ideas are supported by medical advice for healing after a ceserean section, and can be applied to all new moms and babies.
A c-section recovery kit for healing
A C Section Recovery Kit contains an AbdoMend support belt and strap, a skin brush, and a c-section massage therapy guide DVD to help new moms recover.
One of the most important tips for healing after a c-section is to take good care of the abdominal area. Doctors encourage new moms to use good posture when they stand and walk, and to hold their abdomen near the incision during sudden movements, such as coughing, sneezing or laughing. An after c-section recovery kit contains an abdominal belt and strap, which will make it easier to take care of the sensitive belly area.
A c-section gift basket with practical items for recovery
Most of my gift tips for new moms aren't glamorous (eg, shampoo, stool softener, cranberry juice). That's why a post c-section gift basket that contains four or five of the following items might be the best gift you could give a new mom. You can easily make a homemade gift basket full of practical items to help a new mom heal after a c-section. Get a pretty basket or cloth bag, fill it with these gifts for after c-section recovery, and tie it up a big red bow. Voila! The practical has become pretty.
Healthy foods that are easy to digest
After a cesarean section, women experience painful gas and bloating in their intestines. Foods that are easy to digest – such as yoghurts, soups, and pastas – are a much more thoughtful gift for c-section recovery than gift baskets of chocolates, nuts, coffees, or candies. Homemade soups, organic natural yoghurts, mild pasta dishes without heavy meats or fats will be welcomed by the new mom.
A  "Soup's On" Healthy Soup Gift Basket is the best gift for patients recovering after a c-section because it helps the new DADS support the new moms. Healthy soups don't have to be homemade, and frozen pasta or casserole dishes may be too confusing for busy new parents to thaw and heat. A gift basket of healing soups can be saved for last-minute meals, and won't take up more room in the freezer or fridge.
Pure cranberry juice – not cranberry "drink" – after c-sections
Lakewood PURE Cranberry Juice is a thoughtful, practical gift for post c-section recovery, because surgeons recommend drinking plenty of fluids after surgery. Drinking lots of water, green tea, and healthy juices can help replace those lost during delivery and breast-feeding, as well as help prevent constipation (gas and constipation aren't the most pleasant gifts after a c-section, but they are natural).
Cranberry juice can help new moms avoid urinary tract infections after surgery – but it's really important not to drink cranberry "drink." Pure juice is more expensive, but it's far more effective than cranberry drink (which is mostly cranberry-flavored apple or orange juice). That's why this is a thoughtful and practical gift for after c-section recovery – it's expensive but o so valuable.
A stool softener is also a very practical, useful gift for women healing after c-section. The painkillers and narcotics lead to constipation, which can be very painful. This is probably the most awkward gift to give a new mom, though, because it's difficult to know what kind of stool softener she prefers! I like Dulcolax myself, but everyone is different. Her doctor may have a better idea on a stool softener as a gift for post c-section recovery.
Healing ointment for c-section surgery scars
Earth Mama Angel Baby C-Mama Healing Salve is for later in the healing process, after the incision left by the cesarean surgery heals. The scar will become faint and purple, but it may heal better if the new mom applies healing salve that is made with botanicals, oils, and vitamins that boost her natural wound repair.
Earth Mama healing salve for c-section recovery is naturally rich in Vitamin C, phytosterols and essential fatty acids necessary for proper healing. It's useful for closed surgical wounds, inflamed rashes, old scars, stretch marks, burns and for first aid treatments.
Gifts that help her rest after a c-section
Women who deliver their babies via cesarean section need to rest as much as possible after the baby is born – and they should avoid lifting anything heavier than their infants. No housecleaning, grocery shopping, walking the dog, lifting the other toddlers or children in the house. If you can spend time taking care of those details so the new mom doesn't have to, you'll help her recover quickly and peacefully.
In  10 Gift Ideas for Back Surgery Recovery, I offer several items that can help patients remain independent and heal after a surgery that renders them bed-ridden.
A soft, warm blanket for healing after c-sections
The Tache Cozy Comfortable Super Soft Warm Throw Blanket is easy to take care of, and will offer comfort and peace in either winter or summer. It's something for your new mom to enjoy while breastfeeding, napping, or collapsing onto after a long day or night.
Books or DVDs on healing after c-sections?
I considered adding a couple of books about "recovering after c-sections", but I think it may be too much information for new moms. They get lots of information from the hospital, doctors, nurses, relatives, friends with babies, etc. It may be more thoughtful to give a gift that comforts a woman after getting a c-section, as opposed to more information to absorb.
A post c-section yoga or pilates DVD was almost added to this list of gifts for healing, but again felt it might be asking new moms to do too much. It depends on the woman, though. Some might love DVDs about post-natal yoga or books on recovering after c-sections. If you aren't sure, stick with the healthy soup gift basket, blanket, or after c-section recovery kit.
Breastfeeding gift set for new moms
A Kiinde Breastfeeding Gift Set will help her settle into feeding her baby while recovering after a c-section. This gift set contains twist pouches, direct pump adapters, breast milk storage bags, active latch nipples, and items to help ease the transition from breast to bottle feeding.
This gift set isn't specifically to help with healing after a c-section, but it will definitely make breastfeeding easier. This is another good "companion gift" that can accompany a more practical gift for c-section recovery, such as the cranberry juice or abdominal support kit.
A new mom gift bag
A Mommy/Delivery BFFLBag®
 may be the easiest gift for after a c-section. It contains many things she'll need after the delivery: a toiletries pack, perineal ice packs with hygienic sleeves, soft, washable nursing pads, and an Axilla·Pilla® pillow for recovery and nursing support. This isn't a gift specifically to help new moms recover and heal after c-sections, but it will offer comfort and support after the baby is born.
If you have any ideas for gifts to help a new mom recovery after a c-section, please share below. I welcome your thoughts, especially if you've "been there, done that" when it comes to healing after c-sections

None of these gifts for after c-section recovery are intended to be medical or health advice. All new moms must talk to their surgeons, gynecologists, nurses, etc to get specific tips for recovering after a cesarean section.