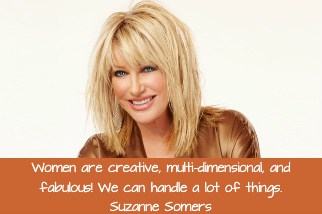 If your friend has breast cancer (like one of my closest friends), here are five ways to help, support, and love her through this awful illness.
When my friend was diagnosed with breast cancer, I started exploring Suzanne Somers' experience with cancer, as well as her dedication to finding ways to cure and prevent cancer in the first place.
Somers is an inspirational, courageous woman…
"I continue to put myself out there as a dart board for the medical community," she says, "Their "darts" are sharp…I am not a doctor, but I happen to have access to some of the most incredible medical minds in the world–and I print their opinions to make sure they are heard."
To learn about her research into cures and preventions for breast cancer, read Knockout: Interviews with Doctors Who Are Curing Cancer–And How to Prevent Getting It in the First Place by Suzanne Somers.
And, here are several ways to help a friend cope with breast cancer…
5 Ways to Help a Friend With Breast Cancer
I recently wrote How to Start a Support Group for Breast Cancer Survivors. If your friend doesn't have a support group, consider starting one for her!
1. Call, visit, and send emails regularly. I live a full day's drive from my friend, who was diagnosed a couple of weeks ago (she found a lump in her breast and immediately went for a mammogram, which confirmed breast cancer). I can't visit her in person regularly, but I call and email her every few days….and I'll be staying with her shortly after her lumpectomy (which could become a mastectomy). Thankfully, her family members will be with her for the surgery and recovery period.
2. Get "practically" helpful. If you live near your friend, you could help by picking her kids up from school, bringing over a basket of fresh fruit and nuts, or even hiring a cleaner for a surprise housecleaning! I didn't realize how time and energy-consuming an illness like breast cancer was…and I know the little practical things are incredibly helpful. Another possible way to help is to give her books on ways to prevent and fight cancer and heal from breast cancer surgery.
If your friend had breast cancer surgery, read 17 Gift Ideas for After Her Mastectomy Surgery.
3. Accept that there isn't one "right" thing to say. It's difficult to help a friend with breast cancer when you don't know what to say! It definitely made it more difficult for me to call my friend, because I didn't want to keep asking her how she's feeling or what she's doing. But, once I accepted that there's nothing I can say to make things better, I realized that just calling and chatting was helpful.
4. Keep reminding her that she is fabulous! I love this quotation from Suzanne Somers: "We all have creativity in us and we all are multi-dimensional…women are fabulous. We can handle a lot of things." Telling your friend that she's beautiful, gorgeous, amazing, creative – and that she can handle this just like she's handled the other challenges she's faced – may help her cope with breast cancer. She may be scared or worried about how she'll look after the lumpectomy or mastectomy, and being told how fabulous she is could help her mindset and emotions.
5. Do a little research on breast cancer for your friend. "Each time I am faced with a challenge, I researched the problems in order to overcome the adversity," says Somers about her struggles with breast cancer, family alcoholism, and weight gain. "At the end of each search, when I had found my own answers, I felt I had something to share and thought others might benefit from the work I had done for myself." If you think your friend would benefit from learning about breast cancer and perhaps doesn't have the time or energy to do the research herself, perhaps you could help her that way.
For more tips, read How to Help a Friend Whose Mom Has Cancer.
Olivia Newton-John also survived breast cancer – and her take on it is especially interesting because she asked herself if she created her own cancer to face her fears.
Have you ever had a friend diagnosed with breast cancer – and how have you helped her? I welcome your suggestions and thoughts below…