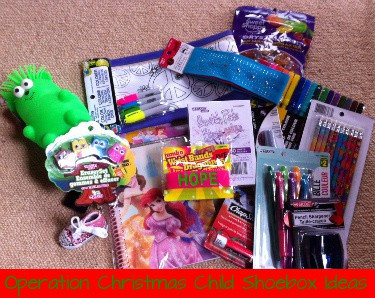 Here's a list of creative gifts my Little Sister and I put in our Operation Christmas Child shoebox, to give you ideas for packing your own shoebox. It was so fun to shop for our girl – we're tempted to pick up a second shoebox and fill it up, too! It was surprisingly inexpensive, too.
Operation Christmas Child is the largest children's Christmas ministry in the world; they collect donations of gift-filled shoeboxes for kids who don't know what it's like to wake up to gifts on Christmas morning.
The trick is to fill your shoebox with creative gifts that are also practical. My Little Sister and I wanted to encourage our girl (Meeka – more about her later) to express herself in writing and drawing. So, our shoebox was filled with "academic" gifts that both my Little and I would love to receive (we both love school, reading, and writing).
My Little and I are matched through the Big Sisters organization in Vancouver, and we wanted to do something meaningful this Christmas. She's Muslim and I'm Christian, and we decided that religion doesn't matter when it comes to spreading joy on Christmas morning. Plus, my Little Sister celebrates Christmas with her family – so she knows exactly what kind of gift-giving joy she'll be spreading next month, when Meeka gets her shoebox!
What is an Operation Christmas Child Shoebox?
An Operation Christmas Child shoebox consists of an empty shoebox filled with gifts and toys, school supplies, hygiene items and notes of encouragement. Individuals can also build a box online by going to Samaritan's Purse. As shoebox donors, my Little Sister and I can track our shoebox during its travel. We'll get an email telling us which country where it was delivered.
My Little Sister and I chose to buy gifts for a girl, age 10-14. We named her "Meeka", and decided that she's 12 years old. That's how old my Little is – but we decided that Meeka is shorter than my Little, and has darker skin. She goes to school, we hope, but may live in an orphanage. She has short dark curly dark hair, and sometimes it gets frizzy. She has a big white smile, and she will be so happy to get the Operation Christmas Child shoebox that we're working on!
Shopping for an Operation Christmas Child Shoebox
This list of what and why we included the items we did in our Operation Christmas Child shoebox are a combination of practical and creative. I also describe how we got the money for our shoebox shopping…
First, we gathered up all our pop cans, wine bottles (mine, not my Little Sister's), tetra juice packs (my Little's, not mine), and beer bottles (my neighbor's), and took them to the bottle depot. It took less than an hour, and we earned $35. That's a lot of bottle money – we've been saving all our bottles so we can buy scrapbooking supplies.
Then we went to the dollar store, and filled up our shoebox for $20. It was so much fun – my Little and I both kept marveling how exciting it is to shop for Meeka, and try to guess what her favorite color is, whether or not she likes to draw, and if she'd like a sparkly pink sneaker on a keychain.
Creative Gifts for an Operation Christmas Child Shoebox
Shopping for creative shoebox gifts was easy with my Little Sister. Since she and Meeka are the same age, she immediately knew if something was too "babyish" or too old. What amazes me is how excited my Little Sister was to shop for Meeka, and how many questions she had about the girl and her life. I couldn't answer any of them, but it was fun to speculate whether or not Meeka reads, writes, or speaks English, if she lives in an orphanage or with her parents, or if she has a backpack to put a sparkly pink keychain on. We decided that backpack or not, the pink keychain is going in Operation Christmas Child shoebox…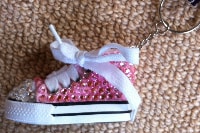 Sparkly pink keychain. Part of me balked at sending a keychain, because it doesn't seem like a very practical or creative gift for an Operation Christmas Child shoebox. But since when are 12 year old girls practical – and why should they be? So we included a bit of creative "glam" in our Operation Christmas Child shoebox. You can't tell from the photo, but that is one sparkly shoe.
Headbands and nail polish. When I visited orphanages in Africa, the girls LOVED when I painted their fingernails. They felt so pretty and polished, and the were mesmerized by the idea of paint on their fingers. My Little Sister and I also decided to include a couple of elastic headbands with small silver decorations. Even if these aren't the most creative gifts for an Operation Christmas Child shoebox, they will make Meeka happy. We also included a tube of chapstick, in case she lives in a hot country and needs moist lips.
Colorful pencils, markers, and ink ballpoint pens. These aren't exactly the most creative gifts for an Operation Christmas Child shoebox, but they're so important for kids living in poverty. I lived in Africa for three years, and quickly learned the value of a simple pen and notebook.
Paper. We included two types of notebooks in our Operation Christmas Child shoebox: a pack of four scratch pads with blank paper, and a Disney princess notebook with lined paper. This way, Meeka can draw or write…or both! We also included a pencil sharpener and an eraser, to keep her pencils pointy and her mistakes brief.
A "color your own" pencil case. I thought this was the most creative gift in our Operation Christmas Child shoebox! Meeka can use the included markers to color her fabric pencil case. She can doodle and color anything she wants on it, or even leave it white.
Hard candy. Of course we needed to include sweet treats (but this isn't a very creative gift for an Operation Christmas Child shoebox). We bought a package of hard candies, individually wrapped. If you're donating a shoebox, make sure you read the instructions. Soft, chewy candy isn't acceptable – and either is chocolate or food.
A green thing. My Little Sister loved the green squishy toy we included in the shoebox! It's kinda cool – you squeeze it, and it bubbles up and feels gross. And it has a crazy ball inside it that lights up and flashes different colors. It's not something I would've included in an Operation Christmas Child shoebox, but I couldn't resist after seeing that my Little couldn't put it down.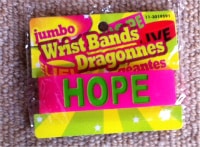 A hope wrist band. This is one of my favorite gifts for the shoebox. I don't know if Meeka can read English, but hopefully someone can translate the word "hope" for her. What does she hope for in life? What is she passionate about, and is she living up to her potential. I hope so.
A letter from me, and a letter from my Little. We're both writing a card to include in the shoebox, and we'll include pictures of us and our dogs. We don't know what we'll say in the card yet – that's our activity for next week! The Operation Christmas Child shoeboxes are due at my church at the end of November, so we have time to figure out what we want to say to Meeka. But we won't call her Meeka in the cards

Our Operation Christmas Child shoebox gifts aren't all that creative, but this experience has brought me and my Little Sister together in a whole new way. I urge you to consider getting a shoebox from a local church, and filling one yourself.
To learn how Operation Christmas child shoeboxes affect kids around the world, read Operation Christmas Child: A Story of Simple Gifts by Franklin Graham (the President of Samaritan's Purse) and Donna Lee Toney. This beautiful book weaves the moving, God-saturated story of the ministry's beginning with the soul-stirring, Christ exalting stories of lives that have been forever changed by a simple shoebox. This might be a wonderful gift for my Little Sister, now that I think about it. She'd love to learn how real kids' lives are affected by people who care enough to fill shoeboxes with thoughtful gifts, and send them overseas.
What do you think about Operation Christmas Child shoeboxes? Comments welcome below!