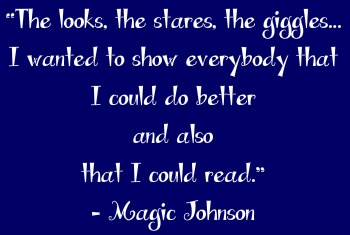 Dyslexia is one of the most common learning disabilities, and it doesn't just affect children. Here are five tips for overcoming adult dyslexia, plus a list of resources for adults with dyslexia.
"According to a 2010 Roper poll, 80 percent of Americans associate dyslexia with mental retardation," writes Liz Attebery in  Adult Professionals With Dyslexia Find Common Ground in Unique Boston Group. "Consequently, many people are afraid to reveal their dyslexia to employers for fear of losing their jobs or being blamed if something goes wrong on their watch. In addition to feeling shame and embarrassment about their own dyslexia, parents of dyslexic children are often riddled with guilt for passing the disorder on to their offspring."
No matter what you're faced with, ignorance is a huge hurdle. The more people know about adult dyslexia, the less stigma there is. Can you talk about your learning disability with your colleagues? Do they know you have dyslexia? The more open and honest you are, the easier it'll be.
One of the best ways to overcome adult dyslexia at work and in life is to find the hidden gems in the learning disability. Read The Dyslexic Advantage: Unlocking the Hidden Potential of the Dyslexic Brain by Brock L. Eide M.D. M.A. and Fernette F. Eide M.D.. They describe a unique learning style that can create advantages at work, home, or in school.
5 Tips for Overcoming Adult Dyslexia at Work
1. Check your own perceptions of adult dyslexia. We know the majority of North Americans view dyslexia in a negative light…but what about you? How do you see your own learning disability? "School is hard, and kids are ruthless," says Lisa Stelzner in Rochester native shares how she overcame Dyslexia. "You are called stupid and dumb, you take that on yourself…. inside, you are your own worst enemy." If you haven't worked through your childhood experiences with dyslexia, you'll have a more difficult time overcoming dyslexia as an adult.
2. Find the strategies for overcoming dyslexia that work for you. If you haven't found the right strategies for overcoming your learning disability, keep connecting with tutors who specialize in adult dyslexia. And, Lisa Stelzner knows that the pain of a learning disability runs deep. She overcame dyslexia with the help of extensive tutoring; now, she works as an account manager at a communications company.
3. Join a group for adult professionals with dyslexia. In her article about adults with dyslexia, Liz Attebery describes Kent Sinclair's group for adult professionals with dyslexia. He is a partner in the Boston office of the national legal firm Seyfarth Shaw LLP, and he didn't want to form a conventional support group for adults with dyslexia. Instead, his group is a "network and affinity group," a place for camaraderie and sharing strategies for navigating and overcoming adult dyslexia in the professional work environment.
If you'd rather focus on your work goals than overcoming this learning disability, read 10 Tips for Setting and Achieving Your Career Goals.
4. Stop isolating yourself – know you are not alone.  "Many adults with dyslexia, especially if they're older, live with their dyslexia without knowing that there is a community of others who are just like them, who share many of their concerns, problems, joys, and challenges," says Matthew Schneps, director of the Laboratory for Visual Learning at the Harvard-Smithsonian Center for Astrophysics (in Attebery's article about professional adults with dyslexia). "For those people, attending a meeting is often the first time they come face to face with others their age who have dyslexia.  It's an eye-opening experience that feels a little bit like going to Thanksgiving dinner with family members you see only occasionally.  There is a wash of recognition, that all of us at the table are similar in some way, that we have behaviors and experiences in common, much like a family."
5. Connect with successful adults who have overcome dyslexia. Rachel Moran wasn't diagnosed with dyslexia until she was 18; she graduated from high school with a fourth-grade reading level. And yet, her reading-comprehension abilities well above college level.  "I have a very high IQ," she says, "but I was never trained as I should have been."  She is now a licensed electrical engineer and the owner of an engineering company specializing in railroad signaling. Her son has dyslexia and attention deficit disorder. She attends meetings for adults overcoming dyslexia because it helps her stay current with the latest research about dyslexia and allows her to connect with other professionals. "It helps you be aware that you're not alone," says Moran.  "Everyone has their challenges, but sometimes you feel like you're the only one dealing with a problem, and to find someone who has dealt with that problem makes your task a little easier."
If you want to start your own business, read Want to Work From Home? 30 Home Based Business Ideas.
One of the best ways to overcome dyslexia as an adult is to get as much information as possible.
Resources for Adults Coping With Dyslexia
You Mean I'm Not Lazy, Stupid or Crazy?! The Classic Self-Help Book for Adults with Attention Deficit Disorder by Kate Kelly, Peggy Ramundo and Edward M. Hallowell M.D.
Adult Dyslexia: A Guide for the Workplace by Gary Fitzgibbon and Brian O'Connor.
Dyslexia In Adults: A Practical Guide for Working and Learning by by Gavin Reid and Jane Kirk.
An Adult Dyslexia Checklist – for people who haven't been diagnosed with dyslexia, or who suspect they are dyslexic but aren't certain.
Common Warning Signs of Dyslexia in Adults
Before you can overcome adult dyslexia at work and in life, you need to know if you have it! Here is a list of symptoms of this learning disability.
Language
Distinguishing between words that look or sound alike.
Understanding non-literal language such as jokes and idioms.
Picking up on non-verbal cues; participating properly in conversation.
Understanding directions/instructions.
Avoiding "slips of the tongue" (e.g., "a rolling stone gathers no moths").
Summarizing the main ideas in a story, article, or book.
Expressing ideas clearly, in a logical way and not getting bogged down in details.
Learning a foreign language.
Memorization.
Reading
Reading at a good pace and at an expected level.
Reading aloud with fluency and accuracy.
Keeping place while reading.
Using "word analysis" (rather than guessing) to figure out unfamiliar words.
Recognizing printed words.
Finding enjoyment and being self-confident while reading.
Writing
Spelling words correctly and consistently.
Using proper grammar.
Proofreading and self-correcting work.
Preparing outlines and organizing written assignments.
Fully developing ideas in writing.
Expressing ideas in a logical, organized way.
Social-Emotional
Picking up on other people's moods and feelings.
Understanding and responding appropriately to teasing.
Making and keeping friends.
Setting realistic goals for social relationships.
Dealing with group pressure and embarrassment, and unexpected challenges.
Having a realistic sense of social strengths and weaknesses.
Feeling motivated and confident in learning abilities at school and at work.
Understanding why success is more easily achieved in some areas compared with others.
 Other symptoms of adult dyslexia
Organizing and managing time.
Navigating space and direction (e.g., telling left from right).
Accurately judging speed and distance (e.g., when driving).
Reading charts and maps.
Performing consistently from day to day.
Applying skills learned in one situation to another.
This list of symptoms and signs of adult dyslexia are from Common Warning Signs of Dyslexia in College Students and Adults. If several of these warning signs and symptoms of adult dyslexia apply to you, don't hesitate to seek help from qualified professionals. If the outcome of an evaluation determines that you have dyslexia or some other type of learning disability, rest assured that with proper support you'll be better able to overcome adult dyslexia to succeed in school, at work, and in life!
Are you a college student with dyslexia?
If you have any thoughts on overcoming adult dyslexia, please comment below.