If you don't know what to say to someone who has cancer, you're not alone. These suggestions will bring hope, encouragement, and support – and allow the person with cancer to lead the conversation the way she feels most comfortable.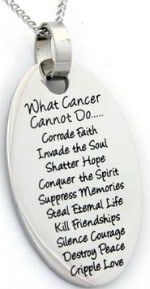 The "What Cancer Cannot Do" Oval Shaped Pendant Necklace perfectly summarizes what you want to say to someone who has cancer. You want her to know that the cancer won't ruin your friendship, destroy peace, suppress memories, conquer her spirit, shatter hope, corrode her faith, steal eternal life, or invade her soul. No matter what you say to someone with cancer – always make sure your words are encouraging, inspirational, and life-giving.
Do you need practical ideas for someone with breast cancer? Read 17 Gift Ideas for Women After Mastectomy Surgery – I offer a list of practical ways to support someone after breast cancer surgery. A practical gift that makes life easier is just as important as the emotional support your words and presence brings.
What to Say to Someone Who Has Cancer
These tips on what to say to someone with cancer are from men and women who have been through a cancer diagnosis and chemotherapy.
Before you say anything…
Remember that everyone is different! After a cancer diagnosis, some people might want to talk about everything from the oncologist's bedside manner to how much parking costs at the cancer clinic. They'll want to share what it feels like to get chemotherapy, and describe their emotional journey since day one of the cancer diagnosis. Others won't want to talk at all, about anything. Not even sports, weather, or their pets.
Say "How unfair. You must be so mad!"
This advice on what to say to someone with cancer is from Jacki Donaldson, a 44-year-old cancer survivor and writer in Florida. "I personally like when someone meets me where I am and says, 'How unfair. You must be so mad,'" she says. "These words validate my feelings and make me feel understood. Misery does love company. Misery does not always love the positive spin on tragic life events." In 10 Things You Should Never Say to Someone Who Has Cancer, she adds that you should NOT say "You are strong and you will get through this" to someone who has cancer.
Again, just because one cancer survivor feels that it's not fair that she got cancer doesn't mean ALL people with cancer struggle with the same feelings. Personally, I wouldn't feel that a cancer diagnosis is unfair and I wouldn't be angry about it. I'd rather talk about God than how unfair life is – but that's just me! And that's the whole point of this article: being aware of the fact that there are no iron-clad rules about what to say to someone who has cancer.
Say "I don't know what to say" to someone who has cancer
Giving someone with cancer a big hug and admitting you don't know what to say is one of the best things you could say! When my friend had breast cancer, her friends stopped calling her because they didn't know what to say. Other friends told her horror stories of botched chemotherapy needles, spilled chemo cocktails, and emotionally distant oncologists. If you're in doubt about what to say to someone who has cancer, tell them that you love them and that you're sorry they're going through this.
If you know a child who has cancer, read 10 Gifts for Parents of Kids With Cancer.
Ask, "Can I bring you my homemade chicken noodle soup?"
Talking about food is interesting for many people – especially if they get to talk about their favorite meals, beverages, snacks! Ask if you can bring soup and bread for dinner on a specific day. Ask about food sensitivities, allergies, likes, dislikes. Share stories about your past attempts at making bread or transporting a huge pot of homemade chicken noodle soup.
That said, however, talking about food may not be the best thing to say to someone who has cancer if they're undergoing chemotherapy treatments. They probably won't want to eat, and food talk might make them feel worse about the whole thing. Be sensitive to where they're at on the cancer journey.
Say "You look great!" to someone with cancer
Why would you tell someone who has cancer that they look good? Because they don't feel attractive, huggable, or valuable. Sometimes people with cancer even feel untouchable and unlovable.
"Somehow you go from being a normal person with normal desires to becoming this fragile human specimen sometimes on the cusp of life and death," says Dr. Nikhil Joshi – a physician and writer who has cancer and underwent chemotherapy. "To be honest, after chemo, the last thing on your mind is being desirable. But as you recover, it never fails to crawl back into your mind. I never realized how important intimacy and human contact were until I couldn't have them freely anymore. Until my friends, family and romantic interests were afraid to touch me….it was devastating."
Keep visiting, calling, and sending cards to someone who has cancer
After the initial cancer diagnosis and chemotherapy treatments (or radiation, or surgery), we forget. We stop making homemade chicken noodle soup, we stop sending cards of hope and encouragement, and we stop calling. One of the best things you can say to someone with cancer is, "I'll talk to you next Sunday" – and keep calling on Sundays. Your attention is more important than figuring out exactly what to say to someone who has cancer.
Never say, "My aunt had cancer, and this is what happened…."
You especially don't want to tell someone with cancer how painful chemotherapy is, how embarrassing being bald is, and how unhappy the family was that your aunt had cancer. Keep your stories to yourself – unless you are asked. Me, I'd want to know how others handled chemotherapy for breast cancer, what they ate, what they watched on tv, etc. But, again, everyone is different! The "do unto others as you would have done unto you" rule doesn't apply when you're discerning what to say to someone who has cancer.
If you want to offer practical help, read 20 Practical Gifts for Cancer Patients.
Ways to Support Someone With Cancer
Allow space for a variety of emotions: anger, acceptance, fear, depression, defeat, hope, etc.
Accept all the emotions without judgement or trying to talk her out of them
Offer to go to the grocery store, drive to appointments, baby-sit or take children to their activities
Say simple things to someone with cancer, such as "If you need to talk, I'm here for you" or "I'm sorry you're going through this. It must be very scary."
Be willing to accompany her to doctor's appointments. Be a second set of ears, and take notes when the oncologist talks
Help organize paperwork. Cancer patients have insurance forms, hospital and clinic receipts, test results and appointment reminders
Offer to be a point person who fields all the calls, emails, text messages, Facebook posts, etc
I welcome your thoughts on what to say to someone who has cancer. I can't offer advice or counseling, but it may help you to share your experience.
My prayer is that you find peace, and know that your words will bring comfort and inspiration to someone with cancer.