Do you want to stop being manipulated by your mom and dad? These tips on how to cope with parents who are controlling and emotionally manipulative may help. You'll see from the comments from adult children who have controlling parents that every parent is different, and controlling in his or her own way.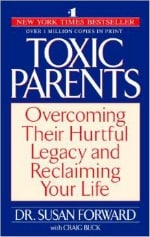 Are your parents toxic, and perhaps even destructive? Read Toxic Parents: Overcoming Their Hurtful Legacy and Reclaiming Your Life.  Dr. Susan Forward draws on case histories and the real-life voices of adult children of toxic parents to help you free yourself from the frustrating patterns of your relationship with your parents — and discover a new world of self-confidence, inner strength, and emotional independence.
Here's a surprising twist on living with controlling parents: "Giving up hope is one of the healthiest, most life-affirming things you could do for yourself," writes Dr Laura Schlessinger in Bad Childhood – Good Life: How to Blossom and Thrive in Spite of an Unhappy Childhood. "If, of course, you…accept, and don't pout."
Giving up hope may sound negative and depressing — but after you read my explanation and tips for coping with parents who try to control you, you may feel differently. Giving up your expectations may be the healthiest thing you ever do in life.
Controlling Parents – How Do You Cope?
My husband and I attended a marriage course last night (it's the fifth of seven sessions), and it was all about coping with your childhood family relationships. I wrote a bit about it in How to Go on a Marriage Retreat Without Leaving Home – and I encourage you to deal with your parental issues, because it has a huge effect on your intimate relationships!
Let go of your need to please your parents
We grow up seeking approval, affirmation, and even love from our parents. Part of why it's so difficult to confront our parents is we don't want to disappoint or anger them. Even as grown children, we want them to keep loving us – even when we feel like we hate them! A tip for coping with controlling parents – or any toxic person in your life – is to recognize your need to please them, and let go of it. Or, at least learn how to live with it.
Cut your financial ties to parents who want to control
On How to Cope With Difficult Parents, a reader asked for help with her father. He's making her life miserable – not to mention the effect he has on her husband and child! She mentioned that her father helped her get a mortgage loan, and he holds that over them. So…instead of staying financially beholden, she might find ways to free herself and take her life back. This might involve getting a bank loan and paying her dad back – even if the money was originally a gift. It's not a "gift" if it's taking an emotional toll. Or, if everyone agrees that money isn't owed (the mortgage help or special baby food was a gift, for instance), then she might get him to sign something that states she doesn't owe him money and he has no right to lord it over her. This black-and-white evidence might help them take money out of the father-daughter relationship.
Learn to recognize emotional blackmail
This is one of the best ways to take your life back! If you have controlling parents, you may recognize that they disguise their criticism, try to make you feel guilty for past behavior, or constantly make you feel bad about your life. They don't seem to want to let you live your life! Before confronting difficult parents, it's important to recognize and learn to deal with emotional blackmail.
Read books like the ones I featured, take a weekend workshop in assertiveness training, or talk to a counselor. Keep reminding yourself that you're a grown adult – you're not a child anymore, and you don't have to succumb to emotional manipulations! A big part of this is learning to say "no" without feeling guilty.
If your parents are emotionally manipulative and controlling, read Surprising Examples of Verbal Abuse in Relationships. It may help if you learn how to recognize verbal abuse.
Separate emotion from an action plan
Emotion says, "But I don't want to confront my parents or move to a different city – I'm scared/tired/frustrated/miserable!" An action plan says, "I want a better life, better relationships. I don't deserve to be treated like this. To stop this from happening, I need to (insert action plan here)." To confront your controlling parents, you'll probably have to do something you don't want to do: quit a job you love, move to a different city, set and stick to your boundaries, talk to a family counselor, get emotionally stronger, and stand up to other family members. It's not an easy way to take your life back, but it's effective.
Stop wishing your parents less controlling, or different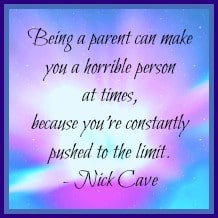 These controlling parents are yours, and if you're still wishing they were different, you need to stop! You don't need to give up hope for a better relationship with your parents – but you need to stop hoping they'll change.  They'll continue to be overbearing and difficult to take….but luckily, you're a grown adult and you are free to distance yourself emotionally, physically, socially, and financially. You can choose to live your own life!
If you have any thoughts on coping with parents who try to control you, please comment below. I can't offer advice on coping with controlling parents, but it may help you to share your experience coping with difficult parents.