A list of 30 home business ideas, including links to specific "how to start a home-based business" guides. For instance, the photography home business idea is linked to a fantastic website on how to start a photography business. The online tutoring home business idea is linked to a guide on starting a home-based tutoring service.
In this article, you'll find:
10 home business ideas with "how to" guides

A list of 20 easy home-based businesses to start (without the guides)

A link to my favorite home business idea!
Before you get all jazzed up on the idea of starting a home business, check this tip out:
Is this a home business idea that you can actually execute? "The worst thing you can do is get your heart — and any investment money — set on an idea that you simply can't pull off in the end," writes Jason Sadler in Is Your Crazy New Business Idea a Home Run or a Dud? "Give yourself the time to really think through how this idea is going to work. Do you have the resources? Do you have the time or the budget to make it successful? Challenge yourself to ask the hard questions, and get specific."
I'm reading Birthing the Elephant; it's a fantastic resource for women who want to start a business and are struggling to come up with home business ideas. The more books like this that you read, the more you'll learn about how to start a business. Plus, there are tons of resources on the internet for women in home-based business.
10 Home Business Ideas – Plus "How To" Guides
When I searched for specific "how to start a home-based business" guides, I found dozens of websites that charge money for their help with specific home business ideas. I am not affiliated with any of the websites I list here (except Amazon and Google adsense). The websites I link to offer free tips and ideas on how to start a home business.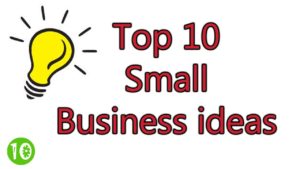 Enough said! We'll start with the idea I already mentioned, and kick it off from there…
1. Do you have a creative eye and a good camera? Start a photography business
Digital photography is a popular home business idea because it doesn't require much equipment (though you need more start up capital than, say, blogging or starting a search engine optimization business!).
"How to" Guide to Starting a Photography Business: In 4 Ways To Make Money As A Photographer, John Davenport shares what he has done to try to make money as a photographer. He says, "I'll share with you my experience with each, advice on getting started, and whether or not I was successful in my attempts. I've also found a few more posts on DPS (Digital Photography School) that will help you find more information."
2. Are you good at teaching? Start an online tutoring business
I've heard of online teaching, but online tutoring is new to me! You can help students practice their English skills, or tutor them in specific subjects such as Math or Science. If you are a retired teacher this is one of the best home business ideas because you won't need to learn new skills.
"How to" Guide to Starting an Online Tutoring Business: In How to Start My Own Tutoring Business, Miranda Brookins lists 10 steps to tutoring online as a small home-based business idea. "Starting a tutoring business requires extensive knowledge on the topics being tutored, as well as the ability to engage students, encourage them to learn and teach them techniques that will help them during tests, when they're completing projects, and doing homework and classwork assignments," she writes.
3. Are you organized and professional? Start a virtual assistant business
I hesitated to include this on my list of home business ideas because I think many virtual assistant jobs are outsourced to difference countries, such as India. It may be cheaper to hire a virtual assistant from India or elsewhere, which makes this home based business niche a bit too competitive. That said, however, I know we have lots of North Americans making a fine living as a virtual assistant! So, I included this on my list of home business ideas.
"How to" Guide to Starting a Virtual Assistant Business: In How to Start Your Own Virtual Assistant Business, they say, "Virtual assisting is one of the fastest growing telecommute careers. Virtual secretaries perform many of the same duties as office assistants, including but not limited to: word processing, transcription, database management, appointment scheduling, mailing correspondence, and emailing."
If you're starting a home based business, read:

The $100 Startup: Reinvent the Way You Make a Living, Do What You Love, and Create a New Future
4. Are you a neat freak? Start a cleaning business
This is a home business idea you can start in your neighborhood! Or, you can join a franchise such as Molly Maid, and get their marketing, advertising, and business support. Don't limit your cleaning business idea to homes. Once, I interviewed two cleaners who cleaned up after serious incidents, such as toxic spills or home invasions.
"How to" Guide to Starting a Cleaning Business: Passive Cleaning Income.ca has tons of great info on starting a cleaning business. In How I Started My Cleaning Business, he says, "I took pleasure in the ability to see a job complete – start to finish. We would arrive at a cleaning location and the office would be a disaster. A short time later, the office would be sparkling clean, fresh smelling and ready for the next work day. We cleaned offices as a family for years, and earned a pretty good passive income with commercial cleaning."
5. Do you love organizing gifts? Start a gift basket service
This is one of the most helpful, creative home business ideas. Can you imagine delivering Get Well, Happy Birthday, Happy Anniversary, or Just Because gift baskets to people at their homes or offices? You could buy products (eg, chocolates, wines, nuts – the stuff that goes in gift baskets) in bulk, and creatively arrange them according to your clients' needs.
"How to" Guide to Starting a Gift Basket Business: In How to Start a Gift Basket Service, the folks at Entrepreneur.com write "Gift baskets could be the closest thing to the perfect gift because they can be totally customized to suit the giver, the recipient, the occasion and the desired price. For some people, creating gift baskets is the perfect business: an opportunity to be artistic, creative and entrepreneurial."
6. Are you good at organizing homes and offices? Start a professional organizer business
If you're naturally organized and clutter-free, a good home business idea is working as a professional organizer for people with disorganized homes and offices. When I searched the internet for home based professional organizer businesses, I discovered you can actually narrow down the type of organizing into categories: filing, clutter control, time management, maximizing storage space, or juggling projects and priorities.
"How to" Guide to Starting a Professional Organizer Business:  The National Association of Professional Organizers say, "Experts in the organizing industry agree that there are no "cookie cutter" solutions for getting organized. There are many different personality types, work styles, and environmental influences, so each person must find the system that works best for him or her. The number of organization-related products and services is continually increasing."
7. Are you educated, but currently job-less? Start a consulting business
This should be at the top of my list of home business ideas, especially since my hubby was recently laid off. He is a professional geologist, and I think a geology consulting business might be right up his alley. Granted, running your own home-based business is a bit more work than just working for the man, but it offers lots of freedom too. If you're looking for a career change at 40, this might be it!
"How to" Guide to Starting a Consulting Business:  7 Lessons Learned From Running a Consulting Company by Neil Patel is excellent. Sorry about the popup ads. Patel says, "One of the first things I learned (about consulting as a home business idea) is that there is an inverse correlation between how much a client pays you and how many times they complain. In other words, the more money a client pays you, the less they will complain. Large paying clients usually have a lot more cash, so spending it isn't as big of a deal. They know that if they want to continue to grow, they have to spend money. And when doing so, sometimes things work out, while other times they don't…"
A fantastic read on home business ideas:

The Lean Startup: How Today's Entrepreneurs Use Continuous Innovation to Create Radically Successful Businesses
8. Are you in love with the internet? Start an online business
There are so many different types of online businesses, I don't even know where to begin. This is one of the most popular Google searches, in terms of home business ideas. But just because it's popular, doesn't mean it's an easy home based business to start and run!
"How to" Guide to Starting an Online Business: In How to Start an Online Business Around Your Passion, Henri says, "An online business works like any other business. It doesn't change just because it's online. You still need to create something people want to pay for in the form of products, services, courses, workshops, or even books.You need to find the intersection between what you're passionate about, what you're good at (or what you want to become good at), and what people want. It's not enough to just do what you love. That's the first step, but if you want to build a business, there has to be a demand for what you have to offer. Now, there are many different types of online business models."
9. Do you love to cook for others? Start a dinner preparation service
This home business idea is also known as a "personal chef." Some families need meals cooked and delivered once or twice a week. As a personal chef, you would either cook at the client's home, or at your place and deliver it.
"How to" Guide to Starting a Dinner Preparation Service: In 5 Mistakes to Avoid When Starting Out as a Personal Chef, they write, "Becoming a personal chef can be a lucrative, enjoyable business with low overhead and start-up costs. When you go into business for yourself, you become responsible for acquiring all of the tools you need to make your business a success. As a private chef you will, at the very least, need a good set of cooking knives, utensils and cookbooks. Depending on the situation, you may also need to have cookware as well."
10. Do you love shopping? Start a personal shopping business
This is last on my list of home business ideas, because I dislike shopping. Intensely. But, the cool thing about personal shopping as a home based business is that you can create a niche, such as shopping for seniors, people with disabilities, executives, etc.
"How to" Guide to Starting a Personal Shopping Business: Instead of a How to Become a Personal Shopper, I decided to include a link to a Personal Shopping Services Business Plan. This will give you an idea of how to create a business plan – you can do an internet search for starting a home-based personal shopper business, and find lots of links, tips, and ideas.
Phew!
20 Quick Home Business Ideas
Here are 20 ideas for a start up businesses that you can do from home. I don't have links for them – to learn more, search the internet for "home business" or "how to start a ______ business."
Drop Shipper
Dog Walking or Pet Sitting
Bed & Breakfast Business Owner
Wedding Planner
Desktop Publisher
Freelance Writer, Blogger, or Editor
Graphic Designer
Event or Party Planner
Accountant or Bookkeeper
Transcriptionist
Life Coach
Cake Decorator
Catering
Handyman
Gardener
Data Entry Clerk
Remote Coder
Greeting Card Maker
Day Care or Babysitter
Research home business ideas that are franchised
And of course, here's my favorite home business idea: blogging! Read Is Blogging a Good Business Idea?
If you're already a blogger, read How to Transition From Blogger to Freelance Writer.