Is it the cook's first time cooking a turkey? These Thanksgiving gift ideas will help him or her host an inaugural Thanksgiving turkey dinner.
Cooking a turkey dinner for the first time can be overwhelming and stressful; these gift ideas will make Thanksgiving more fun and easy for everyone.
Never underestimate the power of the small details. Giving the gift of Thanksgiving's Feast Dinner Napkins
may not seem like a classy Thanksgiving gift idea. But, the host or hostess may be grateful that you're covering the "small" things that are very, very important.
And, here are a few more Thanksgiving gift ideas for first time cooks…
Thanksgiving Gift Ideas
Thanksgiving turkey platter. My husband and I have only cooked two Thanksgiving dinners, and both times we were scrambling at the last minute to find a platter big enough for the turkey. A Porcelain Turkey Platter
is a practical Thanksgiving gift idea for first time cooks. It's not splashy or sexy, but it may be exactly what your host or hostess needs!
Homemade gift certificate – be a "Thanksgiving helper" on turkey day. Cooking Thanksgiving dinner can be a time-consuming, intimidating responsibility for anyone – much less first time cooks! One of my favorite Thanksgiving Day gift ideas  is to offer your undivided help and total attention for a specific amount of time on Thanksgiving Day (or the whole day!). You can be the gift recipient's assistant chef, party planner, and organizer – and he or she will be forever grateful. This is a thoughtful gift idea for the cook's first time cooking turkey dinner, because of the support and guidance.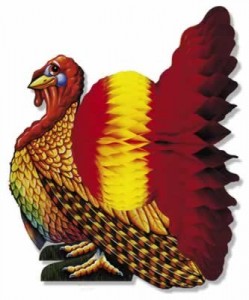 Thanksgiving centerpieces or candle holders. Truth be told, I'm lukewarm on table centerpieces for Thanksgiving; the dinner table is usually so jam packed with food and dishes, so there's no room for a big ornamental Thanksgiving centerpiece. But, if the Thanksgiving dinner table is big enough and the gift recipient likes turkey centerpiece decorations
 or candle holders, then they can be great Thanksgiving gift ideas.
Turkey cannon for Thanksgiving dinner. If you're looking for a Thanksgiving gift idea to take to some who is cooking a turkey dinner, ask if he or she wants to barbeque the turkey. This may be too late this Thanksgiving dinner – the turkey roaster may already be bought and ready to go – but a Camp Chef  Turkey Cannonor gadget to bbq a turkey for next year (or Christmas) can be a creative Thanksgiving gift idea. A turkey cannon is one of the best ways to make Thanksgiving Day dinner easy because it frees up oven space.
Thanksgiving novelty tie, gag gift, or DVD. A turkey novelty tie or Thanksgiving apron is an inexpensive, fun, easy Thanksgiving Day gift idea! Another possibility is a classic or new DVD to watch after Thanksgiving dinner (if of course the football game isn't the drawing card).
 Thanksgiving gourmet gift basket – or a spa gift basket. I have to come back to Thanksgiving gift baskets because I find them irresistible! Gift baskets are practical, thoughtful, and often inexpensive. And, you don't even have to know the person you're giving the basket to, because gift baskets suit all personality types and lifestyles.
The Art of Appreciation Old World Charm Gift Basket is a beautiful Thanksgiving gift basket that perfectly suits the holiday.
Another gift idea for a hardworking chef is a Bain D'esprit Sunflower Spa Bath and Body Set Gift Basket. Instead of giving more food, why not pamper your Thanksgiving hostess?
If your Thanksgiving cook has a dog, read Best Gifts for Dog Lovers – 9 Woofy Wonders.
A Gift Idea NOT Related to Cooking a First Turkey Dinner
Board games for groups of people. This is a Thanksgiving gift idea that will encourage everyone to have an old-fashioned Thanksgiving Day with a fun, interactive board game. You don't necessarily have to buy the most popular board games on Amazon — which is Cards Against Humanity, by the way — you can bring an old favorite to Thanksgiving dinner. Bananagrams is a very popular family game.
For more Thanksgiving gift ideas, read Hostess Gift Ideas for Thanksgiving – Beyond Wine and Pies.
I welcome your thoughts on these Thanksgiving gift ideas for the cook's first turkey dinner below!