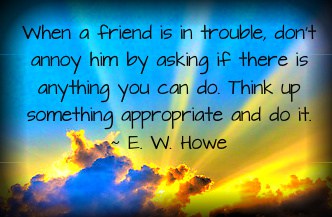 Our friend's mom was recently diagnosed with a cancerous tumour in her brain. These tips on how to help a friend whose mom has cancer are from him, and from an interesting news article I found.
My friend's mom was diagnosed with cancer a couple weeks ago – she has Glioblastoma multiforme (GBM). This tumour started in her brain and has not spread to any other part of her body. The bad news is that GBM is a very aggressive and fast growing tumour.
Treatment plan for this brain tumour. My friend's mom really needs to rest to prepare for her treatment. She had brain surgery, and will recover for 2-4 weeks. Then, she'll undergo 6 weeks of daily radiation and chemotherapy treatments at the BC Cancer Agency and Lions Gate Hospital in North Vancouver. The most likely side effect will be fatigue; nausea is not typical for this form of chemotherapy. After six weeks, my friend's mom will undergo chemotherapy for five days every month for six months.  The overall treatment plan is known as the Stupp Protocol. The chemotherapy medication will likely be Temozolomide.
What is the prognosis? The oncologist said 25-30% of patients are alive after one year under the Stupp Protocol.  Some patients achieve complete remission, and the cancer doesn't return. This is not a treatment for brain cancer that works for majority of people, but for some it works quite well.
It's important to remember that different treatment plans work for different people. If your friend's mom has cancer, don't criticize the diagnosis, prognosis, or treatment plan. Be supportive, hopeful, and positive.
How to Help a Friend Whose Mom Has Cancer
Most of these tips are from my friend; I added a few at the end.
Pray – for the best possible outcome and, as mom would say, "Thy Will Be Done."
Let her rest – during the next 2-3 weeks, mom needs to recover from brain surgery and build strength for the treatments.  Please put these needs above any you may have to see or talk to her.
Schedule short face to face visits – we have organized for a close friend to be with mom each day over the next while.  If you would be interested in a visit or scheduled telephone visit, we are scheduling maximum 30 minute scheduled visits with a maximum of 2 people at a time.  Please call the house at 604-983-3980 and talk to the "friend" who will be responsible for the schedule.  You may need to leave a message.  Please be patient as we accommodate requests and monitor mom's health.
Don't offer medical advice or ask questions – please do not bombard your friend or his mom with medical questions or alternative treatment suggestions.
Send hard copy notes or encouragement – we are receiving lots of e-mail and calls but many people appreciate print mail and cards.
Offer to drive your friend and/or his mom to cancer appointments. If you can volunteer to escort your friend or his mom to any of the chemo treatments, they may be very grateful.
 Pray some more. "My mom getting cancer is not something we would have wished for," says my friend. "This said, I have already seen blessing in the midst of these challenges.  God is always at work and this is an important time to notice the hand of God in my mom's life and in all of our lives.
A thoughtful gift is a wonderful way to support a friend whose mom has cancer. Read Gifts for People With Cancer – Beyond "Get Well Soon".
My tips on helping a friend whose mom has cancer:
Take over home baked meals
Offer to help with house cleaning, chores, and other daily responsibilities
Ask what you can do to help
Most importantly, don't be afraid to call and say you don't know what to say. My friend had breast cancer a few years ago, and several of her friends stopped calling her. They said it was because they were so sad and scared, they'd just cry if they called her. So they did nothing…which is the worst way to help a friend who is dealing with cancer.
A Community-Minded Way to Help a Friend Whose Mom Has Cancer
Here's another way to help a friend whose mom has cancer: go public. I was searching for tips on helping people with a cancer diagnosis, and found an article in the Cannon Falls Beacon. It's called CF boy's friends rally for mom's fight with breast cancer; in it, Ken Haggerty reports a different way to help a friend whose mom has cancer.
Laura Mech is a 36 year old mom of three who was diagnosed with breast cancer in the summer, during a self-exam. She's a Registered Nurse, and she and her husband Eric received a great deal of community support. Their son, Grant, was on a baseball team and football team during Laura's treatment for breast cancer, and both teams donned pink laces on their muddy sports cleats as a sign of support for Laura.
Two of Laura's friends, Stacia Ulrich and Judy Conway, had pink t-shirts with the logo "Laura's Fight Club" on them. Grant's classmates, teachers and others have been wearing them on Mondays (the day Laura has twice monthly chemo treatments).
Remember how meaningful your help is to both your friend and the person with cancer. "It's hard to be angry or bitter when you receive so much support," said Laura. "So many wonderful things have come out of this." She said she may consider a career change aimed at helping others who don't have as much support as she has.
"I really have come to believe that what you put out in life, you get back ten-fold," said Laura.
The most important tip on how to help a friend whose mom has cancer is to ask how you can offer support. If I had cancer, I don't think I'd like people wearing t-shirts with my name on them, or chanting my name during a school sports event. But other people find this encouraging and helpful! It really depends on the person.
What do you think – how can we help friends whose moms were diagnosed with cancer?
For more tips on helping people cope with cancer, read When Your Wife Has Cancer – A "How to" Guide for Husbands.