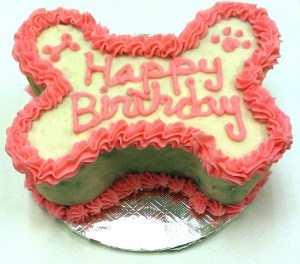 These six tips will help you plan a dog party that will make all your dog's friends beg for an invitation. Before you throw a birthday party for your dog, you need to think a few things through…
The last time I hosted a neighborhood party, my invitations featured a photo of my dog Georgie wearing a hat. Everyone asked if it was dog party, and if they could bring their dogs. It wasn't Georgie's party, but it made me think, why not?
By the way, two of my neighbors brought their dogs to my people party and it was fine. One was a puppy, and the other was an older dog that was very calm and relaxed. However, I wouldn't recommend that anyone brings a dog to a non-dog party unless invited, because not everyone wants strange dogs at their people parties!
6 Tips for Throwing Your Dog a Birthday Party
Make sure you have a fenced in yard and plenty of dog toys
We don't have a grassy knoll to call our own, but we do have a big deck. We only had to shoo Shore and Georgie out on the deck once at our people party because they were wrestling. They're both very well-behaved dogs, despite their young ages (Georgie is 2½ and Shore is 1½). The third dog, Bob, is an 11 week old puppy that was scared of Georgie and Shore, but loved Georgie's chew toys!
If your dog is possessive about her chew toys, then it's better not to have them lying around. Georgie wasn't possessive at all; in fact, she helped Shore dig through her basket of old marrow bones. If you're throwing a birthday party for your dog, make sure your yard and house is dog-friendly.
Bake a cake for your dog's birthday

The truth is, I wouldn't bake a cake for my dog's birthday party. But I would get her a special dog treat, like the Happy Birthday Chicken Liver Bone!
Believe it or not, there are hundreds of recipes for doggie birthday cakes online! I can't believe it. I've made Georgie plenty of doggie biscuits, but never a cake. My favorite recipe is the Peanut Butter Carrot Doggy Birthday Cake over on Brown Eyed Baker.
If you're too busy to bake a birthday cake for your dog's party, ask a local dog bakery if they'll give you a discount in exchange for handing out their business cards at your party. Maybe you'll get 50% off the cake (dog bakeries can be tres expensive).
Don't tell the Dog Whisperer you're planning a dog party
Cesar Millan thinks North Americans baby their dogs too much as it is. A birthday party would send the Dog Whisperer packing for the hills!
After I wrote this, I searched for tips on dog parties and of course The Dog Whisperer was number one in the results. Here's one of their most interesting tips for dog birthday parties:
"Pick a theme that best represents your dog. You can coordinate your theme with the type of dog breed that you have. If you have a Dalmatian, for example, decorate your party with black and white party favors. If you have a poodle, throw a "Pink Poodle" party. You can also model your dog's birthday bash after a famous dog—have a Scooby-Doo or Snoopy themed party. Have a luau party and put dog-friendly leis on guests as they arrive or do a Western theme and have dogs come wearing bandanas around their necks." – from Dog Birthday Party Planning Guide.
Note that that birthday party article for dogs wasn't written by Cesar Millan. I actually think he'd be appalled at the thought of a party for dogs. Just yesterday I heard him on CBC's Q; he told Jian that dogs don't express their happiness and excitement with parades or parties.
Another fun treat for a dog party is the Crunchkins Edible Crunch Birthday Card that says "World's Best Dog" on it!
Send your dog's friends a party invitation through evite
I'm surprised to learn that evite not only has a section dedicated to pet birthday parties, they also have some good tips for doggy parties. Such as…
"Just keep the guest list small and the party time to two hours so the dogs don't get too stressed with too many animals around for too long. Plus, you need to know that all the guests play well with your pet as well as other dogs, so save introducing your Rex to your new buddy's Spot for another outing. Should you invite compadres without canines? Only if they're rabid dog lovers who absolutely adore your pet." – from Pet Birthday Party Ideas.
Me, I'd print and carry invitations to give out on my neighborhood walks and at the dog park. It's more personal and fun, especially if you put a photo of your dog on the party invitation!
Plan party activities that are dog friendly
A game of tug 'o war or fetch, anyone? If it's summertime, fill up a kiddie pool and let the dogs lounge in the cool water.
Instead of having your dog's birthday party at your home, think about meeting at an off-leash dog park. Let them romp and run off steam together while and your fellow dog lovers relax and trade doggy tips.
It's probably also a good idea to make sure your canine guests' human companions know how to deal with their dogs' problem behaviors. If you know a dog owner who can't handle his or her dog, then you may want to avoid inviting them to your dog's party.
Encourage donations for your local animal shelter or SPCA
Instead of loading up on unhealthy dog cookies, toys, and chews, ask your fellow dog owners to bring a few bucks for your local dog shelter. Or, ask them to bring material donations, such as pet blankets, carriers, toys, food, and other products that shelters need.
If you're going to a dog's birthday party and you want to bring a present, read Best Gifts for Dog Lovers – 9 Woofy Wonders.
What do you think about dog parties? I welcome your tips on how to throw a dog birthday party below!