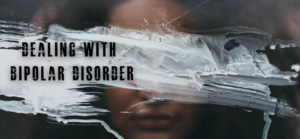 Interesting tips for dealing with bipolar: get a haircut, get inspired, start a hair salon in Vancouver! Here's how a long struggle with bipolar disorder led to the start of a new business.
Joy Hair Studio in North Vancouver was started by a woman who was tired of dealing with bipolar. She got a haircut, and that inspired her to start a new business – one that donates all profits to organizations that help people with mental illness.
"I was sitting in the chair, feeling like I wasn't even worthy of being there," says hair salon owner Terri Howie, describing how she felt dealing with bipolar. "The stylist cut my hair and all of a sudden things just changed. I actually felt good about myself for the first time in months."
In this article, I describe how Terri started her Vancouver hair salon after losing her executive-level marketing job, her husband, her home and her car. It's a new beginning that I had to share – I read it in today's North Shore News (a community newspaper in Vancouver that focuses on North and West Vancouver). The link to the full article is at then end of this post, along with a list resources for living with the symptoms and treatments of bipolar disorder.
I can't believe Terry started a business that donates 100% of its profits to organizations that help people who live with mental illness. Talk about dealing with bipolar – and starting a business – in a fresh new way! An idea whose time has come, no?
Dealing With Bipolar? Take a Leap and Start a New Hair Salon
The stigma of bipolar disorder. Terri says, "The stigma [of dealing with bipolar] is just something that we really need to get around. Everybody's afraid to come out because of that." Part of the stigma comes from the misconceptions people have about bipolar disorder. If you haven't lived with bipolar or known someone dealing with it, then you don't really understand what it's like to live with this mood disorder.
Bipolar is more than "just" episodes of sadness. She says many people also underestimate the severity of the moods bipolar people experience. "You don't just get sad when you're bipolar – you're despondent, in utter despair." She adds that everybody seems to know someone who's bipolar or suffers from depression. "It's amazing how many people are undiagnosed out there." Terri always struggled with her moods, but wasn't officially diagnosed with bipolar disorder until 2009.
How a haircut helped Terri deal with bipolar. After getting her hair cut that day – the day that changed Terri's life by changing how she was dealing with bipolar – she felt positive and empowered. She got on the right medications for bipolar disorder, went to group therapy, started a strict diet and became more physically active. Dealing with bipolar is partly about structure and purpose – which what Terri is achieving by starting her hair salon in Vancouver.
She was living on disability pay – how did she get money to start a hair salon? According to the article in the North Shore News, business start-up costs were made possible thanks to a $50,000 grant from the Pacific Bipolar Foundation. And, Terri personally raised money to start her Vancouver hair salon – which serves people with mood disorders as well as people who just want to support organizations that help people deal with bipolar and other types of mental illness. She hired three hair stylists, but she herself is not earning a salary from the hair salon.
If you're interested in starting a new business of your own – whether you're dealing with bipolar or not – read 7 Tips for Small Business Owners – Taking a Leap of Faith.
The most unique Vancouver hair salon! Terri's hair salon is called Joy Hair Studio; it's at the Lonsdale Quay in North Vancouver. It's called "Joy" because of that's her mom's name, and because Terri felt so empowered and positive after getting the haircut that changed her life three years ago. She's still dealing with bipolar – she's doing awesome right now, but there's always the fear of a repeat episode.
"[Bipolar] is a constant worry, but by working, I think, within the community, I've always got this support," Terri says. "Since I've started this, I've had so many hugs it's unbelievable. How could you be unhappy with all that?"
If you need your hair cut and styled, go visit Joy Hair Studio in North Vancouver. But you better read  5 Tips for Choosing the Best Hairstyle for Women Over 40 first

Source: To read more about Terri and dealing with bipolar, read North Vancouver hair salon spreading the joy: Business raises money for mental health by Christine Lyon in the North Shore News.
Resources for Dealing With Bipolar
If you have any thoughts about dealing with bipolar or starting a new business, please comment below!