This list of gift ideas for someone who is dying includes practical items, as well as whimsical, funny, and comforting gifts that will help you think outside the coffin.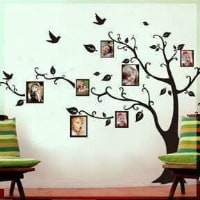 My favorite gift idea on this list is the Photo Family Tree Wall Decal, pictured. If your loved on spends quite a bit of time in bed, this might be a beautiful visual reminder of her family and friends. When you visit her, you could bring new pictures or rearrange the existing photos. I love this gift idea for someone who is dying because it's personal and thoughtful.
Has your loved one created a list of things she wants to do before the end comes? I recently wrote about making a bucket list – and that could be a gift for someone who is dying. Sit down with her, talk about the things she most wanted to experience in life, and see if you can find a way to give that gift. You might have to be super creative; for instance, instead of visiting an ashram in India, you might invite a yogi over for a home yoga lesson.
Gifts for Someone Who is Dying
The best gift for someone who is dying, however, is your presence. You may feel uncomfortable, scared, anxious, or angry in the presence of death – or even at the thought of death – but the best gift idea is sitting with your emotions. Actually, the best gift for someone who is dying is putting aside your emotions, and sitting with the person you love. If you're searching for gift ideas for parents, read my Gift Ideas for Parents of Kids With Cancer.
Understanding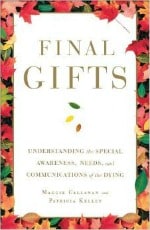 In Final Gifts: Understanding the Special Awareness, Needs, and Communications of the Dying, hospice nurses Maggie Callanan and Patricia Kelley reveal how people who are dying communicate their needs, reveal their feelings, and even choreograph their own final moments. This book will also show you the gifts of wisdom, faith, and love that someone who is dying will leave for you.
Kitten or puppy love
If your loved one loves animals, maybe you could borrow a puppy dog or kitten for a brief visit. A baby might do nicely, as well – but there's something about furry little creatures that warms the heart and soul. Even people who don't really like dogs or cats find themselves smiling while watching a puppy or kitten play. If you bring your pet to visit a loved one in a hospice or hospital, make sure he or she is open to the experience. I would love to be surrounded by animals when I die, but not everyone feels the same way.
Soft, warming candles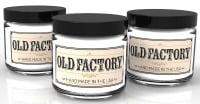 Whether your loved one sleeps all the time or can't sleep, a gift of Scented, Natural Soy Wax Candles can be a lovely gift idea. You might pair this candle set with a warm, comforting fleece blanket. Bring a book, and spend an hour or two reading to the person who is dying. Your presence will bring comfort and peace.
Comforting fleece blanket
I love this fleece blanket with sleeves, because it leaves your arms and hands free to read, eat and drink, or play with the kitten or puppy! It's soft and comforting and will keep your loved one warm and happy. Some people are always cold, and can never have too many blankets. Along the same lines, a hot water bottle might be a nice gift.
Artistic cremation urns
At first this may seem like the worst gift idea for someone who is dying, but it may be worth thinking about. Some artisans and artists make beautiful, creative cremation urns with love and care. If your loved one is open to talking about death, think about discussing end-of-life arrangements. You might even talk about decorating the coffin together.
I recently wrote about different types of cremation urns for a dog's ashes – it might give you ideas about memorial urns for your loved one.
A Willow Tree figurine
Clutter drives me crazy – and so do knick knacks because they clutter up shelves and bookcases – but I have two Willow Tree figurines, and I love them both. The Willow Tree "Soar" Figurine pictured is one of my favorites. It's a picture of a girl holding a dove, getting read to let it go.
Time, tea, and talking
How much time have you spent talking with your loved one? When my aunt was dying, my sister refused to visit her. "I want to remember her how she was when we were young," she said. "I don't want to see her now that she's dying." I felt this way too! It's awful to see someone waste away from ALS (Lou Gehrig's Disease), but I would've felt worse if I hadn't visited my aunt before she died. As painful as it is, spending time with someone dying is the best gift you could give.
Photo albums
When was the last time you sat down and looked through photo albums with your loved one? Sit down with her, and tell each other what you remember about the photos taken. Reminisce. Talk about what you loved best about your memories, and what you wish happened differently.
A book about life after death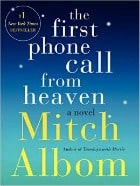 Some people want to talk about their own death, while others prefer to avoid it. If your loved one is able to read and open to reading about the end, then a book about dying might be a good gift. The First Phone Call from Heaven
 by Mitch Albom might be inspirational and comforting. Remember, though, that the most thoughtful gift for someone who is dying is one that meets her where she's at. Don't push her, or over-protect her.
Music
Almost everyone enjoys listening to music, right? A wonderful, thoughtful gift idea for someone who is dying might be music from the beginning of her life, or the happiest time of her life. Or, maybe she'd prefer music that doesn't remind her of the past…maybe she'd like to listen to music from the 20s. Can you hire a jazz trio or an a capella  group to play and/or sing for a few hours?
Something funny
Death is serious business, but it doesn't have to be morbid or depressing. You're grieving, your family is grieving, and your loved one is grieving the end of her life. It's very sad, and life is too short. But, just because life is short doesn't mean we have to spend it being grim. Try to find ways to lighten the mood and laugh. I want to write articles about how to bring lightness and laughter to death, because I believe that's one of the best gifts you can give someone dying.
The story of her life – a digital voice recorder
If your loved one is talkative and has lots of last words to share, encourage her to speak into the mike! She can speak into a digital voice recorder, and share You might also help them write their memoirs with a book about how to write your life story. This gift for someone who is dying is positive, because it focuses on life after she's gone.
At the beginning of this list of gift ideas for someone who is dying, I mentioned a bucket list. If you don't know if your loved one has one, ask about it. She may feel sad that she didn't do everything on her bucket list, but she will be grateful that you're willing to talk about it.
If none of these gifts for someone dying appeals to you, consider asking your loved one what gift she would like most. Maybe she just wants to go to the park, or take a drive out in the country. Maybe she wants to sit and watch you bake cookies, or swim in a lake.
For more ideas, read 12 Practical Gifts for Cancer Patients.
If you have any gift ideas, please share below.