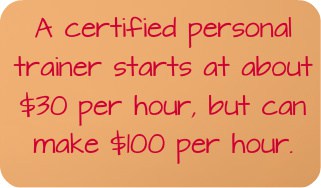 Find out the best and worst parts of working as a personal fitness trainer before you spend time, money, and effort becoming a personal trainer.
I can't tell you if you should work in the fitness industry, I can give you the inside scoop on personal training jobs! This personal fitness trainer job description includes salary and career tips.
Here, fitness instructor and owner of The Gym on Bowen Island, BC, Canada describes what a certified personal trainer does…
"This is a job where I can 100 per cent be myself," says Fawn Gill, owner of Fawn Gill Fitness, Stott Pilates instructor and president of The Gym on Bowen – a fitness centre in British Columbia.
Personal training is far removed from a boring desk job. Fawn fills us in on what it's like to have a fulfilling career as a personal trainer, helping others get healthy and fit. She also shares a trainer's educational requirements and salary expectations — and how to avoid job burnout.
Certified Personal Trainer Job Description
Technically, anyone can call themselves a personal trainer, but to have more clout and to be regarded as a professional, becoming certified is highly recommended.
"I have a diploma in recreation leadership from Langara College," says Fawn. "I am certified as a fitness instructor and personal trainer through British Columbia parks and Recreation. I am also a Stott Pilates certified instructor, a course that was over 300 hours to complete."
Fawn adds that while it is not necessary, it is recommended that personal trainers have a degree in Human Kinetics.
How Much Does a Personal Trainer Make?
Earnings vary wildly in the fitness industry – from $40,000 a year up to as much as $100,000 a year or more. It all depends on who you work for and what you do as a personal trainer.
"A  one-on-one certified personal trainer starts at about $30 per hour but can make $100 per hour, especially if they teach something specific, such as Pilates," says Fawn. "And it depends on where you are working. If you work for the city in a rec centre you make more money as the centres are supported by our taxes. Personal training jobs with a private company usually make less."
If you need money to work your way through your personal fitness training certification, read 10 High Paying Part Time Jobs for Students.
The Best Parts of This Job (why you should become a personal trainer)
Fawn describes her job as positive and rewarding when people come to her wanting to make healthy changes in their lives. "As fitness professionals, we have the opportunity to really make an impact on our client's life.  It's a wonderful feeling when clients tell me the highlight of their week is seeing me."
Fawn also loves that her personal training job allows her to be herself, 100 per cent. "Physically, verbally and emotionally – I get to showcase who I am. I get to share what I love with my clients. I get to know my clients really well, and celebrating their achievements with them is just amazing. I'd never get to do that at a desk job."
A similar job is working as a wellness coach, helping people lose weight. Both jobs require knowing how to motivate people – why is why knowing the the secrets of success for Olympic athletes would be helpful!
The Downside of Working as a Personal Fitness Trainer

Unfortunately, a personal trainer's salary does depend on how many hours you can work in a day, and as working in the fitness industry can be mentally trying, you can't overdo it. There are only so many ways you can encourage someone to get fit – it is up to the client to want to do the work.
"Having to listen to the same excuses day after day from the same people is very frustrating," says Fawn.  "You can work with one client three times a week, give them homework, encourage them, etc. etc. and they still won't make a change in their life. I get paid the same amount no matter what they do so I don't lose out in that sense, but it can be difficult to deal with."
The Surprise About Personal Training Jobs
"People are surprised that I don't work out all day long!" says Fawn, who recently won first place in a Masters Figure competition in Vancouver, BC.  "They think personal training is a 'glamorous' job in that you just get to go around getting fit all day long. It simply isn't true!  I have to try to fit in my workouts like everyone else, usually very early in the morning. I don't get to work out while my clients work out."
Career Tips
If you're becoming a personal trainer, Fawn advises versatility in what you teach and cautions against burnout.
"Be versatile," she says. "Just being a personal trainer full time can really lead to burn-out quite quickly.  Get certified in a number of things like Pilates or yoga. I just became the owner of a yoga co-op on the island to add some more variety to my career. If you branch out, you will make more money, not get bored, and have access to a larger clientele."
If you're looking for a career with maximum flexibility of your schedule, read  The 4-Hour Workweek: Escape 9-5, Live Anywhere, and Join the New Rich — it's a bestselling book on Amazon.
And if you're still not sure if you should be a personal trainer, read related job descriptions: Olympic athlete and a sports psychologist.
In the industry for 20 years, Fawn is a successful business owner and sought after fitness leader.  She owns and operates a gym, yoga co-op and personal training business on Bowen Island, a short distance away from Vancouver.  She is also the mother of 3 little girls and a trophy winning figure athlete.  Fawn can be reached at www.fawngillfitness.com. 
Siobhan is a child care giver, yoga teacher and blogger living on the west coast of Canada. You can read her tips on living simply as well as her  advice on living the life you want at The Simple Blue Bucket.
Do you have any thoughts or questions on becoming a personal trainer? Please comment below!