Here are eight gifts for people diagnosed with a dementia such as Alzheimer's disease, vascular dementia, or Lewy Body Dementia. Some of these gift ideas are practical, others are creative, and others are a mixture between the two.
The best gift ideas for people with dementia also depend on what stage of dementia they're in (eg, early vs. late stages dementia). For this article, I tried to research creative gift ideas that would be good for people in any or all stages of dementia. The right gift for anyone depends on his or her personality, lifestyle, and environment.

A "brain" or memory game might be a fun, creative gift for someone with dementia. I like the idea of the Tangle Fidget Toys, which give people something to do with their hands. It can be relaxing to twist and turn these soft, rubberized pieces around and around, and the creators say it relieves stress and helps with mind wellness.
Gift Ideas for People With Dementia
The most important thing to remember about buying gifts for people with dementia is that there is a huge range of stages, abilities, and levels of memory loss.
Calendar with family photos. I recently created a personalized calendar for my Little Sister (I'm a Big Sister with the Big Sisters/Big Brothers organization in Vancouver). VistaPrint makes it super easy and fun to upload and organize your personal photos into a calendar. And it's definitely an affordable gift idea ($7.50 for the calendar, plus $15 for one week shipping to Canada). I also created a photo calendar for my husband, and will give the same one to my mother-in-law. This is one of the best gifts for people with dementia because it's a constant visual reminder that they are loved…even if they don't remember exactly who loves them.
Date clock.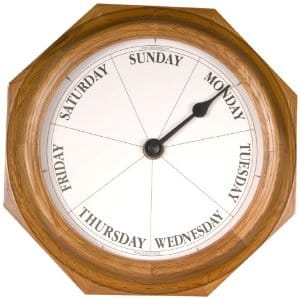 A Classic Oak Day Clock
is a lovely gift for people in late stages dementia. It helps them remember what day it is, and it's easy to read. It's also much easier to see than a traditional calendar, which is often smaller and requires us to be right in front of it.
Music. This is a hugely important part of dealing with dementia because music stimulates the brain and sparks memories of days gone by! Listening to music won't cure dementia, but it can give the gift of happy memories and sweet times. Give your loved one a CD of music that she listened to when she was a child. If your person with dementia played an instrument like the guitar, think about giving him something guitar-related (read  Gift Ideas for Guitarists).
A book in her mother tongue. When I did my practicum with the Alzheimer's Society in Vancouver, I learned that some people with dementia revert to their original language. If they learned English as a second language, they sometimes forget how to speak it as the dementia progresses, and they speak the language they learned as a baby. If your loved one has reverted to her original German, Italian, Mandarin, etc – why not give her a book in her mother tongue? It might be a lovely way to comfort her.
A puzzle for people with dementia.
The "Coral Carnival" 36 Piece Puzzle to Remember is a creative gift specifically for people with dementia. The pieces are extra large, the colors bright and vibrant, and the images are nostalgic. The fish are nice – and so is the picture of the "Durango Express."
Favorite foods. If your loved one is in a care facility, bring him the gift of his favorite stew or dinner! If he loved to cook, perhaps you could bring him home for an evening of cooking and dining. If she likes new experiences and adventures, take her to an Ethiopian or Japanese restaurant for lunch. As I mentioned earlier, creative gifts for people with dementia really do depend on his or her personality, culture, lifestyle, and likes/dislikes.
If these gift ideas for people with dementia aren't floating your boat, read 10 Best Christmas Gifts for Grandparents.
Alzheimer's wristband? I'm not sure if this is one of the best gifts for people with dementia – maybe it's more appropriate for a caregiver! A MedicAlert Safely Home bracelet works to help return lost or separated individuals safely to their families. If your person with dementia likes jewelry, she may not even realize the importance of this bracelet. Some Alzheimer's wristbands are beautiful – not like a hospital wristband! But if your person with dementia would be offended or hurt at receiving a Safely Home bracelet, then it's definitely not a good gift idea.
If you're caregiving for someone with Alzheimer's, vascular dementia, or other type of dementia, read  10 Tips for Caring for Parents With Dementia.
How are you doing – are you caring for a loved one with dementia? Make sure you take time to connect with others who know what you're going through! I found a beautiful blog post by a daughter dealing with her mother's Alzheimer's disease, called Advice for Caregivers Having an Alzheimer's Christmas. It's a little sad, and a LOT inspirational. Give yourself the gift of connecting with other people who are dealing with dementia.
I welcome your thoughts on these gift ideas for people dealing with dementia below.