When you find yourself taking care of elderly parents, you'll have more questions than answers. These 10 tips are inspired by a woman caring for 91 year old mom.
"I sit in the evening now on the edge of my Mom's bed and listen to her telling me the stories of her life, many which relate to what she perceives as bad choices and regrets," writes Marjorie Horne in Caregiving Transitions and Life Completion. "Erick Erickson's description of the eighth stage of life reminds me to listen attentively and to also share with her the stories of how her creative and loving way helped all four of her daughters become caring adults and innovative thinkers."
How your elderly parents are reacting to this stage of life depends on their personalities, experiences, and state of mind. Literally! If your parents have Alzheimer's or other cognitive challenges, read 10 Tips for Caring for Parents With Dementia.
Caring for Elderly Parents – Inspiration From Marjorie
1. Prepare for the worst – and hope for the best. "I am amazed at the unexpected gifts I am receiving," says Marjorie. "Unsure of how my husband and I would adjust to this sudden transition, we gathered a Circle of Care team around us…every day I get to see firsthand how unconditional love and caring attention is transformational." Marjorie's mother is beginning to feel safe and let go of her resistance to being supported and cared for.
2. Think about gathering a Circle of Care team. A team will support you and your elderly parents, and help you cope with the inevitable physical and mental challenges that caring for elderly parents brings. "These supporters may be neighbors and friends, family members, professional caregivers, advocates and volunteers…." Marjorie says. "Seeing my Mom happy, relaxed and joyously connected to having her "team" around her daily, warms one's heart in a way that can only be described as a miracle."
If you aren't in the same area as your elderly parents, read Long Distance Caregiving – An Easy Way to Stay Connected.
8 More Tips for Caring for Elderly Parents
"Caregiver stress can be degrading and demoralizing," says B. Lynn Goodwin author of You Want Me To Do WHAT? – Journaling for Caregivers. "Avoid the downhill spiral. Start somewhere. Start anywhere. Take care of yourself and you'll be a better caregiver to your loved one."
The first tip for caring for elderly parents is from me, and the rest are from Lynn Goodwin….
3. Attend free "Caring For Elderly Parents" seminars in your area. Many non-profit and government organizations have free info sessions on caring for elderly parents.
A good info session on caring for elderly parents will offer info on:
Medicare Savings Program
Healthy Living and Nutrition
Funeral Considerations
Pre-paid Insurance Policies and Trust Funds
Legal Issues: Power-of-Attorney and Wills and Estate Issues
Preparing for Probate from the Surrogate's Office
Presentation on Assisted Living
Home health visits
Medicaid Planning and Application
Myths about dementia
Discussions on the Reassurance Program, 2-1-1 Info Line, and Crisis/Suicide Support Line
If you can, take someone with you to an information session on caring for elderly parents. An extra set of ears and eyes will help ensure you hear and see everything.
4. Take lots of deep breaths. Slowing down helps your heart stop racing and clears your mind. Also, have a glass of water or a cup of tea. Take it out on the patio or sit on the front stoop.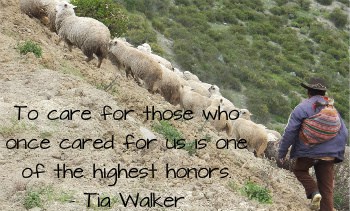 5. Call loved ones, just to chat. Make a list of people you miss. Do you have phone numbers? Addresses? A tip for caring for elderly parents is to pick one and reach out. Wouldn't you like to hear from a long lost friend? If you don't know who to call, consider The National Crisis Hotline (1-800-273-TALK) or the Alzheimer's Association National Hotline (1-800-273-3900).
6. Join an online or face-to-face support group for people caring for elderly parents. Google "caregiver support groups" or "caring for elderly parents" to find resources. Ask other caregivers if they go to any stress management groups. Search in Yahoo groups or AARP for other caregivers – and be specific about your situation (eg, "caregivers for elderly parents" or "caregivers for people with dementia").
7. Check local chapters of disease-specific organizations, such as the Alzheimer's Association or the Multiple Sclerosis Society. Most diseases have an organization and a support group. Some meet face-to-face and some meet online. When you're caring for elderly parents, it helps to know you're not alone.
8. Talk to the service agencies about getting help caring for elderly parents. You don't have to be a member of the congregation to ask for help or guidance on caring for elderly parents! Reach out to an organization you haven't tried. Also, call the hospitals. They know that helping the caregiver helps the patient, especially if the patient is an elderly parent. Ask about Adult Day Programs in your community.
9. If you're not sure what to do with your time off, go to a local coffee shop. Order whatever makes your mouth water. Sit down and make a list of the things you used to love to do. How long since you've done any of them? Pick a day and time to give one a try! Even just thinking about the things you enjoy can help relieve stress.
10. Try journaling to relieve the stress of caring for elderly parents. Writing gives perspective and restores sanity. It is a lifeline as well as a record. It allows you to vent, delve into issues, and untangle messes. Writing lets you analyze, celebrate, and finish a thought without interruption. Journaling also relieves stress by releasing mental toxins and deepens awareness.
Do you own a dog or cat? Pets can help you cope with caring for aging parents – read How Pet Ownership Affects Your Health.
Resources for Caring for Elderly Parents
B. Lynn Goodwin is published in numerous anthologies, magazines, newspapers, e-zines, and blogs. Visit her at Writer Advice.