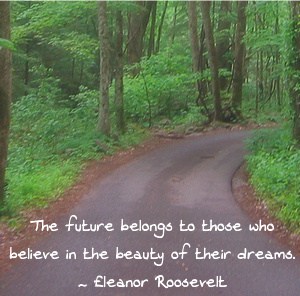 These ways to leave relationship abuse behind are for women in toxic, addictive relationships. They may know they're not living their best life…but breaking up with an abusive partner is easier said than done.
On my Why Does He Do That? Inside the Minds of Abusive Men article, a reader described the abuse in her relationship. Here, I hope to give her – and all women dealing with abusive partners – hope, strength, and courage to leave an unhealthy relationship behind.
These three ways to cope with relationship abuse are inspired by quotations from Eleanor Roosevelt, who was a strong, successful woman in history.
"You gain strength, courage and confidence by every experience in which you really stop to look fear in the face," said Eleanor Roosevelt. "You are able to say to yourself, 'I have lived through this horror. I can take the next thing that comes along.' You must do the thing you think you cannot do."
What is the thing you think you can't do? Instead of thinking you cannot…start thinking of how you can. Focus on how you want your life to be better, healthier, more whole.
If you want to learn more about relationship abuse, read the book Why Does He Do That?: Inside the Minds of Angry and Controlling Men
. And, here are three ways to break up with a toxic, addictive, unhealthy partner…
3 Ways to Leave Relationship Abuse Behind
1. Get help – don't try leave an abusive partner on your own. "Friendship with oneself is all important, because without it one cannot be friends with anyone else in the world," said Eleanor Roosevelt.
Even if you don't feel like you're surrounded by friends in the world – you need to reach out and connect! Many women are too afraid, embarrassed, ashamed, or confused to tell their friends or family about the abuse. This is one reason they stay in unhealthy relationships – because abusive partners isolate their girlfriends or wives. One of the first steps to breaking free from a bad relationship is rallying your troops: get help from a distress line, counsellor, pastor, friends, family, coworkers, neighbours – anyone.
Here's how Keri left the relationship abuse behind: Signs of an Abusive Relationship – and How to Survive.
2. Connect with your higher power. "It is better to light a candle than curse the darkness," said Eleanor Roosevelt. Whether you believe in God, Jesus, or a more abstract Guiding Force in the Universe – connect with your higher power. Stop fearing and cursing the darkness…and start lighting your candles. Journalling, meditation, prayer, and reading books about finding and following the healthiest part of yourself will help strengthen your connection to the voice within. Spiritual exercise is like physical exercise; it strengthens your body and your relationship with Something Greater Than Yourself – who wants the best for you. Connecting with your higher power will improve your emotional health.
3. Practice random acts of courage. "What looks courageous to one person may not look that way to another," said Eleanor Roosevelt. "Every one of use gets to that for ourselves."
Everyone – not just women who want to leave relationship abuse behind – lives with limiting beliefs and behaviors. These beliefs and behaviors stop us from creating our heart's desire. Taking healthy risks allows us to step outside of those beliefs and behaviors, and helps us create the life we love. How can you be courageous today, even if you're not quite ready to break up with your partner? Practice one little act of courage – you'll feel better and happier about yourself…and your future.
"The future belongs to those who believe in the beauty of their dreams." ~ Eleanor Roosevelt. 
Another way to leave relationship abuse behind is to learn How to be Joyful and Find Inner Happiness.
If you have any thoughts on leaving relationship abuse, please comment below. I can't offer advice or counselling, but I can listen!