You'll find the best gift for your wife here – there's something on this list for every woman, and for every husband who wants to know what to buy his wife for Christmas. These gift tips are inspired by my own husband's struggle every Christmas…he never knows what to buy me!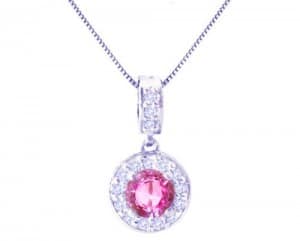 The  Yellow Gold Gemstone and Diamond Pendant is gorgeous – I don't love jewelry, but even I would wear this! It's an elegant and beautiful necklace to buy your wife at Christmas, and a thoughtful way to say "I love you."
The most important thing to remember when you're searching for the best gift to buy your wife for Christmas is this: get her something she really wants, not what you think she should like.
Husbands sometimes fall into the trap of thinking the best gift is something their wives should want, instead of putting themselves into their wives' mindsets and getting what they really want for Christmas. Lingerie is a good example of this – it may not be the best gift for your wife at Christmas.
Best Gifts for Your Wife at Christmas
An electronic reading device – Kindle Fire
I've written several articles on Christmas gift ideas, and I've noticed that people are buying the  Kindle Fire HDX 8.9″ more than any other gift. It's a bit of a splurge, but the people I know who have Kindles, love them.
If your wife likes to read, give her an e-reader along with pockets of time to read. Create a "reading schedule" for her — for instance, she has to read every Tuesday and Thursday evenings while you take care of the kids and do the dishes. This is the gift of time, and it's one of the best gift ideas for wives.
The  Kindle Fire is Amazon's #1 bestselling electronic, possibly because it's a perfected, updated version of the original Kindle. This is one of the best gifts at Christmas, especially for wives who won't splurge on it for themselves.
A candle and scent diffuser
You may not know what a diffuser is, but your wife probably does! The  Woman's Oil Warmer Burner Diffuser pictured is a beautiful, practical gift for your wife at Christmas. She can puts drops of her favorite scent in the top glass part; if she likes soft, pretty scents, she'll love this gift! If she likes aromatherapy, she'll love it even more.
In my article about burning incense for meditation, I list several different types of oils that smell beautiful and are relaxing. Relaxation and peace is one of the best gifts for your wife at Christmas, and anytime!
A soft, luxurious bathrobe
A  Del Rossa Women's Super Plush Fleece Bathrobe Robe, is a beautiful gift to buy your wife at Christmas — as long as you pair it with time to spend soaking in the tub.
My husband gave me a manicure and pedicure set for Christmas last year, but I never used it. When you're giving gifts to your wife, it's important to know her personality and how she likes to spend her time! I'm not into getting manicures and pedicures, even when I have all the equipment at home and my husband is willing to do them for me.
So, if your wife isn't into soaking or treating herself luxuriously, don't get her a gorgeous bathrobe. Upgrade her electronics instead…
Something musical – such as a docking station
For his birthday, I bought my husband an  Philips DC390/37 Dual-Docking 30-Pin iPod/iPhone/iPad Alarm Clock (I bought it at Future Shop — I can't believe how much cheaper it is on Amazon!). He loves this portable, digital music box — and so do I. If your wife has an iPod or iPhone, she'll love to listen to her favorite music all over the house while charging the iPhone battery.
GPS Navigator
Every time I go somewhere new, my husband asks if I want to borrow his GPS. I always say no, because I don't want to take the time to transfer the GPS Navigator from his car to mine.
But…if I had my own GPS navigator…I'd be set for any trip! A Portable GPS Navigator with Lifetime Maps is easier than using the GPS on a smartphone, and easy to install. This is a good gift to give your wife at Christmas if she has to drive a lot – or even if she only drives once in awhile.
If you give your wife a "tool" like a GPS for Christmas, pair it with something soft and romantic, like a necklace or ring. If your wife is over forty and you haven't found the best gift yet, read 40th Birthday Gifts for Women – 20 Ideas She'll Love.
Homemade massage gift coupons
My husband gives these to me every Christmas, and I love them: about 10 "massage gift coupons" that I can redeem anytime I want. Some are for hand massages, others for foot massages…and some are for other special fun things that I dare not mention here. This is an inexpensive, thoughtful thing to give your wife for Christmas – and it's great for your relationship!
You could also give her a gift certificate for a professional massage, manicure, or pedicure. My husband gave me this for Christmas a couple years ago…but I didn't like it as much as the homemade massage coupons.
Is your wife a writer? Read 14 Best Gifts for Writers – there are some lovely Christmas gift ideas in that article.
Christmas "cupcake" jewelry

If your wife loves jewelry gifts for Christmas, she might be enchanted by the  10k Gold Diamond Cupcake Pendant. It's creative, fun, and beautiful — not as big or splashy as the sapphire and diamond pendant, but it's not a necklace you see often.
Necklaces or pendants are gorgeous, inexpensive, meaningful gifts to buy your wife for Christmas. That's why I included them on this list of the best gifts for wives.
Upgraded software, photography, or computer tools
How about more memory for the tech gadgets she already has, or an upgrade to a piece of electronic equipment? Here's what one wife gave her husband for Christmas: "My husband was going on a long cross-state bike ride, and was weighed down with all the chargers for the little devices that are somehow necessary," says Alex Sharp. "So I researched and found a solar charger (such as a backup rechargeable charger for iPhones, BlackBerrys, Kindles) that would work for multiple devices. He had less stuff to carry, less imposition of having to find outlets, and less stuff to clutter our lives."
If you still don't know what to buy your wife at Christmas, read 8 Creative Gifts for Knitters.
A book about love and relationships — for you
I read a lot of books about marriage, love, and relationships for my "Quips and Tips" blogs. Whenever I see my husband reading my books about love and relationships, I melt inside! It makes me think he wants to improve our marriage and love life, and that he thinks our love is worth spending time on. A marriage or love book that you vow to read and discuss is one of the best Christmas gifts to give your wife.   The 5 Love Languages: The Secret to Love That Lasts by Gary Chapman is both popular and practical.
Victoria's Secret Perfume Gift Set
Clive Christian Imperial Majesty perfume for women, which also costs $435,000. That's the most expensive perfume for women on Amazon – but expensive doesn't mean it's the right gift for your wife for Christmas!
The next most expensive women's perfume is $10,000 – the  Penningtons Bath Lavender Eau De Toilette from England. There are no perfumes that cost between $10,000 and $435,000.
The most popular perfume on Amazon costs $5: Love by Sex In The City. That's too cheap. The best middle-of-the road perfume gift to give your wife for Christmas is Victoria's Secret 3 Piece Deluxe Gift Set with Purple Monogram Tote Bag pictured.
If you think perfume is the best gift for your wife at Christmas, read my article about floral perfumes. Fragrance can be a difficult gift to give a woman, regardless of how expensive it is (or isn't!). Again, you have to know your wife's tastes.
An Oprah-related Christmas gift
Have you met a woman who doesn't like Oprah Winfrey? My husband gave me a magazine subscription to O, The Oprah Magazine for Christmas, and I loved getting it in the mail every month. Another Oprah gift idea for wives is  O's Big Book of Happiness: The Best of O, The Oprah Magazine: Wisdom, Wit, Advice, Interviews, and Inspiration. Oprah's magazines and books help women discover and express their authentic selves, which isn't something you can buy for your wife for Christmas…but you can nudge her along!
Active video games
Active video games, such as Dance Dance Revolution, the Nintendo Wii and Guitar Hero, are a great family activity! If your wife has talked about her weight loss goals for the New Year — or if you know she loves fitness — get her something like a Wii Fit & Balance Board.
Housecleaning services
O, happy day! If you're still wondering what to buy your wife for Christmas, give her six months or a year of housecleaning services. 
This is one of the best gifts I can think of, because it's not about buying more stuff and spending more money. It's about saving time and spending your life doing stuff you love.
Best dog gifts for wives
Is your wife a dog lover? For Christmas, give her  Dogology: What Your Relationship with Your Dog Reveals about You – it compares human personality traits to their favorite dog breeds.
Or, give her a picture book about dogs. Here's what Amazon says about one of the most popular books on dogs: "From show dogs to shelter dogs, from the grace and agility of racing greyhounds to adored domestic companions, from Afghan hounds to Hungarian komondors to Chinese crested, the images in  Dogs (the cover of this book is pictured here) is one of the most appealing, popular, and exciting photographic tributes to dogs ever published." If you don't know what to buy your wife for Christmas, get her something pet-related.
If your wife loves dogs, read Best Gifts for Dog Lovers – 9 Woofy Wonders.
A renewed dedication to your marriage
How about a sincere, heartfelt promise to your wife that you'll put more energy into your relationship? I know this is easier said than done, which is why I wrote 80 Ways to Say "I Love You". It's jammed with ways to express your love to your wife at Christmas and all year long, which will strengthen your relationship. That's not a gift you can buy your wife at Christmas; it's something you show her every day.
For more tips on what to buy your wife for Christmas, read 10 Creative Christian Gifts – Plus a Few Traditional Ideas.