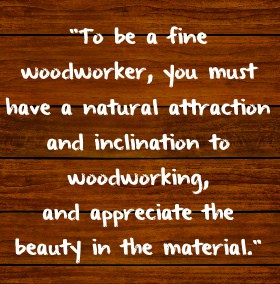 An article about starting your own woodworking business wouldn't be complete without revealing a woodworker's career and job description!
Learn what a fine woodworker does in this profile — this carpenter describes how he went from "cabinet maker" to creating art furniture. Evolving from a cabinet maker to creating art furniture wasn't in Richard Best's vision when he started his woodworking career.
"I started out building houses, which led to cabinetry, and then I became known as the custom window and door maker," says Best. "After about 25 years I felt the urge to channel my energies into something truly creative and I decided to focus on making furniture."
In this fine woodworker job description, you'll discover what it's like to start at the bottom of the carpenter's chain and work your way up to designing and creating your own art furniture (and charging whatever price you want!).
Fine Woodworker Job Description
Woodworking could involve working as a lumberjack or in a saw mill, but here we focus on cabinet makers and furniture makers. There are many aspects involved in fine woodworking, from choosing the wood grain to planing wood boards to joinery work.
According to Best, "the finishing process is an entirely other phase, and in my particular style of work, only a hand rubbed finish will do. Anything less just does not bring out the spirit of the piece."
While no specific education is required for a self-employed woodworker's career, many cabinet making companies require employees to become a certified journeyperson, which includes four years of apprenticeship training if you live in Canada. Best received his certification years ago and then started his own business making custom doors and windows. This evolved into making art furniture — fine woodworking.
"Over the years a few people asked me to make custom built-in cabinets or small pieces of furniture and I realized I had an eye for design," says Best. He's found it to be much more satisfying creating his own designs.
It takes courage to start a small business without having the weight of a diploma or degree backing you up! Read 7 Tips for Small Business Owners Taking a Leap of Faith.
How Much Does a Fine Woodworker Make?
Woodworking income depends on how much experience a person has and what type of work they do. "The wages for a cabinet maker increase over time with experience," says Best. "I pay my apprentices anywhere from $17 to $25 per hour depending on their experience."
At the fine woodworking mastery level, prices vary as well. "Many experienced cabinet makers charge an hourly fee of anywhere from $30 to $60 per hour," says Best. "But with art furniture, a person can charge what they want per piece. It's not about the time involved; it's the beauty that arises out of it."
The Best Parts of Woodworking Jobs
Being a cabinet maker and making custom doors and windows becomes routine over time; there's no creativity in it. But with art furniture it's a different story. As Best explains, "designing and making a unique piece of furniture is a creative process. There are times when my sense of me disappears. I'll be doing my work and I go into these phases where time drops away and Richard Best drops away, and there's just this consciousness and these hands out in front of me doing this task and I just feel joyful."
Best also really enjoys working one-on-one with his clients to help them develop the design idea that fits their wants and needs. "Together, we bring the piece into reality. The completion is often an emotionally rewarding experience for both of us."
The Downside of a Fine Woodworking Career
Woodworking involves a blend of using machines and hand tools. The noise and vibration of the machines takes its toll after a while.
"Working with loud mechanical sounds can be tiring, but if each piece were made without any mechanization, no one could afford my work," says Best. "Those pieces that can best be made by hand, are made by hand, and those that can be made by machine without sacrificing the quality of craftsmanship are made using machines."
The Biggest Surprise about Woodworking
"The simplicity of design and joinery, and the warmth of the finish" are what surprises people, says Best. "But the irony is that some see it and some don't. When you are drawn to my work, or rather the work that manifests through me, it is only after you start living with it, that much of its beauty is revealed. So the surprise comes not all at once."
Career Tips for Fine Woodworkers
Following your passion is what most people advise about any career choice, and with fine woodworking it's no different. "Do it only if you are passionate about it. You must have a natural attraction and inclination to woodworking and appreciate the beauty in the material," says Best.
If the idea of working from home appeals to you but you're not interested in fine woodworking, read  Want to Work From Home? 30 Home Based Business Ideas.
Richard Best is the owner of Richard Best Studios on Bowen Island, BC, Canada. At this point in his career, he only accepts clients through friends of friends and word of mouth. This article was written by Gini Grey, author of the book, From Chaos to Calm: How to Shift Unhealthy Stress Patterns and Create Your Ideal Balance in Life.
If you have any thoughts on this woodworker job description — or a career in fine woodworking — please comment below.