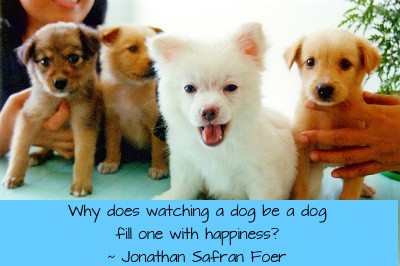 If you haven't figured out exactly how owning a dog makes you happy, you'll find the answers here. This is a summary of research on dog ownership and happiness.
In How Pet Ownership Affects Your Health, I describe why I'm researching how owning a dog makes people happy (it's for my MSW at UBC). Dogs make people happier than cats, for reasons that are obvious after you read the research on why owning a dog can make you happy. Dogs get you out of the house, force you to interact with people, and act as a social lubricant. Cats don't do those things, which is why I think owning a dog makes you happier than owning a cat.
Can you tell I'm not a cat person? I used to be a cat person, but since I adopted my dogs, I realized I'm definitely a dog person.
In this article, I describe the effects of dog ownership (not just pet ownership) on the health of the owner. Remember that happiness comes in different forms: physical happiness, emotional stability, spiritual connection, and even smooth cognitive functioning.
How Owning a Dog Makes You Happy
Dogs help you make friends. Regarding emotional health, Wood et al. (2005) found that dogs are positively associated with some types of social contact and interaction between pet owners, neighbours, and the local community. This finding was consistent with previous research that dogs act as a "social lubricant" and promote interaction and conversation among strangers.
Owning a dog makes you think your neighborhood is friendlier. Wood et al. (2005) found that dog owners were more likely than non-owners to perceive friendly exchanges of informal greetings. Further, more than half of the owners indicated that their dogs helped them get to know people in their suburb, and more than four fifths talk to other pet owners when walking their dog. Since being friendly to relative strangers is seen as a positive community marker, it is reasonable to conclude that the dog owners in this study are enjoying the benefits of an increased sense of community and social interaction. These researchers found that owning a dog makes you happy by helping you get to know people.
Your neighborhood actually WILL be friendier if you have a birthday party for your dog! Read 6 Tips for Throwing Your Dog a Birthday Party 

Dogs increase your physical health level – and that makes you happy. Regarding dog ownership and physical health; research shows that dog owners are more physically active than non-owners, particularly through walking outside (Bauman et al., 2001). Further, dog owners who walk their dogs are more likely to meet physical activity recommendations compared with those who do not walk their dogs (Coleman et al., 2008; as cited in Cutt et al., 2008).
Owning makes women happier than men. A more recent study – the first to study the effects of dog ownership and dog walking on children and families, not just adults – found mixed results. Chu et al. (2010) reported that mothers and girls gained health benefits from the physical activity associated with dog walking, but boys and fathers did not report the same benefits. A limitation of this study was the method: the researchers sent questionnaires home from school with the children, and relied on the family to measure the length and number of walks per day. They included students from a wide range of ages and socioeconomic statuses, but it may not be the most reliable method of data collection.
Questions about the last study on how owning a dog makes you happy. I question the reliability of the previous study, as some families may not be able to accurately record the exact minutes (or hours) of exercise. Also, what constitutes "exercise"? For instance, does taking a dog to the dog park count as "physical exercise" if the owner is standing and watching the dogs play, or if the owner is throwing the ball for the dog to fetch? Further, the questionnaire did not differentiate between different types of dog walks, such as hiking in the woods (a more strenuous form of exercise for the owner) or standing at the dog park? So, while this study revealed that there may be different health benefits for different family members, it was not exhaustive. Further research is needed to fully identify how dog ownership affects various family members.
I welcome your comments on dog ownership and happiness below.
If you know someone who isn't happy because she lost her dog, read Gifts for People Whose Dogs Died.
One of my most popular articles is Putting a Dog to Sleep – A Veterinarian's Guidelines, because it's such a difficult decision to make about a dog that made you so happy.
Resources on how owning a dog makes you happy:
Bauman, A., Russell, S., Furber, S., & Dobson, A. (2001). The epidemiology of dog walking: An unmet need for human and canine health. The Medical Journal of Australia, 175(11-12), 632-634.
Brown, S. G., & Rhodes, R. E. (2006). Relationships among dog ownership and leisure-time walking in western Canadian adults. American Journal of Preventive Medicine, 30(2), 131-136.
Bulcroft, K., & Albert, A. (1988). Pets, families, and the life course. Journal of Marriage and Family, 50(2)
Chu, B., Salmon, J., Timperio, A., & Veitch, J. (2010). Dog ownership, dog walking, and children's and parents' physical activity. Research Quarterly for Exercise and Sport, 81(3), 264.
Coleman, K. J., Rosenberg, D. E., Conway, T. L., Sallis, J. F., Saelens, B. E., Frank, L. D., & Cain, K. (2008). Physical activity, weight status, and neighborhood characteristics of dog walkers. Preventive Medicine, 47(3), 309-312.
Cutt, H., Giles-Corti, B., Knuiman, M., & Burkeb, V. (2007). Dog ownership, health and physical activity: A critical review of the literature. Health & Place, 13(1), 261-272.
Cutt, H., Giles-Corti, B., Knuiman, M., Timperio, A., & Bull, F. (2008). Understanding dog owners' increased levels of physical activity: Results from RESIDE. American Journal of Public Health, 98(1), 66-69.
Wood, L., Giles-Corti, B., & Bulsara, M. (2005). The pet connection: Pets as a conduit for social capital? Social Science & Medicine, 61, 1159-1173.