When someone you love takes their own life, you grieve in a completely different way. These ways to cope with life after someone you love commits suicide are about connecting with others who understand what you're going through.
Have you read anything about grieving after a suicide? Read No Time to Say Goodbye: Surviving The Suicide Of A Loved One by Carla Fine. You'll learn why suicide is still such a taboo in our society, and how being able to speak openly and honestly about the cause of your pain will help you heal.
If you're a believer, one of the first experiences might be a crisis of faith. Father Charles Rubey, founder of the Catholic Charities LOSS Program, has had a great deal of experience helping people cope with grief after a loved one commits suicide.
"'How could God do this to me?' is a common question from survivors," writes Father Rubey. "'How could God allow my loved one to become so desperate that they would kill themselves?'  is another frequently asked question.'"
I found a wonderful website that helps suicide survivors grieve the loss of a loved one. Read Crisis of Faith on the Alliance of Hope site – it links to several articles on coping with life after such a devastating loss.
Coping With Life After Someone You Love Commits Suicide
If you have any thoughts about coping after someone you love takes his or her own life, please share below.
Connect with other survivors of suicide
When I was in university, my friend's boyfriend committed suicide. I had no idea what to say to my friend – or even how to act around her. I didn't have the first clue how to comfort her. Suicide was such a foreign, confusing concept to me. I wasn't the right person for her to talk to about coping with life after someone you love commits suicide; she needed to connect with people who understood what she was going through. Find an in-person or online support group of people who are surviving suicide. Alliance of Hope is a wonderful place to start.
Talk to someone about your fears and grief
Who is walking alongside you as you grieve? Find someone you can be honest with, who is wise and able to help you cope with life after suicide. If you feel depressed and hopeless because the person you love committed suicide, read How to Hold on to Hope When Life Seems Hopeless.
Accept that you'll never be "over" it
Some people never heal after a loved one takes their life. We are human beings with soft, vulnerable hearts. We don't just "get over" our losses, and we don't just bounce back after someone we love commits suicide. The other day, I was praying with a 55 year old woman who cried and cried because she was born a girl and her parents wanted a boy. She will always carry that pain around with her. I'm still grieving my grandma's death, and it's been 17 years. I'll never get used to life without her. My heart hurts to say this, but I don't know if you'll ever fully recover your old life after someone you love commits suicide. It's too shocking, traumatic, painful.
Learn how to cope with grief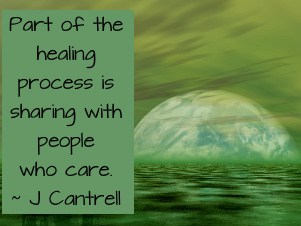 I know coping with life after suicide is different than grieving a more "natural" death, but it's still important to learn how grief works. There are specific stages of grief, and the more you know about suicide and grieving, the better able you'll be to cope with it.
Connect – or reconnect – with your Creator
What are your beliefs about heaven, or the afterlife? How is your sense of spirituality affecting your ability to cope with life after someone you love commits suicide? Some people cling to God after the loss of a loved one, and others feel betrayed and alone. They walk away from everything spiritual, even though they feel God's presence and call. How does your role as a "suicide survivor" affect your relationship with God?
If you have a friend who is dealing with the aftermath of a suicide, read How to Help a Depressed Friend.
Do you have any thoughts on coping with life after someone you love commits suicide? Please feel free to share below.
What were your first thoughts after finding out that someone you love committed suicide? I invite you to share them. Expressing your feelings – no matter how "wrong" or disloyal they seem to be – is the first step towards healing.