I'm a writer, and I want every one of the gifts on this list! They're the best and most creative gifts for writers because they inspire, motivate, and encourage writers to keep writing. Writing is hard work. The best gifts for writers are things that make us want to write every day. The best gifts for writers are things that tell us never, ever to give up the hope that one day our writing dreams will come true.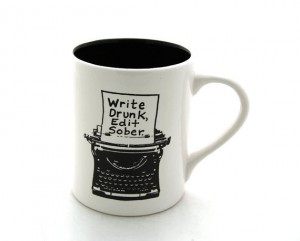 A coffee mug is a good gift because it's both practical and inspirational. I love this mug that says "Write Drunk, Edit Sober." Lenny Mud made it, and sells it on etsy. I think it's a great gift for writers because it's both funny and practical.
Another creative gift for writers is the coffee mug that says: "Writers Block: When Your Imaginary Friends Stop Talking to You" – because it acknowledges the pain of writers block! All writers know what that feels like, and all writers need a kick in the bummy sometimes.
The Best Gifts for Writers
Good coffee, tea, or hot chocolate. If you already decided that the coffee mug is the best gift for the writer on your list, give them something to put in the mug! Kicking Horse Coffee is delicious – or give a coffee or tea gift basket that has a variety of beverages.
But, I believe the best gifts for writers are those that acknowledge what a pain writing is, and that make them feel like writers…
A sign for their writing space. 
When I first started writing six years ago, my husband gave me a sign that says "Believe." Pictured is a similar one on Amazon: Love, Dream, Faith, Hope, Believe, and Simplify Wooden Signs that your writer can hang all over the house, office, and writing spaces. These signs are creative and inspirational gifts for writers – and definitely the most thoughtful one I ever received from my husband. A simple little wooden sign that says "Believe" for my office, and I love it. When I feel discouraged or hopeless, I run my fingers over the words: "If you believe, all things are possible."
Dragon speaking and writing software. Carpal tunnel syndrome is a serious health risk for writers who write every day. I say one of the best gifts for writers is Dragon Naturally Speaking – it converts your writer's spoken words to text. This reduces the amount of typing your writer has to do, which relieves the strain on thumbs, wrists, and arm muscles. It's probably number one on my list of "best gifts for writers" (Bruce, baby, are you reading this?!).
Journals and notebooks. A writer can never have too many journals, diaries, or notebooks for jotting ideas, writing quips and tips, or fleshing out random thoughts. A hand-tooled leather journal is one of the best gifts for writers because it's both beautiful and practical. Writers can write stories in their journal, or use it to keep track of their writing goals.
New writing tools and software. Okay, I'm not up on the cool new writing gadgets on the market, but I know stuff is out there. I'm thinking about writing software programs, such as Scrivener (Macs only) or something similar for PC's. Software writing tools can be one of the best gifts for writers – depending on their genre and interests. For instance, Power Writer (Novel and Fiction Writing Software) is great for fiction writers and novelists.
If you're looking for the best gifts for writers who are closing in on forty, read 40th Birthday Gifts for Women – 20 Ideas She'll Love.
An invitation to a writer's conference. Boy, if you can swing a complete gift package to a writer's conference for three or four nights, you'll be in your writer's best books for life! This is probably the best gift for writers because it gives them a chance to get away. Writers' conferences often happen in beautiful places like Mexico, Hawaii, Costa Rica, California, and the Bahamas…and they help writers improve their writing and editing skills. My husband actually registered me for a writing conference in New York City a couple years ago, but I couldn't attend due to family commitments.
Tickets to see a published author. Last year, Elizabeth Gilbert (who wrote Eat, Pray, Love: One Woman's Search for Everything Across Italy, India and Indonesia) gave a talk in Vancouver, BC – and it was sold out months in advance! Something like this – tickets to see a writer in action – would be one of the best gifts for writers and anyone who wants to write.
A fired-up muse – the gift all writers need. In my ebook 73 Ways to Fire Up (or Just Fire!) the Muse, I listed quips, tips, and inspiration for all types of writers from professional writers and published authors. A wonderful gift is to buy this ebook and  email your writer a new quip or tip from the book every day or week. Instead of buying a book about writing and hoping he or she reads it, you can take an active role in encouraging the writer in your life.
Subscription to a writing magazine. There aren't that many to choose from, but Writer's Digest, The Writer, and Writing Magazine are popular. If the writer you know already subscribes to a writing magazine, then you can simply extend the subscription. Or, subscribe to something different (The New Yorker, for instance) to take your writer out of her comfort zone.
Gift cards to Chapters, Indigo, Amazon, etc. Even a $20 Amazon Gift Card can buy several items at these stores – and the writer isn't limited to books! Gift cards are versatile and easy, and can easily be one of the best gifts (though I admit it's not exactly the most creative gift idea for writers).
The gift of writing time. If the writer in your life has kids or other responsibilities that take time and energy (like housecleaning, cleaning the car, gardening, etc), then the best gift for that writer is time! Offer to take care of the kids, or hire a cleaner for a couple cleaning sessions. Garden, mow the lawn, or clean the car. You don't have to live with the writer to free up some time for him or her.
Books about writing. If you're really stuck on choosing the best gifts for writers, buy a book! Anne Lamott's Bird by Bird: Some Instructions on Writing and Life is a wonderful, entertaining resource for writers. But make sure you take a look through your writer's bookshelf, to avoid doubling up. They don't need two copies of writing books, even if they are the best gifts a writer could get.
DVDs about the writing process, inspiration, etc. If you a book about writing isn't the best gift, consider getting a DVD about a favorite published author. The one pictured, for instance, contains Anne Lamott's interviews, public lectures, readings, and other footage. It's a one of the best gift ideas for writers, poets, and published authors — especially if they're fans of Anne Lamott.
Is the writer in your life a man who isn't 20 anymore? Read The Best Birthday Gifts for His 40th Birthday.
What do you think of these "best gifts for writers"? All thoughts welcome!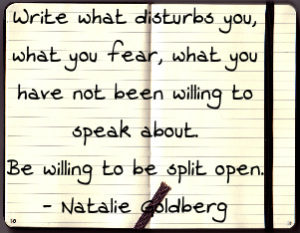 P.S. If you want to be a writer, read How Writing Careers Happen.