In this job description, you'll learn about massage therapy and what a registered massage therapist does, including training, salary, and career tips.
"A lot of people are surprised by the knowledge I have through my training and continued education courses," says Cynthia Logan, a self-employed Registered Massage Therapist in Ontario, Canada.
This registered massage therapist has a motto: "hands-on health care."
Logan's education included intensive courses in anatomy, physiology, pathology and kinesiology as well as specialty training in Pregnancy, Labour and Delivery Massage, Infant Massage, Reiki, and Crystal Healing. She is also a member of the Ontario Massage Therapist Association (OMTA) and has participated in their conferences and served on the board of directors for four years.
Logan has been working in the healing arts for nearly 18 years. Here, she shares her insights into what it's like to work as a massage therapist.
Job Description – Registered Massage Therapist
In Ontario, the designations of Registered Massage Therapist (RMT), Massage Therapist (MT), Massage Therapy and Therapeutic Massage, as well as the French equivalents, Massothérapeute, Massothérapie and Massage Therapeutique are trademarks of the College of Massage Therapists of Ontario (CMTO). In order to use these titles, a therapist must first complete minimum of 21 months of training at a CMTO-accredited private school or a three-year college program. After graduation, they must achieve 70% or better on oral, practical and written certification exams. Registered Massage Therapists are then listed on the CMTO website at www.cmto.com.
Logan works with people of all ages, from newborn to 95, but her average clientele are women aged 50 to 60 years of age. "Younger women are busy with kids and sports, etc. and don't take the time to truly appreciate the benefits of massage," she says.
What is the Salary of a Registered Massage Therapist?
The OMTA produces a guideline of fees for services each year. If Logan lived in a large centre, such as Toronto, she could charge $80 to $95 per hour. However, because she lives more remotely, she charges a lower fee—$70 per hour and $40 for a half-hour treatment. She doesn't charge a separate assessment fee unless it is for a motor vehicle accident claim. "Motor vehicle accident clients are a much more detailed assessment due to the specific treatment plan forms and invoicing that is required," she explains.
Clients generally return several times, either for treatment or for injury prevention. "Massage therapy treatment every four to six weeks is a great maintenance program. Recovery time from injury is much quicker when the client has been receiving regular massage therapy treatments," Logan says. Fortunately, the majority of benefit plans cover approximately ten treatments per year.
The Best Parts of Working as a Massage Therapist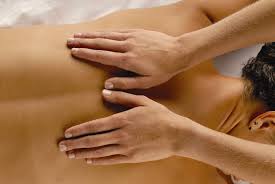 "I am proud of what I do and the help I have been able to give to people," Logan says. Her biggest reward is when someone comes to her in pain and leaves walking straighter and feeling better. She also enjoys the pregnancy, labour and delivery and infant massage and adds, "It is incredible what a mother's body goes through to bring about a life!"
Another aspect of the business that she really enjoys is the opportunity to mentor co-op students. "I'm pleased to see my students go further into health care," she says. "Not necessarily into massage, but into physiotherapy, kinesiology or another related field."
Registered massage therapists also help people get their lives back, after being diagnosed with a serious neurological disorder. Read How to Deal With Transverse Myelitis – Tips From a Young Girl to learn more.
The Downside of Working in Massage Therapy
Logan takes pride in her professionalism and ethics and has worked hard to get to where she is today. Her pet peeve about the industry is the number of people who set up shop after taking little more than a weekend course. She also has to deal with the occasional ignorant—and sometimes inappropriate—customer who doesn't treat her as the serious medical professional she is.
Career Tips for Registered Massage Therapists
Massage therapy is a challenging and rewarding field of study. Logan strongly recommends that students take some health sciences or anatomy courses before undertaking massage training. "I always had to work very, very hard for my marks, and might not have struggled as much if I had some background first."
To learn how massage therapy helps with anxiety, read How to Stop Panic Attacks – Hypnotherapy and Corsets.
If you have any thoughts on this Registered Massage Therapist job description, or working in massage therapy, please comment below. Also – if you're looking for a career, read How Do You Choose a Career?
Cynthia Logan RMT has been a practicing Registered Massage Therapist since July, 1993, currently in Sauble Beach, Ontario. Her business motto is "hands-on health care." She is an active member of both the Sauble Beach Chamber of Commerce and the Sauble Lions Club, and is also the editor of the Sauble Bulletin. Laura LaRocca is a freelance writer and editor.