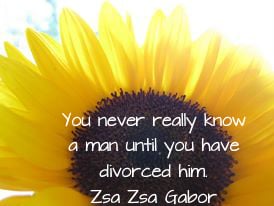 Considering divorce can be agonizing for women; I hope these signs it's time to leave your husband will make it easier to decide if you should stay married or run for the hills.
These signs are from Contemplating Divorce — a great resource for unhappy wives.
First, two quotations about divorce from strong women in history: Zsa Zsa Gabor and Margaret Atwood….
"I'm an excellent housekeeper," said Zsa Zsa Gabor. "Every time I get a divorce, I keep the house."
On a more serious note, Margaret Atwood said, "A divorce is like an amputation; you survive it, but there's less of you."
If you're a woman considering divorce, you need to know the signs it's time to leave your husband. Unhappy marriages often have solid indications that divorce is inevitable, according to Contemplating Divorce: A Step-by-Step Guide to Deciding Whether to Stay or Go by Susan Pease Gadoua. Read the book for details, and check out these signs you should leave your husband…
Women Considering Divorce – Signs You Should Leave Your Husband
"There are certain factors that suggest a relationship is workable and salvageable," writes Gadoua. "There are other factors in marriages that, if present, indicate a low probability that the relationship will be healthy or fulfilling. I call these workability factors."
Here's a list of Gadoua's indications of unhappy marriages, specifically related to safety, love, and esteem needs (based on Maslow's Hierarchy of Needs).
You might consider divorce if your safety needs aren't being met because of…
You might work on saving the marriage if trust was broken but is reparable, if there's a mutual desire to create a safe environment, if there is care, concern, and communication.
It may be time to leave your husband if these love needs aren't being met:
Absence of mutual love
Infidelity
No shared interests
One or both spouses aren't fully committed to the marriage
One-sided relationship
If you're considering divorce, you might think about saving your marriage if there is a foundation of mutual love, if both partners are willing to work through physical or emotional infidelity, and if both spouses are willing to recommit to staying married.
But remember: love doesn't conquer all! You can love your husband with all your heart, but not be able to build a strong, happy marriage together – especially if you've lost your personal identity. The lack of romantic love may not always lead to divorce, and the presence of love doesn't lead to a happy marriage.
As Zsa Zsa Gabor said, "Getting divorced just because you don't love a man is almost as silly as getting married just because you do."
You might consider divorce if your esteem needs aren't being met because of…
No esteem from self or spouse, and no desire to change
No respect at all from spouse
No common goals
Unwillingness of at least one spouse to work on marriage
Does your marriage have a foundation of respect, some common goals, and a willingness to work on esteem and marriage issues on the part of both partners? If so, it might be worthwhile to try to save your marriage.
There are no quick and easy answers for women considering divorce – and even the surest signs that it may be time to leave your husband can be complicated and confusing.
"I've had countless clients tell me that they don't want to divorce because they are afraid of losing the co-parenting relationship or their spouse's income, only to eventually realize that they alone already carry the load of responsibilities," says Gadoua. "The spouse doesn't contribute to the marriage but, rather, takes from it."
If you'd rather not consider divorce, read How to Cope When You're Unhappily Married.
If you're worried about money after getting divorced, read How to Manage Money After Divorce.
Sometimes, divorce for women leads to an easier, more liberated, happier life – especially if you're leaving an emotionally or mentally abusive relationship. If you're considering divorce, read Why Does He Do That? Inside the Minds of Abusive Men.
A final thought from Zsa Zsa Gabor: "You never really know a man until you have divorced him."
If you're considering divorce and have questions or thoughts on these signs it's time to leave your husband, please comment below…