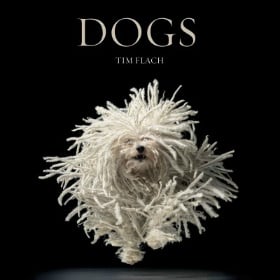 Woof woof! Finding the best gifts for dog lovers is easy, because dog lovers enjoy spoiling their dogs with treats, toys, and gadgets. These gift ideas are practical, easy, and inexpensive.
Here's a quip to put in the dog's gift card:
"If dogs could talk, it would take a lot of the fun out of owning one." ~ Andy Rooney.
That should brighten your dog lover's day!

One of the best gifts for dog lovers is this book called Dogs
— it's a book of pictures of all types of dogs, including the wild dog on the front cover. Here's what Amazon says: "From show dogs to shelter dogs lovingly rescued by volunteers, from the grace and agility of racing greyhounds to adored domestic companions, from Afghan hounds to Hungarian komondors to Chinese crested, the images in Dogs is one of the most appealing, popular, and exciting photographic tributes to dogs ever published."
Another gift idea for dog lovers is Mr. Herzher's Smart Ramp. I used to think that dog stairs or ramps are only for old dogs, but I'm learning that many big dogs need help up to the back of a truck, or even up to a sofa, bed, or toilet.
And here are several more — and more creative — gifts for dog lovers…
Best Gifts for Dog Lovers – 9 Woofy Wonders
Gift certificate for a dog spa, doggy daycare, or dog walker
My dog could've used an afternoon playing with other dogs or being walked by someone whose job is to entertain dogs all day! A gift certificate for a local daycare or walker is a great gift for dog lovers.
Another interesting gift for dog lovers is Dogology: What Your Relationship with Your Dog Reveals about You.
Collar and leash light
An illuminated dog collar is perfect for walking the dog on dark mornings and evenings — especially if the dog isn't white, yellow, or neon green. And, a leash with an attached flashlight saves dog owners from carrying a flashlight. This doesn't just keep dogs and dog lovers safe; it helps owners take care of number two (it's really hard to pick up poop in the dark!).
Dog biscuits, treats, and chews
Evidently, rawhide bones aren't the best treats for dogs — according to my dog obedience trainer and my dog facts book, they're a choking hazard. There are many other types of dog biscuits that are popular and delicious, such as Amazon's bestselling Greenies Dental Chews for Dogs. This is a terrific gift for dogs because it saves their owners from having to brush their dogs' teeth! And no matter how much you love your dog, you don't want to brush his teeth.
Fun dog toys – without edible dog treats
The Kyjen Egg Babies Dog Toy is a fun plush toy with an elastic opening underneath. You insert three squeaking eggs inside the opening. When your dog hears the squeaking, he has to explore the Egg Baby until he finds the eggs inside. He'll learn to remove the eggs without destroying the plush toy. There are lots of dog toys like this, which make great gifts for dog lovers.
Treat balls and dog toys
Some dogs love to spend the day "at work"! Some dog toys make it easy to occupy a puppy or dog for hours: you just stuff a Tricky Treat Ball
or a Kong Dog Toy with wiener bits, dog treats, or peanut butter.
Beef bones and jerky chews
My husband bought cow thigh bones for our dog, who would chew on them for hours. The bones only cost about $5 at a butcher's shop, and are very healthy for dogs. Our dog loved digging the marrow out of the bone. One bone lasts about a month — I kept ours in the fridge between chews.
Homemade dog biscuits or pet cookies
If you're strapped for cash and don't mind cooking dog food, why not whip up a batch of homemade dog biscuits? There are tons of homemade pet cookie recipes on the internet. Before you make cookies, though, check with the dog's owner to make sure he doesn't have any allergies or sensitivities.
Donation to the humane society, pound, or SPCA
If your dog lover truly has everything, give a donation in his or her name to a local animal rescue organization. Those places do so much to rehome and take care of orphaned and sick dogs, and they need all the support they can get.
If you know someone who lost a dog recently, read Gifts for People Whose Dogs Died.
Dog lovers, what was the best gift you ever received? Comments welcome below!