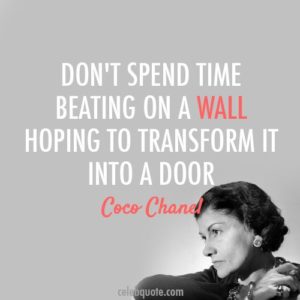 If you're a female entrepreneur, you'll love this key to success – and others inspired by Coco Chanel.
I discovered it a book about succeeding in business and life – this is one of the best books about success that I've read (and I read a lot).
Coco Chanel – who created Chanel No. 5 perfume, bell bottoms, and the little black dress – was a successful businesswoman who had her own formula for success. Here's what she said:
"The most courageous act is still to think for yourself. Aloud." – Coco Chanel.
She thought for herself, and she wasn't afraid to say what she thought. And she probably said the wrong thing occasionally. She was human. But she also forgave herself (if she didn't, she wouldn't have succeeded the way she did!).
This key to success for female entrepreneurs are based on The Real Truth about Success:  What the Top 1% Do Differently, Why They Won't Tell You, and How You Can Do It Anyway! Wynn is a funny, smart writer, and some of my tips businesswomen are inspired by him.
The Key to Success for Female Entrepreneurs – Coco Chanel
"We've been fed ideas about what it takes to succeed our entire lives, and we've eaten them up," writes Wynn. "In many cases, though, we would be better off chewing them up and spitting them out."
I won't go into the wrong keys to success (though if you want me to, I will! Wynn's wrong ways to succeed are very interesting…just comment below if you'd like me to write about them).
Instead of the usual keys to success, Wynn describes the key to success.
"Although wildly successful, the use of a personal advantage as a get-ahead tactic remains relatively unexploited by average U.S. businesspeople," he writes. "And yet top performers are nothing more than average businesspeople who have discovered their secret advantage and leveraged it to reach new heights."
The key to success for female entrepreneurs (and other successful women) is to find your personal advantage.
Stacy Lewis is a wonderful example of a woman finding her personal advantage. Read her story in How the Best Womens' Golfer in the World Overcame Childhood Scoliosis.
An example of using this key to success:
Paris Hilton decided she wanted to be more than a rich girl; she wanted to be famous. So, she hired paparazzi to follow her, snap photos, and publish those pictures of her. She used her personal advantages – money, appearance, love of the spotlight, shamelessness – to become a household name.
I'm not saying we should aspire to be like Paris Hilton, my friends. Nor am I saying we need money or elaborate exploits to get ahead. We just need to identify what our personal advantages are – our strengths – and use them.
Paris Hilton used what she had to become a highly successful woman on her own terms. And, her definition of a highly successful woman is different than my definition of a highly successful woman – but she achieved her goals. You gotta admire that.
Coco Chanel's Personal Advantage
Coco was into fashion, clothing, elegance, and long-term style. Her key to success as a female entrepreneur was her focus on classic wear. Her designs had staying power. Her personal advantage was her tendency towards comfortable, casual, easy clothes – like the little black dress, which is still popular today.
"I don't understand how a woman can leave the house without fixing herself up a little – if only out of politeness," she said. "And then, you never know, maybe that's the day she has a date with destiny. And it's best to be as pretty as possible for destiny."
Coco Chanel's personal advantage was that she cared about her appearance, and she wanted other women to look and smell good. (Hmmm…is this a personal advantage, or is it just a passion?)
If you're an entrepreneur like Coco Chanel, read 7 Tips for Small Business Owners Taking a Leap of Faith.
What's Your Personal Advantage?
What sets you apart from the crowd? Think outside the box: what qualities do you have that other people don't?  Think of things like how you once turned failure to success or how you changed careers. Your personal advantage is your key to success; you need only find and nurture it.
My next article here on See Jane Soar will list examples of personal advantages – some of them will surprise you – and describe how to nourish and use them.
An important key to success is knowing your personality and what you're good at. If you're introverted, read Best Jobs for Introverts and Quiet People.
What do you think of this key to success for female entrepreneurs? I welcome your comments below…