These 10 ways to help a friend struggling with depression are creative, meaningful, and practical. They range from gift ideas to emotional support, and are inspired by Aesop's Fable of The North Wind and The Sun.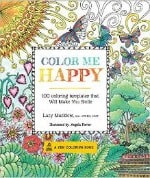 The  Color Me Happy: 100 Coloring Templates That Will Make You Smile (A Zen Coloring Book)  is an awesome way to spend time with your friend. Coloring is an easy, creative activity that you can do together, and it doesn't require much energy. Making conversation and going places may be more than your friend wants to do right now. Meet her where she's at. The most important tip for helping a depressed friend is showing that you care – without pushing her to talk to you, solve her depression problems, or even get counseling.
Don't forget the  Soft Core Colored Pencil Crayons
 – I recently ordered this coloring book and forgot that I need something to color with

My tips will inspire you to help your depressed friend not lose heart, but they won't force her to "cheer up." If you've never been depressed, you don't realize that people can't just snap out of it – and you don't have the power to make the depression go away.
Aesop's Fable of The North Wind and the Sun is a wonderful illustration of the balance between being present but not overwhelming.
The North Wind and The Sun – an Aesop Fable
The North Wind and the Sun had a quarrel about which of them was the stronger. While they were arguing with much heat and bluster, a Traveler wrapped in a cloak passed along the road.
"Let us agree," said the Sun, "that the stronger one of us can strip the Traveler of her cloak."
"Very well," growled the North Wind. He immediately sent a cold, howling blast against the Traveler.
The ends of the cloak whipped about the Traveler's body, and she pulled it more closely around her. The harder the Wind blew, the tighter she held it to her. The North Wind tore angrily at the cloak, but all his efforts were in vain.
Then the Sun began to shine. At first his beams were gentle, and in the pleasant warmth after the bitter cold of the North Wind, the Traveler unfastened her cloak and let it hang loosely from her shoulders. The Sun's rays grew warmer and warmer. The woman took off her hat and mopped her brow.
At last, The Traveler became so warm that she pulled off her cloak and dropped it by the roadside. To escape the blazing sunshine, threw herself down in the welcome shade of a tree.
10 Ways to Help a Depressed Friend
Your mission, if you want to help a friend who is struggling with depression, is to offer warmth and comfort without pushing your friend in any way. These tips on how to help a depressed friend will help you be supportive, not aggressive or threatening.
Remember that depression isn't just sadness. It is emptiness, misery, exhaustion. It is pain and nothingness at once. When you are truly depressed you lack the ability or will to cheer yourself up. If your friend is depressed, she's suffering.
Gently encourage your friend to be creative
The Zen coloring book at the beginning of this article is a wonderful, casual form of "art therapy." We don't have to be artists to be creative! Feeling inspired to create fills one of our most basic needs. What are your friend's hobbies or interests – past or present? My mom has struggled with schizophrenia my whole life (45 years); I only recently discovered that she went to the Banff School of Arts when she was 20! I always knew she was artistic, but I didn't know how serious she was about art. Her mental illness robbed her of a future in an artistic career or more serious hobby.
Don't let something like this happen to your depressed friend. How can you help? Give her something that encourages her to explore her emotions and personality – read 12 Gifts for Artists – Inspired by Picasso for ideas.
Give a symbol of your friendship
The Sterling Silver "The Story of Friendship" Disc and Heart Pendant Necklace
 is a visual reminder of friendship that will encourage your friend when you're not there. Whenever I look at a gift one of my friends gave me, I'm always reminded of how much I cherish her friendship. Gifts are beautiful, sentimental reminders of love and encouragement. One of the best tips on how to help a depressed friend is to show your support without being overwhelming or pushy (like the sun in Aesop's Fable).
Listen – but don't problem solve
If your friend describes the problems depression brings, don't give her solutions. She's not looking for advice when she talks about the symptoms of being depressed. For instance, avoid the temptation to tell her to put the alarm clock on the other side of bedroom if she says she can't get out of bed the morning. Don't tell her to take St John's Wort or other natural treatments for depression if she says her antidepressants aren't working. Don't tell her what worked for you when you depressed because your grandma died. Just listen.
Learn about depression
The most important tip on how to help a depressed friend is to read about what it's like to be depressed. For instance, did you know there's a difference between "situational depression" and "clinical depression"? Did you know some types of depression are effectively treated by talk therapy and others by anti-depressant medications? The symptoms of depression range from overeating to not eating at all, sleeping all the time or insomnia. Knowing how to help a depressed friend involves learning a bit about depression.
A book like Undoing Depression: What Therapy Doesn't Teach You and Medication Can't Give You by Richard O'Connor can help you learn about depression.
Offer a practical source of light and warmth
The NatureBright SunTouch Plus Light and Ion Therapy Lamp
is a practical way to help your depressed friend. Many people struggling with depression don't get enough light – especially in the winter (Seasonal Affective Disorder). If you know your friend well enough, consider gifting her with a light therapy lamp. It doesn't take up much room, it may be very effective, and it's not harmful. It won't interact negatively with whatever antidepressants or natural supplement's she's taking to treat the depression. Plus, a light therapy lamp blends in perfectly with the theme of the sun's warmth, light, and comfort.
Don't educate your friend about depression
You may feel tempted to share what you learn about being depressed with your friend. Don't do it! Your friend may not be interested in learning about depression, and perhaps even unable to absorb factual information about symptoms and treatments of depression. If you want to know how to help a depressed friend, learn from people who have suffered from depression. Read memoirs and blogs, but don't take it upon yourself to teach your friend about depression.
Help your friend reframe how she thinks
"Since most individuals are terrible problem solvers when depressed, partners can be helpful in finding solutions," says Barry Lubetkin in 6 Ways to Help Your Depressed Husband. He's a psychologist who co-founded New York's Institute for Behavior Therapy. So, you might help a depressed friend by saying things such as, "Your supervisor seems to really like you, and I am certain that taking a brief leave of absence won't endanger your job."
This gently encourages your friend to find practical ways to deal with depression, and shows that you will support her as she heals. Another way to help your depressed friend is to say, "Your depression has caused you to feel more suspicious of others, but I am certain your friends were not talking about you at the party."
Bring food to eat with her
Whether or not your depressed friend has an appetite, bring a simple, nutritious lasagne or pot of soup over for dinner. Don't underestimate the power of a fresh round loaf of bread (unless she's celiac as well as depressed), a comforting macaroni and cheese casserole (not Kraft Dinner though!), or a super healthy quinoa salad. Eat with her. Have a glass of wine or cocoa. Maybe a margarita is in order?
A Healthy Snacks Care Package is a thoughtful gift for depressed friends, because they don't really care about cooking or eating. They still need to eat – and you can't eat every meal with them! A healthy care package might encourage your friend to eat more regularly.
Give your friend a gift of hope
The Desert Angel Tea Light Candleholder
is a beautiful symbol of hope and healing, warmth and comfort. You want to remind your friend not to lose heart, hope, or faith. Point her towards the warmth of the sun and the comfort of angels. Candles and light have brought comfort and warmth to people for centuries, because there is something mesmerizing and inspiring about the light of a little fire.
Remember Aesop's Fable when you're helping a depressed friend
Be the strong, warm, comforting presence of the sun – not the pushy, aggressive howling wind. Your gentle presence will offer comfort and support. Listen to your friend, whether she wants to talk about depression or the mold growing on the leftover food in her fridge.
I welcome your thoughts on how to help a depressed friend. I can't offer counseling or advice, but it may help you to share your experience. If you've had experience with depression and tips for dealing with a friend who is depressed, please share!
My prayer is that you find supportive, helpful, and creative ways to help your depressed friend not lose heart.