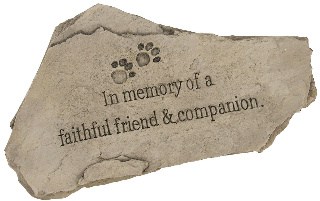 Saying the words, "my dog died" is one of the saddest parts of loving a dog. These gifts for dog lovers will show that you care after a dog dies.
Comfort a loved one with these gifts for pet owners, which range from videos of a pet memorial service to engraved gravestones. Grieving dog or cat loss is painful; your gift will show your sympathy and love.
Here's a wonderful gift for dog lovers – it's a quote for the sympathy card:
"A good dog never dies. He always stays. He walks besides you on crisp autumn days when frost is on the fields and winter's drawing near. His head is within our hand in his old way." ~ Mary Carolyn Davies.
A gift for dog lovers is the garden pet memorial stone
that says "In Memory of a Faithful Friend and Companion." The memorial stone can be kept indoors or outside, and will be a lovely reminder of the dog who died.
Gifts for People Whose Dogs Died
Here are a few more gift ideas, from pet owners who grieved pet loss…
An urn of pet ashes with photos. The urn pictured is called the  Peaceful Pet Revolving Memorial Box, and it's made of mahogany. It's a wonderful gift for dog lovers – or anyone dealing with pet loss. "What helped me with the loss of my cat, Pepper, is having her ashes," says Diahna Husbands. "A company by the name of Heavenly Days gave me her ashes and made a paw print mold. I keep the ashes and mold on my mantel piece. My computer icon is also of my cat, so I always remember her when I log in. I have not gotten a new pet yet. I am not quite ready to move on my cat has been with my family for over 16 years, so it might just take me a little longer to get over my grief." It takes a long time to get over the grief that accompanies the words, "my dog died."
A "stories about Fido" memory journal or photo album. Get a beautiful brown leather journal, and ask friends of your pet owner to write their stories and memories of the lost pet. Include photos and momentos. The pain of grieving when your dog died is lessened when you know you're not alone, that other people remember your pet fondly. This gift for dog lovers will be cherished forever because it doesn't just contain the owner's memories. It's a symbol of love and sympathy.
Video of the dog memorial service. "I firmly believe in holding some sort of memorial service for a pet," says Pam Vetter. "It doesn't have to be large or expensive. It can be only immediate family at home – but a funeral or memorial helps us honor a life lived, whether it was a human or a pet." A wonderful gift for dog lovers is if you offer to videotape the memorial service for the pet owner, so he or she doesn't have to worry about lighting and camera angles while saying goodbye. When my dog died, I didn't have a memorial service.
Vetter also says that full funeral services are offered by some pet cemeteries. "While I think this is a good service, not everyone can afford thousands of dollars in pet funerals. But, everyone can do something smaller in their own home – whether it's lighting a candle in remembrance or framing a photo of the pet. The best thing to do is say good-bye to your dog or cat with a smile."
An indoor or outdoor plant that symbolizes the lost dog. "Our seven year old dog died very suddenly two years ago," says Meagan Farrell. "We were all heartbroken. We planted a rose bush in our dog's honor and put a plaque by it to memorialize it. When our family heard what we had done, they all sent us more rose bushes. Now we have Bailey's Rose Garden." Another gift for dog lovers is a balloon released to the heavens. Meagan says, "Our daughter was only five at the time. To help her cope, we got a balloon and released it 'up to Bailey in heaven.' This helped her to process the loss of our beloved pet."
An online pet tribute. "Online pet memorials, which are becoming common on the internet," says Vetter. "People post a photo and a little life story about the pet. I've read many wonderful tributes to dogs who served as family companions, along with cats who curled up in a child's bed every night for many years. Part of the healing process when you're grieving pet loss is sharing stories and remembering the pets we love." When my dog died, I didn't share my grief with anyone. A lovely gift for dog lovers is encouragement to memorialize the dog forever.
An engraved pet memorial stone for the bookcase, desk, or garden. Some personalized pet memorial stones sit in gardens, and others are on fireplace mantles, bookshelves, or desks. This is a beautiful, natural gift for dog lovers who don't want to say the words, "my dog died" because the dog was part of the family.
Is your loved one desolate over the loss of a dog or cat? Take a look at Letting Go of an Animal You Love.
If your dog lover has a surviving dog, you might want to focus on the life and joy of that creature. Read the Best Gifts for Dog Lovers for tips. And if you have any gift ideas for dog lovers, please comment below…