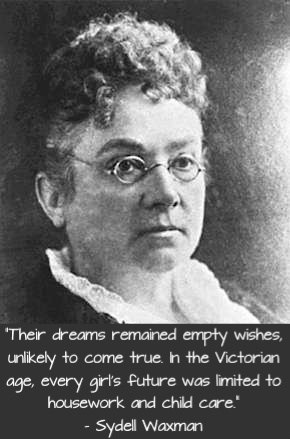 If you're a woman who wants to become a doctor, you don't necessarily need a big brain, rich parents, or 20/20 vision.
All you need is someone to believe in you.
But not someone who says you're wasting money by becoming a doctor! This is the brief story of Dr. Dixie Milello – who was told when she applied to medical school that she was wasting taxpayers' money. Dr Dixie is is the medical director and co-founder of The Rose in the Houston suburb of Pasadena – it's the oldest nonprofit center for women's health in the United States. The Rose has 90 employees, and has provided nearly 30,000 annual mammography screening and breast cancer diagnoses to women. They emphasize women who are poor, needy, and uninsured.
Read this snapshot of Dr. Dixie's life, and see how you can go farther than you ever dreamed possible.
By the way: the woman in the picture is Dr. Emily Stowe. She was Canada's second (or first, depending on which report you read) female licensed doctor. If you're worried about becoming a doctor today, be grateful you didn't live in Victorian times.
Or in the 1980s.
Becoming a Doctor? The Most Important Thing You Need
Don't listen to the naysayers. Before Dr. Dixie became the second woman to graduate from the University of Texas Medical Branch in Galveston as a surgeon, she was told by a doctor during the entrance interview, "If you were my wife, I'd kick your ass, because all you're going to do is marry a doctor and waste taxpayers' money."
Keep the faith. Dr. Dixie says, "It might have been easy to say, 'Well, this is my lot in life, and kind of given up. I was just a dumb old girl who did not make some good choices, and God stuck with me all this time. He opened doors for me."
What do you think it'd be like to be the second female physician licensed in Canada? If you're a woman becoming a doctor, you have to read  Getting Your Medical Degree. That article reveals how difficult it was for Dr Emily Stowe to become a physician (she had to leave Canada to go to med school).
Go to medical school. Dr. Dixie went to West Texas State University, earning degrees in biology and chemistry. She had two boys; her mother helped while she and her husband worked. She went to WT during the day, and worked from 11 p.m. to 7 a.m. as one of the first female mail handlers in Amarillo, Texas. She lifted 80-pound sacks of mail.
Listen to people who believe in you. Dr. Dixie wanted to be a lab technician until Dr. Charles Wyatt (her gynecologist, now deceased), scolded her to set her sights higher. He gave her $25 to take the MCAT, on which she scored incredibly high. After that, it was a no-brainer for her to become a doctor.
Talk about what you believe in – and why you want to become a doctor. "The 1980s was not a time female doctors graduated, and certainly not a time doctors gave patients their home number, things that are considered routine now," said Dorothy Gibbons, CEO and co-founder of The Rose. "She was doing that. She talked of the importance of vitamins, of taking hormones, the importance of exercise long before it became mainstream."
These snippets of Dr. Dixie's life were liberated from Young mom overcame stigma, earned renown by Jon Mark Beilue, on Amarillo.com.
3 Tips on How to Become a Doctor
Get an undergraduate degree in something "pre-med." Most students entering medicine now have a degree or previous postsecondary education; Canadian medical schools require two to four years of full-time undergraduate courses as a precondition to medical studies. College students take a number of "pre-med" courses in subjects such as physics, chemistry and biology. If you're interested in becoming a doctor, it's best to check EARLY with the school(s) where you wish to study to determine the specific admission requirements.
If you're an undergrad student, read College Checklist – The Smart Student's "To Do" List.
Get good grades, and volunteer in your community. If you want to become a doctor (and not just know how to find a doctor in a new city), you have to get good grades. Studying a wide range of non-medical subjects is also recommended, to broaden basic knowledge and expand your personal horizons. Also, it shows you're really interested in becoming a doctor and pursing medicine as a career. Not every applicant will be accepted to med school, so it's good to have other skills and interests to fall back on. Doctors are part of their communities, so some community involvement (volunteer work) is also advised.
Go to med school. Before becoming a doctor, you'll spend 3-4 years in basic medical school training. The first two years generally cover the human body and how it functions when healthy and when ill. Practical working time in hospitals, clinics and doctors' offices comes in the final year or two of study, followed by a residency of 2-7 years (depending on specialty or focus) and a mandatory written exam to practice medicine in Canada.
Are you struggling to figure out how you'll pay to become a doctor? Read Scholarships for Women Going Back to School.
I hope these tips on becoming a doctor help inspire and motivate you, and welcome your thoughts below.