These corporate gift ideas range from understated and elegant (a classy set of fountain pens by Bulow) to personal and familiar (a beautiful cashmere scarf for men or women).
It takes two minutes to go beyond the traditional business gift ideas (expensive pens and gourmet food gift baskets). These gifts for business clients and colleagues will help you figure out what message you want to send.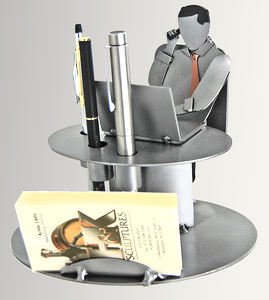 Pictured is an Executive Business Card Holder by H&K Steel Sculpture – it's a creative and functional corporate gift idea. There are many different options to choose from (including, of course, women sitting at a high powered business desk!).
The rest of these corporate gift ideas range from practical to personal, and will help you find the right gift for someone you work with – and whom want to keep working for.
If your client or colleague loves his job, here's a great quotation for the gift card: "You've achieved success in your field when you don't know whether what you're doing is work or play." ~ Warren Beatty.
A practical business gift idea is a set of smooth, classy, practical pens – such as as set of Vintage Fountain Pens by Bulow®
. It's a gorgeous gift for business clients because it's both understated, yet elegant.
Corporate Gift Ideas
Coffee. No successful business functions without coffee. A gift of Aloha Island Gold and Diamond 100% Pure Kona Coffee is a practical gift for any business. It's a particularly good for clients you don't know well, on whom you want to make an impression without overstepping your boundaries.
Wall art for the office. If you're looking for an inspirational gift for a client or boss and you're familiar with his or her office space, consider a black vinyl wall decal with a quotation. If your client or colleague has empty wall space, get him an inspirational quotations such as "Wisdom is Knowing the Right Path to Take…Integrity is Taking It."  This can be the perfect corporate gift idea – it's classy, creative, and thoughtful.
Hobby-related gift ideas. This is perhaps the most creative gift for clients or colleagues! A hobby-related gift shows you know and support his or her hobbies. Being known and understood is one the best gifts you can give someone. One of the best gifts I ever received from a coworker was a simple gold wire bookmark. She knew I love to read, and bought me a gift that reflected that. When you're searching for corporate gift ideas for business clients or bosses, you don't have to spend a lot of money. You just have to put a little thought into it.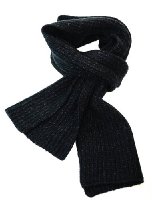 Clothing. If you're buying a gift for a business client you have a good relationship with, consider a John Varvatos Mens Scarf. It's more personal than a pen set or gift basket, but it's not overly familiar. Cashmere is a gorgeous gift, and is suitable for male or female business clients.
A subscription to an industry or hobby magazine. What hobbies or activities does your client or colleague pursue? A magazine or e-zine subscription doesn't cost much money, and it's a great business gift. Or, you could give a gift subscription to a business or industry magazine — or even a general interest magazine, such as National Geographic (one of the most popular magazine subscriptions on Amazon).
For a list of the most popular magazines, go to bestselling magazine subscriptions on Amazon.
Services or products for business success – such as radio airtime. Can you help your client or boss improve on the business? There may be practical things you can do to help. For instance, one of my colleagues in my business owners' club hasn't bought radio advertising, but keeps saying he wants to try it out. A fantastic corporate gift idea is a 15 second radio spot on a local station, or even some television time. Gifts that encourage success and achievement – like the office wall art gift idea – are wonderful things to give people you work for and with. And, a radio spot may be less expensive than you think.
Tickets to see an author, speaker, celebrity, or popular business person. If you own a publishing company and need corporate gift ideas for your authors and book sellers, you might give them tickets to hear Elizabeth Gilbert discuss her latest book (she's the author of Eat, Pray, Love: One Woman's Search for Everything Across Italy, India and Indonesia). If you work for a corporation that makes widgets, you might give your clients and colleagues tickets to a celebrity in your field.
Gift cards to Chapters, Indigo, Amazon, etc. Even a $50 Amazon Gift Card
can buy several items at these stores – and your gift recipients aren't limited to books! Gift cards are versatile and easy…but admittedly not the most thoughtful gift for a business client or boss.
A business or industry conference. Is your business client or boss worth a significant financial investment — and does he or she enjoy conferences? A corporate gift package to a conference or retreat for three or four nights might be expensive, but worth it. This business gift idea will make a long-lasting impression!
Gourmet gift baskets – wine, cheese, crackers, chocolates, nuts, etc. One of my favorite holiday gifts is a desk caddy of coffee and treats
. Gourmet gift baskets aren't all that creative, but they're nonperishable, easy to share with colleagues and family, and highly appreciated. They're also easy to "regift", which increases their value.
If your buying a gift for a business owner in communications, read 14 Best Gifts for Writers.
If you think gourmet food gift baskets are too rich for the holiday season (unnecessary calories), then try a spa bath and body set with a "time to wind down" theme. Or, give gift certificates to a local day spa or for a weekend retreat.
Business tools and software. If your colleagues or clients are into smartphones or Kindle e-Readers, find a gift that supplements their love of technology. Gift ideas like this require you to be more familiar with your client or boss than average. But, the more familiar you are with your clients, the more thoughtful your gift should be.
The gift of time. No matter how wealthy or important your colleague or client is, he or she has probably responsibilities that take time and energy, such as housecleaning, child minding, cleaning the car, gardening, etc. Can you hire someone to ease the load? A thoughtful gift for business clients or anyone you work for could be six months of housecleaning or office cleaning services.
If the person or business you're buying a gift for has recently suffered a loss, read 10 Sympathy Gifts for Coworkers.
Has your business created a seasonal gift for charity? Read How to Organize a Corporate Christmas Hamper.
I welcome your thoughts on corporate gift ideas below.