These scholarships for women who are going back to college, university, or high school will help you figure out how to pay for your education.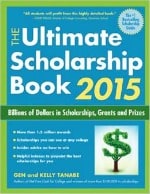 The Ultimate Scholarship Book 2015: Billions of Dollars in Scholarships, Grants and Prizes is the best resource for women who need a scholarship for college. It contains information on 1.5 million scholarships, grants, and prizes. There are more than 300 listings that feature awards indexed by career goal, major, academics, public service, talent, athletics, religion, ethnicity, and more. Each entry contains all the necessary information for students and parents to complete the application process, including eligibility requirements, how to obtain an application, how to get more information about each award, sponsor website listings, award amounts, and key deadlines. This scholarship guide also includes tips on how to conduct the most effective search for scholarships, how to write a winning application, and how to avoid scams.
The only scholarship I've ever applied for is one for students with intestinal bowel disorders (IBD). Did you know there's a scholarship for students with Crohn's Disease and ulcerative colitis? It's number one on my list of scholarships for women going back to school below.
I actually had a lot of fun searching for these scholarships – I had no idea there were so many scholarships for women going back to school. Health scholarships, academic scholarships, rural scholarships, medical scholarships, sports scholarships, industry-specific scholarships (eg, the Women in Trucking scholarship!) – it's amazing how many opportunities there are for women going back to school.
The trick is finding the right scholarship for you. You'll find something to think about here, whether you're going back to college at 40 or 20.
How to Find College and University Scholarships
Some of these scholarships aren't restricted to women going back to school – some are for both male and female students. They're not just for college or university students, either. There's a buffet of scholarship possibilities for women going back to school!
The following scholarships for women going back to school are from a variety of organizations:
Pharmaceutical companies
Business associations
Charitable organizations
Food and agriculture industries
Universities and colleges
Trust funds
See how many and how varied are the organizations that offer scholarships for women going back to school? You may not find a suitable scholarship for you on the list below – but at the end of this article, I list several ways to search for scholarships for women going back to school. Don't give up if you don't find the scholarship you're looking for here.
What is a Scholarship?
A scholarship is based on academic endeavour or attainment, and isn't easy to win. Scholarships for women going back to school are often geared specifically towards a subject and linked to an ability or life situation. Often, scholarships help universities attract the brightest students by paying for some or all of their tuition fees. Many students get sports scholarships or music scholarships. Getting a scholarship is highly competitive and the result of a careful judging process.
In contrast, a bursary is a grant given from means-tested funds. Bursaries are often awarded to students from low income families, or who have no money due to tragic circumstances. Most colleges and universities have discretionary funds to allocate to students going back to school, and some charities offer bursaries or even scholarships for women going back to school.
Different Types of Scholarships for Women
If a scholarship isn't for you, read 37 Money Making Ideas for College Students.
AbbVie IBD Scholarship Program is brought to you by Crohn's and Colitis Foundation of Canada (CCFC), helps students overcome educational barriers due to inflammatory bowel disease (IBD). Through an unrestricted educational grant by AbbVie Corporation, CCFC will extend seven one-time scholarships of up to $5,000 Canadian to students living with IBD who are entering into or currently attending a college or university in the fall. Students of all ages are welcome to apply and the scholarship can be used for any Canadian post-secondary institution, college, or university. The AbbVie IBD Scholarship Program is a competitive bursary. The AbbVie IBD Scholarship Program is a scholarship for women going back to school in Canada (and men too).
Women in Trucking Scholarship Foundation was established in 2013. Five women and one man, all members of the Women In Trucking Association, were each awarded a $500 scholarship for driver training. The recipient of the Women in Trucking scholarship must show financial need, must be a member in good standing of Women In Trucking Association, and must demonstrate a desire to further her/his career in a trucking industry related career. The scholarship will be awarded without regard to sex, race, color, national origin, or religion.
The Cherokee Nation Tribal Council approved a budget modification that added $1,034,000 to the tribe's budget for higher education scholarships. During an Executive and Finance Committee meeting, councillors discussed adding funds for scholarships. The amount will fund an additional 500 scholarships, mostly for college freshmen. When you're researching scholarships, consider your nationality, race and culture. Some tribes, such as the Cherokee Nation, may have scholarship opportunities for women going back to school.
American Savings Foundation scholarships. "Our goal is to help as many students as possible, with award amounts that are large enough to make a real impact," said Maria Falvo, COO of American Savings Foundation. "This scholarship is renewable, so over four years we typically may provide a total of around $8-10,000 for each student." The American Savings Foundation is a permanent charitable endowment that also awards grants to area nonprofits. Since its inception in 1995 the foundation has contributed over $38 million in total grants and scholarships in central Connecticut. A total of $8 million in scholarships has been awarded to 1,749 students. While this isn't just a scholarship for women going back to school, I love that the American Savings Foundation scholarships are more than $500 or $1,000 per student.
London South Bank University offers scholarships for Masters students in the field of Enterprise, Food Safety & Control programmes.  The Scholarships are awarded primarily on academic merit, evidence of an applicants' commitment to their future career and their previous practical or academic achievements. Four scholarships are offered. Total offer is of £4,000 (or £500 less than the course fees, whichever is the lower). London South Bank University offers women financial help through scholarships, bursaries, charitable funds, loans and other financial support.
The Midwest Food Processors Association awarded six $1,500 scholarships to undergraduate students majoring in agriculture or food science at the University of Wisconsin Madison and River Falls campuses. "The MWFPA recognizes the vital role played by agriculture and the food processing industry in the economy," said MWFPA President Nick George. "These scholarships help students to continue their education and support the growth of these two major industries. The food industry is global and includes the fields of food safety, R&D, financial services, education, food processing, agriculture, transportation and logistics, manufacturing and marketing."
The Daryl Duke and William Vince Scholarships are awarded by the British Columbia Film Foundation. These scholarships for women and men going back to school were created to honour the significant contributions of Mr. Duke and Mr. Vince to the film and television industry. Students taking courses or degrees in writing, directing, producing, cinematography, art direction, picture editing, sound design, visual effects and interactive media are eligible for this scholarship. Recipients receive $10,000 towards their educational expenses for the next school year.
The annual Pat Farry Rural Health Education Trust Travelling Scholarship provides up to $10,000 – which may be divided between two recipients – to University of Otago medical students to travel overseas to a rural situation. The trust is trying to spread the word about the Pat Farry Trust Scholarship, and early next year plans to make the first award of this $20,000 scholarship. These travelling scholarships are awarded to Otago medical students in their sixth year, with preference given to students participating in the university's rural medical immersion programme.
I know this last example of a scholarship for women going back to school isn't applicable to students in Canada or the United States, but I wanted to provide another example of the opportunities that are available worldwide. Figuring out how to pay for college costs is a universal problem.
If these scholarships for women going back to school aren't suitable for you, here are several other ways to find a scholarship:
Search your college or university's website for scholarships for women
Call organizations you're affiliated with – such as your husband's company or your sister's workplace – and ask if they offer scholarships for women going back to school
Search for "Google Alerts" and type in "scholarships for women going back to school"
Search Google for scholarships for women; narrow your search by adding "scholarships for women with disabilities" or "scholarships for single women with kids" or "scholarships for women in Canada"
Get  The Ultimate Scholarship Book: Billions of Dollars in Scholarships, Grants and Prizes  – it offers info on thousands of scholarships for women going back to school
Finding the right scholarship to help you pay for tuition and books is hard work! It's not easy money, but it's worth it if you find the one for you.
If you know of any scholarships for women going back to school, please share below.
My pray for you is that you find the right scholarship for college, university, or high school. May your education be sweet and easy!