Are you passionate about aromatherapy, scents, and essential oils? You can find a job as an aromatherapist – or create your own aromatherapy business – and actually make a living doing what you love.
In this article, I interview an aromatherapist – Sharon Falsetto – who is passionate about scents and essential oils. If you have any questions about aromatherapy, please ask below or visit her aromatherapy website to get more information.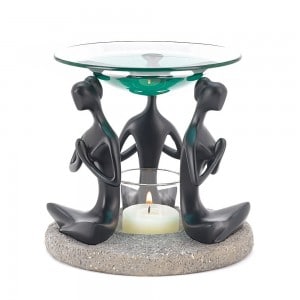 "My interest in aromatherapy has naturally grown as both my business and I have evolved," says Sharon, who is a UK certified aromatherapist. "I always knew I eventually wanted to teach courses in aromatherapy, but I felt that I needed a few years' experience first. I started by writing short articles about aromatherapy before I committed to writing longer aromatherapy courses. My interest in making natural body products has now started a journey into the world of natural perfumery – and is starting to extend my knowledge of other oils and absolutes which are not used in general aromatherapy practice."
The aromatherapy candle and essential oil diffuser pictured isn't one of Sharon's products, but I needed a beautiful image of an essential oil! Below, Sharon mentions the importance of making sure your aromatherapy candles and oils are natural. Synthetic products are unhealthy, and can damage your health.
Here, Sharon describes how her interest in aromatherapy developed into both a passion and a career. She is an aromatherapy writer, teacher, and small business owner. Her aromatherapy products and courses help people understand how to use essential oils for health and wellness.
A Career in Aromatherapy
My questions about aromatherapy are in bold; Sharon's answers are "normal."

When did you start learning about essential oils? My passion revolves around scent. I started studying aromatherapy shortly after my first husband died suddenly, over nine years ago. Aromatherapy was a way to help me cope – certain scents helped me as they invoked feelings of calm and peace. I had no idea it would evolve into the "aromatherapy job" I have today. Aromatherapy initially got me into helping others (friends and family at first) through my understanding of the individual essential oils and how to use them.
When I moved from the UK to the US, I founded my own aromatherapy business and began to seek ways to help market my business. That got me into the world of writing about aromatherapy – which has eventually led to the publication of my first book on aromatherapy in January!
Do you ever get bored with aromatherapy? Living with your passion day in and day out, particularly as a business, can sometimes become draining. I wouldn't say I ever got "bored" with it – but there are days when I need to "switch off" from it and focus on something else. That just gives me a renewed passion (and ideas) when I go back to it. And in reality, I am never completely switched off from my aromatherapy job! I might be doing something else, but I often get an idea about scent/aromatherapy even when I wasn't consciously thinking about it.
How do you keep your passion for scents and oils alive? I am always looking for different ways to keep my passion for aromatherapy alive. I find new ideas on how to share my aromatherapy courses, products, and information. I also find new ways to work with different essential oils. There are so many essential oils that it is difficult to get "bored" with the numerous blending possibilities! True aromatherapy practice focuses on the therapeutic properties of the essential oils, but I also believe that natural perfumery can be an extension of that.
Have you made mistakes in your career? When I started writing articles about aromatherapy and sharing my knowledge through aromatherapy courses, I was nervous that I would make a mistake and pass on an incorrect piece of information. As writers, we check and revise our work countless times before publication – but there is still always a chance that something will slip through.
However, I have discovered that I am still learning about aromatherapy when I am writing or teaching, through the questions people ask and inspire me to investigate. I also ask myself questions about essential oils and other aspects of aromatherapy, which helps in researching new areas of aromatherapy as a business and as a passion. I have found that most people are okay with you not knowing everything, even if you specialize or even teach courses in aromatherapy. As long as you are honest and open, and don't pass on wrong information intentionally.
What would surprise people to learn about aromatherapy? A lot of people don't realize that the term "aromatherapy" is often misused. For example, some people might think that the candle that they buy in the grocery store is an "aromatherapy candle." A lot of candles sold in stores are actually made with synthetic ingredients – and are not aromatherapy candles at all.
"Some people are surprised at the price of real aromatherapy materials because synthetics are sold for a lot cheaper. However, synthetic ingredients are not extracted from plants, and don't contain any therapeutic properties. In some cases, synthetic 'aromatherapy candles' can actually make you sick."
There is so much to learn about aromatherapy, and it can't all be learned in a couple of hours. A scent (and aromatherapy) is a lot more complex than you initially think! If you have any questions about aromatherapy courses or a career in aromatherapy, please ask below or visit Sharon's blog. Her links are below.
By the way – Sharon wrote an article for my blog a couple years ago, called 5 Aromatherapy Gifts – From Baskets to Balms. Check it out if you're looking for gift ideas, or new ways to combine your essential oils.
Sharon Falsetto is a UK certified aromatherapist. After extensive worldwide travels, life and circumstances brought her to the United States in 2006. She owns and operates Sedona Aromatherapie, both an aromatherapy business of custom blending, and a home study program of aromatherapy courses and product making. She also writes professionally, both as a ghost writer and under her own name. She also blogs about aromatherapy. Sharon has written numerous articles about aromatherapy and essential oils for various publications. Her first book, Authentic Aromatherapy, is published by Skyhorse Publishing in January 2014.
To learn more about aromatherapy, read The Benefits of Burning Incense for Meditation.
Are you starting your own aromatherapy business? Read 7 Tips for Small Business Owners Taking a Leap of Faith.