These creative memorial service ideas are inspired by the Parable of the Two Ships, which teaches us that a peaceful return home is a cause for celebration. The most important thing to remember when you're searching for memorial service ideas is your departed loved one's personality, likes, dislikes, hobbies, and lifestyle. The suggestions in this article are meant to get your creative juices flowing – you may not find the exact right idea for a memorial service here, but your imagination may be nudged.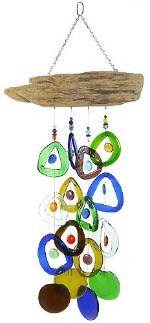 One of my favorite ideas for a memorial service is to add color, such as the Recycled Wine Bottle Glass Windchimes. Imagine a memorial service outdoors, with the wind blowing gently and the chimes tinkling in memory of the person you love. A memorial service doesn't have to be dark and somber. Bits of light and sound can lift our hearts and spirits, and remind us that the soul of the person we lost is still here, with us.
We've traditionally dealt with death through embalming, purchasing elaborate headstones, and, more recently, embedding ashes in ocean reefs. While death is sad, it doesn't have to be black. For instance, a creative memorial service idea is to send your dearly departed off with a fireworks display that includes ashes. Or, make your own beautiful and creative cremation urn.
Below are several memorial service ideas, including tattoos, t-shirts, car decals, and other different ways to remember a loved one who died. I hope these suggestions spark a unique idea of your own — because memorializing the person you lost requires you to put her personality, life, and memories into action.
Also, if you take time to consider these memorial service ideas, you are in a better position to cope with the death of someone you love. The first step? Consider the Parable of the Two Ships.
The Parable of the Two Ships
When a human being is born all rejoice, and when he dies all weep. But it should not be so. Rather, at one's birth no one has yet cause to rejoice; for no one knows to what future the babe is born, what will be the development of his intellect or of his soul, and by what works he will stand; whether he will be a righteous man or a wicked man, whether he will be good or evil; whether good or evil will befall him. But when he dies, then all ought to rejoice if he has departed leaving a good name, and has gone out of this world in peace.
This may be likened, in a parable, to two ships that set out to sail upon the great ocean. One was going forth from the harbor, and one of them was coming into the harbor. And every one was cheering the ship that set sail from the harbour, and rejoicing, and giving it a joyous send-off. But over the ship that came into the harbor no one was rejoicing.
You ought not to rejoice with the ship that is going out of the harbor, for no one knows what will be her fate; how many days she will have to spend on the voyage, and what storms and tempests she will encounter. But as to the ship that has arrived safely in port, all should rejoice with her, for she has returned in peace.
Creative Memorial Service Ideas
The person you lost has returned safely home, like a ship to her harbor. This in itself can be an idea for a creative memorial service. The best ideas are those that represent the personality, passions, and life of the person who died.
"With 'do-it-yourself' memorials, people are creating their own ways of memorializing the dead, particularly in a more secularized society," says Candi Cann, an assistant professor of religion in Baylor's Honors College – and the author of Virtual Afterlives: Grieving the Dead in the Twenty-First Century. A modern memorial service idea is to replace the traditional cemetery memorials with natural ones, which may include colorful wind chimes or pretty urns.
These non-traditional ways to remember a loved one who died (do it yourself or DIY memorials) are the opposite of what occurs in the religious realm with martyrs and saints, and with relics, says Cann. Martyrs and saints bring us closer to holiness and to God through their bodies and narratives of their suffering. These memorial service ideas are more creative and personal than the traditional rituals and funeral rites.
If you are mourning the death of a mother, read  17 Bereavement Gift Ideas for the Loss of a Mother. Some of the sympathy gifts can be incorporated into a memorial service idea.
Tattoos to remember a loved one who died
"The idea may seem new, but it's not that far removed from the customs in Victorian England" says Cann. In the Civil War, people often wore a lock of a loved one's hair or a photo in a brooch or watch chain. "People simply want to carry the dead with them," she said. "They see a tattoo as forever."
In one photo in Virtual Afterlives: Grieving the Dead in the 21st Century, a father displays a tattooed likeness of his son's smiling face. The young man, who drowned, had longed during his life for a tattoo of Hawaii. In the image on his father's back, the son sports such a tattoo. Generally, it's young people who get tattoos to express grief, Cann said. "Often, they choose one of their grandparents that died, because that's their first loss."
When Grandpa Dies – 4 Thoughtful Sympathy Gifts contains ideas to help people cope with the death of a grandparent.
Memorial T-shirts with images and nicknames
All-black apparel at funerals has long been an expression of grief, but these days  a "mourning T-shirt" may be the deceased person's favorite color. It may display dates of birth and death, an image, and an affectionate nickname. A T-shirt also is a way for people who aren't family or allowed time off from work to express their grief. It's a creative memorial idea that extends beyond the actual service.
Personalized memorial service ideas – such as cars or sports
Car decals, as well as shoe polish or liquid chalk on vehicle windows, are being used to pay tribute to people who died. A memorial service idea is to write a person's nickname on the car window, or trail a bunch of sneakers and cans behind the hearse. The memorial needs to represent the person who died.
A Glass Art Peacock Wall Decoration is more my idea of a creative way to remember me – especially if it hung in front of a window. I wouldn't want my car to used in my memorial service, but I definitely want to be remembered in more personalized way than a traditional funeral.
Memorials at the scene of a death
While it has long been common to leave teddy bears or put wooden crosses at the scene of a tragedy, people are becoming more imaginative and personal when it comes to memorial service ideas. One of Cann's photos shows a snow-white "ghost bike," festooned with a maroon Christmas garland and placed at the site of a bicycle accident. But the bike is a clean, pristine version – not the one that was mangled, she said.
Online memorial service ideas
Besides funeral home websites that allow "virtual visitors" to sign guest books, online mourning has evolved to include Facebook's "Rest In Peace" permanent memorials. Other creative ways to remember loved ones – or DIY memorials – include virtual tombstones that allow people to use their smartphones to scan headstone codes and launch websites with an interactive life story for those who visit the grave in person or online.
"The dead will return to haunt us if we do not acknowledge them," says Cann.
Facebook memorial idea – "Legacy Contact"
Legacy Contact allows people to decide what happens to their Facebook account after they die. Through their security settings on Facebook, they can assign a "legacy contact" or steward, to manage the account. On behalf of the person who died, the legacy contact is able to post an obituary or message, update profile pictures and cover photos, respond to new friend requests, and moderate the posting of condolences and memories from existing friends. Facebook will also make changes to "memorialized" accounts, adding the word "remembering" before the person's name. This memorial service idea doesn't necessarily require the person who died to give permission, but participation before death may be more meaningful.
What do you think about these memorial service ideas? I welcome your thoughts on different ways to remember a loved one who died. The best ideas for memorials are those that honor the person's unique style and life.
May your loved one rest in peace, and may you let him or her go with grace and love.