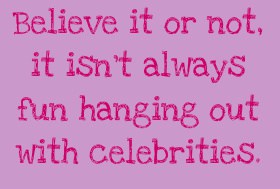 Learn what a casting director does, get the inside scoop on what it's like to find jobs for actors. Plus, career tips for aspiring casting directors.
Being a casting director is as gritty as it is glamorous.
"Believe it or not, it isn't always fun hanging out with celebrities," says Kristian Sorge, a casting director based in New York City. "The career can indeed be glamorous, but isn't as effortless as one may think."
Kristian Sorge is a casting director for film, television, commercials, and music videos. He has been working in different types of casting jobs and helping actors find jobs since 1999. Recently, he started his own casting company called Roman Candle Casting.
Here, Sorge explains what a casting director is, and offers career tips for people who want to help actors find jobs…
Casting Director Job Description
The casting director's job is to find actors who are right for certain parts in a movie, play, TV commercial, or video. He or she also arranges auditions (similar to a headhunter's job description!). The casting director may work with actors directly, or work through the actor's agent or PR people.
If the director and producer hire the actors the casting director chooses, it's the casting director's job to negotiate money, schedules, and billing with the actors or their agents.
If you're thinking of starting your own business as a casting director, read 5 Emotions You'll Feel After Starting a Business.
How Much Does a Casting Director Make?
"Surprisingly, there is no average salary or wage as a casting director," says Sorge. "There is definitely no education required. I have found that most of the casting directors I meet come from either a "production" experience, (e.g. production assistants, locations dept, etc) or from an actor's background."
He explains that there is no set salary because there are so many different kinds of casting. You can be a casting director for theater and thesis films and make $12,000 a year, or you can cast massive commercial films and make hundreds of thousands of dollars a year. Finding jobs for actors ranges from small to big productions.
How much a casting director makes depends on what type of production he's working on, what direction he chooses, and even what types of actors he finds jobs for.
The Best Parts of Finding Jobs for Actors
"I really enjoy working in a creative field with interesting projects that people enjoy for their entertainment," says Sorge. "I also work for myself. When things are slow I can travel or just work on any creative project I want to."
While he does meet the occasional celebrity, he explains that, first and foremost, his job is still a job.  It takes a ton of hard work and dedication to be a successful casting director.
The Challenges of Working as a Casting Director
"Well, working in casting is a different job than most because you are usually working with a few different creative people to find a medium that everyone agrees with, particularly in the advertising world. So sometimes it's a difficult to find the line between what's doable and what's needed creatively."  He also points out that film is expected to be a collaborative art but sometimes, inevitably, there isn't always such a collaborative feel and that can really turn a great project into a bad one.
Career Tips
There's no particular personality trait to be good as a casting director, but it helps to be personal, organized, have a great memory for faces and people, and be hard working.
Sorge suggests people interested in working as casting directors should get into film early, and work in a few different positions.  This will allow you to learn as much you can about what everyone does on a film before settling on a casting director career.
"You should be willing to work for free (or next to free) for a few years," says Sorge. "But the sacrifice is well worth it!"
If you can't afford to work for free, read 10 High Paying Part Time Jobs for College Students. You might need to get part time work while you apprentice as a casting director.
What do you think about this casting director job description, or finding jobs for actors? Comments welcome below.
Kristian Sorge is a New York City based casting director with over 12 years in the field. He recently started his own casting company called Roman Candle Casting.
Jamie Tripp Utitus authors a bi-weekly parental guidance blog for The Star-Ledger online. Her personal blog, Ugly Like Me began as a way to cope and heal while living with Multiple Sclerosis. She lives in New Jersey with her husband and two small children, where she teaches and freelances.