Surviving Christmas after divorce does get easier – and if you can cope with your first Christmas after the split, you can survive almost anything! The "firsts" are always the hardest.
What are the most difficult things for you this Christmas? Take a moment to think about it. Are you dreading your family members' questions and comments? Do you hate waking up on Christmas morning alone, without the comfort of a spouse and kids? Are you lonely?
It's uncomfortable and painful, but if you can sit with your worst fears, anxieties, and emotions, then you're in a better position to cope with divorce at Christmas. You can't heal from problems you haven't faced.
Surviving Christmas After Divorce
Divorce can be very complicated – especially when it comes to children, visitation, shared parenting, custody, access, and money. These thoughts on surviving Christmas after divorce are just that: thoughts. They don't apply to every situation, and they may not even make sense to you.
If something in this article triggers you in some way (eg, makes you feel angry, hurt, guilty, depressed, etc), please share your thoughts in the comments section at the end. Expressing yourself is healthy, and can bring you fresh insights.
Accept that Christmas will never be the same. I don't know why your marriage broke down or how you feel about it – maybe you're relieved and happy it's over! No matter what the circumstances, Christmas will never be the same…especially if you have children. Instead of wishing your life hadn't changed or that you were an intact family this Christmas, accept that this is your first Christmas after divorce. One of the best ways to cope with divorce is acceptance and surrender. Take a deep breath, and accept your life for what it is.
Put your dukes down. What would it feel like to let your ex "win"? Just put your hands up, and surrender during the holiday season. For instance, if your ex is fighting to spend Christmas Day with the kids …what would it be like to just let him have them? Let Christmas Day go, and spend Boxing Day with the kids. Make it warm, special, and loving. I'm not saying you should be a doormat, I'm just encouraging you to think about what it would be like to accept instead of fight. Maybe surviving your first Christmas after divorce is about giving your ex – and yourself – the gift of peace.
If you're coping with divorce, you're not alone. Read how Peggy Nolan  transitioned from marriage to divorce, and how she's helping other women survive life after a marriage breakup.
Take a fresh look at your Christmas traditions. I don't come from a big family, and my husband's family doesn't have many traditions. But I've heard of all sorts of Christmas traditions: putting up the Christmas tree as a family, watching It's a Wonderful Life, going skating on Christmas Day. Hey – that made me remember that I do have a Christmas tradition! Every year, my husband and I take his nephews tobogganing after Christmas dinner (which his mom serves at lunchtime). After a divorce rocked the family, the nephews aren't around for this Christmas activity. It's hard – and it's why I'm writing this article about coping with divorce at Christmas. Instead of doing what you've done every past Christmas, maybe it's time to create new Christmas traditions and activities.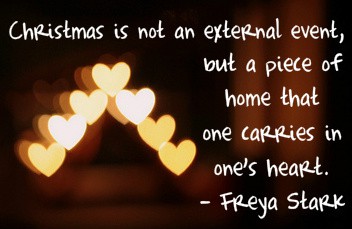 Connect with others coping with Christmas after divorce. Some churches have services to help people get through a "blue Christmas." The services are for anyone grieving the loss of a loved one at Christmas, and can help you cope with the first Christmas after divorce. You'll see you're not alone, and you may connect in a meaningful way with others who are surviving a difficult Christmas.
Give yourself something meaningful. In 10 Divorce Gift Ideas, I share ways to cope with divorce by pampering yourself. I don't mean buying more shoes, clothes, purses, or decadent chocolate – I mean treating yourself to activities and events that add joy to your life. For instance, I love dogs. I especially love watching dogs romp and play in the dog park. That would help me survive my first Christmas after divorce, because it gets me out of myself and into a simple, happy world.
Help Surviving Christmas After Divorce
Healing the Divorced Heart: Devotions for Hope & Encouragement by Rose Sweet, to help you avoid bitterness and defeat after divorce.
A Decembered Grief: Living with Loss While Others are Celebrating by Harold Ivan Smith – an invitation to enjoy Christmas despite grief, loss, and pain.
What do you think of these tips for surviving your first Christmas after divorce? I welcome your thoughts and experiences below.