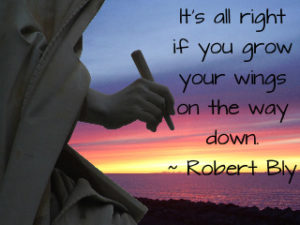 You always loved writing, but didn't think you could make a career of it. Here's how writing careers happen – these tips are inspired by a writer who is majoring in literature at university, and feels like she should take control of her life and follow her dream of writing for a living.
She says,
"I decide to write you because I am hopelessly in need of specific advice and you are just great at it. I imagine you're the busiest women ever, but I still hope you'll find time to answer me and help me out a bit."
I'm sharing her questions about how to start a career in writing because I know she's not alone! She has the same questions I did when I was first starting out. So many of us want to know how writers make a living, and if it's possible for us.
How Writing Careers Happen
Here are her questions on writing as a career, and my answers…it's important to remember that there is no right or wrong way to start a writing career. Even more importantly, writing is a business. As with any business, if you want to succeed, you need to become an expert in your niche.
There is no "right" road to a successful writing career. We all have our own journey, our own race, our own road map (which isn't always obvious until we look back). I can't tell you if the "best" or "right" way to begin a career in writing is by writing articles or short stories, or by blogging or writing for free for online e-zines. You need to take the opportunities that are in front of you, and make the most of every chance you get to write.
Read about writing careers. I was a successful freelance writer because I read lots of books about writing. Writing is a business – it's a job. You need to develop your writing skills and your professional entrepreneur skills – you can't "just" write creative introductions to thought-provoking articles or books.
If you want to make money writing, read Secrets of a Freelance Writer: How to Make $100,000 a Year or More by Robert Bly. It's an excellent book on making writing careers happen.
If you want to write a novel, read How to Write a Damn Good Novel: A Step-by-Step No Nonsense Guide to Dramatic Storytelling by James Frey.
Q: "I never wrote an actual story: I write episodes. They might give birth to a longer story that could merge into a book, but I somehow never went that road. Should I write a full story, or just keep writing these episodes?"
A: Write what you want to read. Write short stories if you feel most comfortable with them – but keep the idea of writing a book at the back of your mind. Writing careers happen in a myriad of different ways – there is no one set route. Artists have to follow their hearts, and express what is in them. As a writer, you are an artist. You need to create what is in your body, mind and soul. Nobody can tell you if you should keep writing short stories, or if you should write books.
Back to "how writing careers happen" – read 10 Tips for Setting and Achieving Your Career Goals. Stay in the mindset that writing is a business, not just something you've always wanted to do.
Q: I want to eventually make money writing, and I would just love to begin a career. I would even write for free if this meant I could get paid opportunities in the not too distant future. My huge problem is how to start. Should I begin a blog (following the tips in your websites) and wait for it to get bigger and bigger until I can earn some money? Or should I try emailing my writing to already existing blogs or online magazines?
A: Do a bit of both: start your own blog, and write guest posts for other blogs. When I started freelancing, I blogged about writing careers – mostly my own writing journey – and I pitched article ideas to magazine editors. I also wrote for an online e-zine. Eventually my freelancing writing became more time-consuming than my blogging (which I wrote about in How to Transition From Blogger to Becoming a Freelance Writer). Then, I decided to go back to blogging. I like blogging better because it doesn't require the constant pitching and selling of article ideas.
I have some bad news about writing careers– although it depends on what kind of writer you want to be. Here's what a literary agent says about writing as a career:
"Let's be honest: the first rule of writing is probably "don't quit your day job." If you had chosen painting or sculpture or singing or dancing or any other art, you'd probably be facing even longer odds at making a living at your craft. The fact is, MOST artists struggle financially. That's why most writers have some other source of income — either they work full time, or they work part time, or they have a job related to the industry (freelance editor, reporter, book salesperson, counterfeiter), or they are married to somebody who has a real job that pays the bills. Don't lose sight of the fact that it takes most people years to get to the place where they are writing full time… IF they ever get there." – from The (new) MacGregor Theory of Making a Living.
Q: "I am really jealous of my work, so is it safe to put it on the internet, such as a blog? I know it is highly unlikely anybody would borrow my works, but as a writer I hope you understand this silly thought."
People steal blog posts and articles all the time. This isn't a silly question – it's a very real concern. Every time you publish something online, you have to be prepared for copyright infringement issues. It's devastating when someone steals your work – I know – but if you're prepared for it, it stings less. I'm lying, actually! It still stings in a BIG way when people steal your articles, but it's part of life. Whenever I write anything, I assume I'll run into it all over the place. It's part of the game.
Learn how to protect your writing via copyright. Wooden Horse Publishing has a fantastic explanation of copyright laws for writers, which will help you protect your stories, articles, blog posts, and books. Also, make sure you read the contract before writing for any publisher or editor.
Don't be afraid to ask questions about writing careers. Are you embarrassed to ask questions about writing as a career? Then you'll never move forward as a writer. You need to be curious, humble, and willing to ask questions of editors, freelance writers, publishers, journalists, and writing teachers. How else will you learn about writing careers?
My final tip for starting a career in writing is to practice your writing skills as much as possible. You may have been told that you're a good writer, but the only way to truly succeed is to keep writing. And read books about writing as a career.
To learn more about writing careers, read a  Job Description of a Successful Freelance Writer.
I welcome your thoughts and questions below on writing careers…