These Christmas holiday gift ideas for dog walkers range from practical (heated insoles) to luxurious. I also included several of the best gifts for dog lovers – because I'm willing to bet your dog walker is a big fan of all types of dogs!
A Sterling Silver Black and White Diamond Dog Paw Necklace is a beautiful, elegant way to say "Merry Christmas" to someone who loves your dog almost as much as you do. I love this holiday gift idea because it's a symbol of her heart and love for dogs, and she will have this pendant as a memory of your dog forever. It isn't a practical gift for dog walkers – not like the gift ideas you'll see below – but it sure is special.
My dog Georgie loves "her" Mish (our Vancouver dog walker – she owns Bow Wow Avenue Dog Walking). But poor Georgie doesn't know what to get Mish for Christmas! So I wrote this article for her, and both she and I hope it'll help other dogs and dog owners buy the best Christmas gifts for their dog walkers…
Holiday Gifts at Christmas for Your Dog Walker
The following ideas range from dog treats to dog t-shirts, to give you lots of gift possibilities for your dog walker…
Natural dog treats
Most dog walkers use treats to reward or cajole their dogs – and dog treats get expensive! Gift your dog walker with a package of Exclusively Pet Big 5 Pooch Pack-Best Buddy Bits. This is a "win win" gift, because your dog will benefit from these natural treats. Flavors include beef and liver, cheese, chicken, and peanut butter.
Money
I don't tip our dog walker, but I have a feeling she'd appreciate an extra $100 at Christmas! Who wouldn't? A Christmas bonus is a practical gift for a dog walker at Christmas. How much do you tip a dog walker? A week's pay if you only use the dog walking services once or twice a week, or 20% of a full-time dog walker's weekly pay. It depends on your financial situation, how often you use a dog walker, etc.
Fun, interesting books about dogs
Dogs is a book of gorgeous pictures of all types of dogs in all types of poses and activities. It's so much fun – and fascinating – to at. Even non-dog walkers like this gift idea, because the photos range from show dogs to shelter dogs. The dogs in the book were rescued by volunteers – racing greyhounds, adored domestic companions, Afghan hounds, Hungarian komondors, Chinese crested dogs. The images in Dogs are interesting and appealing. This book is popular because it's full of the most exciting photographic tributes to dogs ever published. A dog walker would love this holiday Christmas gift idea, especially since it's a lovely combination of practical and luxurious.
Deer antlers or bully sticks for her own dog
Don't most dog walkers have dogs of their own? Aren't doggy treats expensive — especially the good kind? All Natural Bully Sticks are a good Christmas gift because dogs love them and they're a bit too expensive for daily eating (at least for me). Even better are Deer Antlers Dog Chew Treats. I've always wanted to buy them for Georgie, but never wanted to spend the money. Maybe she'll get them for Christmas this year!
A pedicure or manicure – or a pet store gift certificate
When I asked for Christmas gift ideas for dog walkers on Twitter, Jessica suggested a pedicure! I'll see her pedicure, and raise her a manicure. She also suggested a gift certificate for a pet store, which is a brilliant idea.
Amazon Gift Card
Money is always appreciated, and an Amazon Gift Card is one of the best ways to show your appreciation at Christmas. I recently received a restaurant gift card, but the restaurant is 45 minutes from home. An Amazon gift card is a far better idea because it's simple and easy to use.
I always like the idea of giving a dog walker gift cards for Christmas, because it allows her to buy what she needs. But sometimes you don't want to be that practical, right? You want to give your dog walker a holiday gift that is creative, and that reminds her of you and your dog

Here are more Christmas gift ideas for dog walkers that are both practical and creative…
Foot or hand warmers
A pair of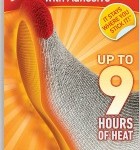 HotHands Insole Foot Warmers are a practical gift idea for dog walkers – unless you live in California or Hawaii. Our dog walker – Mish – walks our dogs through rain and snow, sleet and frost. Standing around waiting for dogs to pee, poop, and sniff can make dog walkers cold. Heated insoles – or a good pair of leather gloves – are a great gift for people who walk dogs for a living.
Holiday gift basket for dog walkers at Christmas
The Sugar Berry Red Tapestry Box Spa Bath Gift Set
is very Christmas-y, and is both practical and creative. Encourage your dog walker to take care of herself over the holiday season, with bubble baths and lotions and other things that refresh the body and spirit. I know gift baskets aren't the most creative Christmas gift ideas for dog walkers, but boy are they luxurious! And they're easily re-gifted, so if the dog walker in your life receives too many gift baskets for Christmas, she knows what to do with them. Send them my way!
If your dog walker has a dog, read Christmas Gift Ideas for Dog Lovers.
To-go coffee mug
A Keurig Stainless Steel Travel Mug
is a practical gift idea for dog walkers, whether it's the Christmas holiday season or the middle of summer! If she's walking your dog early in the morning or the middle of the afternoon, she'll need a cuppa java or tea to keep her going. I've also been known to put smoothies and diet cokes in my travel mug!
Clothes?
At first, I thought a t-shirt that says "Official Dog Walker" was a dumb Christmas gift idea, but I was kind of impressed with the Official Dog Walker Hooded Sweatshirts by CafePress. They're warm and practical, and not likely to be re-gifted! If your dog walker has to walk Fido in the sleet, rain, and snow (like Mish does), then cozy warm toques, scarves, and mittens are great gifts.
Christmas stockings for dog walkers
Dog Christmas Stockings are a popular gift for dog walkers. If your dog walker has a dog, she might like a stocking with her dog on it. You can stuff a gift card or bully stick inside the stocking, so you don't give your dog walker an empty holiday gift.
Business referrals – one of the best gifts for dog walkers at Christmas
One of the best gifts you can give your dog walker – who is probably an entrepreneur – are business referrals. I should take a bunch of Mish's Bow Wow Avenue business cards, and give them to every dog owner I know. I'm sure she'd appreciate it — I know I appreciate anyone who brings me business.
I'm always looking for gift ideas for dog walkers – whether it's Christmas or not! If you have any ideas, please comment below. What was the best dog gift you've ever given, or received? Share with us. Woof!
If your dog walker is a woman around the age of forty, read 40th Birthday Gift Ideas for Women – From Easy to Extravagant. Those gift ideas are more elegant and classy, and will pamper your dog walker.