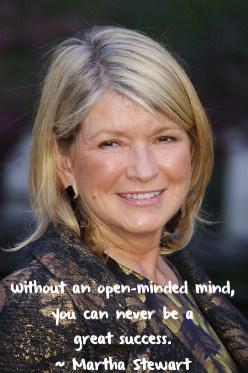 These ideas for successful home based businesses are from five female entrepreneurs who turned their hobbies into gold mines.
Many successful female entrepreneurs start with a hobby and end up with a career — they were just doing what comes naturally and what they were passionate about. Here are five examples of women who were doing what they love, and who turned their hobbies into money-making enterprises.
Remember that without an open-minded mind, you can never be a great success. Since your thoughts turn into reality, remember to focus on ideas that strengthen, uplift, and inspire you — and be open to new possibilities and opportunities. Starting a successful home based business requires creativity and inspiration.
Also, you need to be realistic. If your hobby can't pay the bills yet, read 10 High Paying Part Time Jobs for College Students (you don't have to be a student to work at those places).
5 Hobbies That Became Successful Home Based Businesses
Do you already have a business idea or hobby you love? Read Martha Stewart's 10 Rules for Starting a Successful Business for tips.
1. More than a biker chick: a published author. Babs Ryan started the Chicago Motorcycle Meetup four years ago. "I'm a 49-year-old woman who turned my hobby into a job, and then back into a hobby again," she says. "I started riding motorcycles at age 21 in grad school for fun, on a trail bike riding in the desert in Arizona.  I became the chief marketing officer at Kawasaki in the UK; two years ago, I started a motorcycle club in Chicago called Chicago Motorcycle Meetup. It grew to 180 members in three months. I'm still riding, but I had to hand over managing the club to someone else because my business book, America's Corporate Brain Drain
, was published and I needed more time for marketing."
2. Leaping into the wild unknown. Tai Kuncio, founder of Absolute Adventures, Inc, says about her successful home based business: "My business partner and I have been running Absolute Adventures, Inc for almost nine years now. We started the business because we both love being active in the outdoors and wanted to take that passion and turn it into a way of making a living.  Our company offers fun outdoor events on the weekends, ranging from kayaking to hiking to sky diving.  We actually get paid to do all the fun things we'd be doing anyway!  We also offer a wide variety of unique team building events to corporations all over Northern California, ranging from high-tech scavenger hunts to sailing regattas to culinary events."
If you don't have a hobby, read Want to Work From Home? 30 Successful Home Based Business Ideas.
3. "Wining" her way to success – and writing a book. "I turned my love of unwinding with a great glass of wine into a career," says The Wine Coach® Laurie Forster, who started a successful home based business as a wine coach. "With the help of my life coach, I left the corporate world years ago in search of a career that I could be passionate about. Now as The Wine Coach®, I blend my training as a professional sommelier with my experience as a life coach to help people connect to wine, each other, and the things that bring them joy. I wrote my first book, The Sipping Point: A Crash Course in Wine
."
4. Making jewelry out of science. Raven Hanna, PhD, started Made With Molecules. She says, "My hobby has become my career – and now I need a new hobby! Working as a scientist and science communicator, I was always making crafts on the side. After many comments from friends and strangers that I should sell my serotonin necklace and other molecule-inspired jewelry, I started Made With Molecules.  I never imagined that it would be so successful. It's now my full time job, and I love it!" Marrying science and artistic creation is a great hobby idea that can become a successful home based business — if you have an open mind.
5. Greening the baby's food. Connie Pope, co-owner of Jack's Harvest, explains how she became a female entrepreneur: "My good friend Heather Schoenrock loves to cook and has always made organic baby food for her children.  She had her third child, son Jack, around the same time I had my second son, Avery. I don't even like to cook dinner so I wasn't making my own baby food, but I wanted Avery to have the healthiest food possible.  Since Heather was already making her amazing food for Jack, I offered to pay her to make Avery's food too. One thing lead to another and three years ago we launched Jack's Harvest!"
For more tips on successful home based businesses, read 5 Emotions You'll Feel After Starting a Business.
Do you have a hobby you love — and can you see yourself turning it into a successful home based business?