There is no formula for praying to God for healing. However, I do have a favorite way to pray – Joyce Huggett describes it in The Joy of Listening to God: Hearing the Many Ways God Speaks to Us: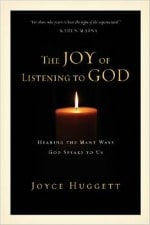 "I had a chair, an old wicker-work one painted white. Particularly if I came to prayer exhausted or hurting for some reason, I would imagine Jesus sitting in this chair. I would lay my head on the cushion, as though it were his lap, and weep or sigh or 'just be' in his felt presence. This kind of preliminary to prayer was therapy; on many occasions it infused my whole being with a sense of God's healing and peace; it was a form of listening which defies definition."
I love the peace that just being in God's presence brings. I don't think this feeling is "preliminary prayer" – to me, it's actual prayer.
I hesitated to write about praying for healing today because of the Philadelphia couple whose two children died. They refused medical treatment for their children's illnesses – their church believes it's a sin to trust in medical help and pills.
This isn't the first time people have put "faith healing" above medical help, and it's not the first time death has been the result.
I believe we should seek medical attention when we're sick, and take medications (even chemotherapy treatments) to fight and heal from disease. But I also believe we need to bring our fears and anger, our wish for hope and healing, to our Creator.
Believing in a God who loves you improves your chances for healing
Research shows that believing in a God who cares for and loves you will improve your response to medical treatment. A study from the Rush University Medical Center found that people diagnosed with clinical depression experienced an improvement in symptoms while taking medication for depression if they believed in a personal God who cared about them.
"In our study, the positive response to medication had little to do with the feeling of hope that typically accompanies spiritual belief," said Patricia Murphy, PhD, a chaplain at Rush and an assistant professor of religion, health and human values at Rush University. "It was tied specifically to the belief that a Supreme Being cared." – from Belief in a Caring God Improves Response to Medical Treatment for Depression, Study Finds.
How to Pray for Healing
When was the last time you silenced yourself at the feet of your Creator, and just let yourself be? In my Bible Study, we do a centering or listening prayer. We close our eyes, and one our group members leads us in a meditative prayer that involves us being with Jesus in a beautiful place of our choice. I go up to Quarry Rock in Deep Cove, North Vancouver…and Jesus and I gaze in silence at the view of Indian Arm, the mountains, Panorama Park, and Burnaby in the distance.
Here's one way to pray for healing from chronic illness…
4 Steps to Centering Prayer for Healing
Centering prayer is about silencing your heart and mind, increasing your feelings of peace and connection with God, and gathering the emotional strength to cope with whatever comes your way (healing or hope!). It's about communing with God.
Prayer isn't about getting what you want; it's about finding the strength to deal with what you get.
Choose a word or phrase that symbolizes your intention
The focus of centering prayer is to consent to God's presence and action in your life. It's also something you might want to do every hour – not just at the beginning and end of your day.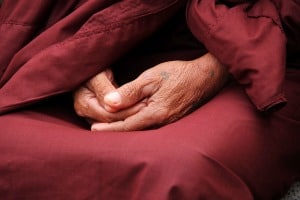 Choose a word or phrase that helps you remember that you are consenting to God's work and power in your life – whether that means healing from disease or accepting your future. Your sacred word could be "Trust" or "Hope" or "God's will be done." My centering words are "Freedom" and "Acceptance."
The idea is to be open to what God has in store for you – not necessarily to be healed from the specific symptoms of your disease.
Find a comfortable position and place for prayer
Where can you pray comfortably for 10 or 20 minutes? Try not to pray in a place where you'll fall asleep or be distracted. Close your eyes and let go of everything happening within you – all your hopes and yearnings and wishes to be healed.
Be prepared for distractions, such as images, feelings, reflections, physical sensations, and unexpected thoughts…and use your sacred word to quell those distractions.
Whisper your sacred words to God
Whatever distracting thoughts or scary emotions come to you, lay your sacred word over them. If you're scared of dying or never being healed from your illness, repeat "Hope" or "Faith" until you feel calm and focused on God.
Be silent. Know that He is God, and He cares for you
Take a few minutes to transition from your centering prayer to back to everyday life. Don't just use your sacred words while you're praying for healing – use them when you're taking your medication, waiting for your doctor's appointment, or talking with your children about your illness.
The purpose of centering prayer is to give you peace, hope, and acceptance – whether or not you are healed from your chronic disease. The benefit of this type of prayer is that it'll help you feel peaceful, hopeful, faithful, and able to accept of whatever comes your way.
What do you think about praying for healing? To learn more about how to pray, read The Essential Guide to Healing by Bill Johnson and Randy Clark. It describes how to pray for sick people, as a Christian.
Here's another Mellow Monday article – How Your Doctor's Prayers Can Help You Heal From Disease.